Best furniture reissues: Wallpaper* Design Awards 2021
Three Italian classics we're very pleased to welcome back: these designs from Cassina, FontanaArte and B&B Italia blur the boundaries between art and design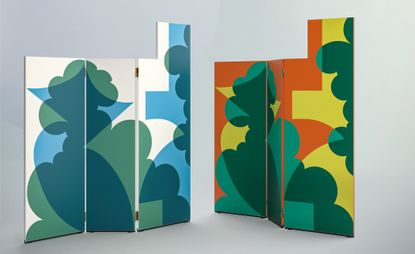 (Image credit: TBC)
Re and Regina lamps, by Bobo Piccoli, for FontanaArte
Drawing inspiration from chess pieces, artist Bobo Piccoli created these lamps for FontanaArte in 1968, stacking spheres, cylinders and pastille forms to represent king (left) and queen. Crafted in milky white glass, the lamps emit a diffused glow that, in its new iteration, can be modulated via a dimmer. Whether displayed together or apart, on the table or across the floor, these strikingly regal pieces will add just the right touch of grandeur to a space. For FontanaArte, the reissue not only highlights their illustrious history of artistic collaboration, but also celebrates an artist who moved seamlessly between creative disciplines.
fontanaarte.com (opens in new tab)
Paravento Balla divider, by Giacomo Balla, for Cassina
A founding member of the Futurist movement, Giacomo Balla declared in a 1915 manifesto that he would 'find abstract equivalents for every form and element in the universe' to make it more joyful. His 1917 sketch for a room divider, a striking combination of turquoise green and lemon yellow shapes on an asymmetrical orange backdrop, is a case in point. Done in tempera and pencil on the back of two photographs, it remained unrealised for half a century, and it was only last year when Cassina partnered with Balla's heirs to bring the design to life. 'Paravento Balla' consists of honeycomb panels, joined together with specially developed satin brass hinges that allow the piece to open in both directions. A white version, featuring blue and sage green forms is also available, following the advice of Balla's daughter that the screen 'can be done with other combinations of colour as you want and according to the effect you want to give'.
cassina.com (opens in new tab)
Gli Scacchi seating, by Mario Bellini, for B&B Italia
What appears to be a cluster of giant black and white tetris blocks, or an homage to Sol Lewitt, is, in fact, another take on chess pieces – specifically the queen, the knight and the rook – this time by Mario Bellini. 'They are among the most playful pieces of furniture I have ever designed,' he says. First launched by B&B Italia in 1971, Gli Scacchi was an industry breakthrough in its use of self-skinning polyurethane foam, which was previously used only in cars. Last year's reissue retains a polyurethane core but comes with soft leather covers for tactility and comfort, and visible stitching to evoke the maker's craft. The inset metallic base adds a sense of lightness and material contrast.
bebitalia.com (opens in new tab)
TF has been editor of Wallpaper* since December 2020. He is responsible for our monthly print magazine, planning, commissioning, editing and writing long-lead content across all our content pillars. He also plays a leading role in multi-channel editorial franchises, such as our annual Design Awards, Guest Editor takeovers and Next Generation series. He aims to create world-class, visually-driven content while championing diversity, international representation and social impact. TF joined Wallpaper* as an intern in January 2013, and served as its commissioning editor from 2017-20, winning a 30 under 30 New Talent Award from the Professional Publishers' Association. Born and raised in Hong Kong, he holds an undergraduate degree in history from Princeton University.