Rossana's monolithic kitchen brings the outside in, and the inside out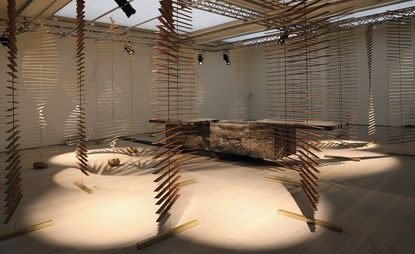 (Image credit: Matt Chung)
Founded in 1953 in Bergamo, Italy, Rossana has collaborated with a host of Italian designers including Rodolfo Dordoni, Michele De Lucchi and Christophe Pillet on its striking kitchen concepts. So team Wallpaper* were more than happy to oblige when the luxury kitchen brand called on us to help launch its interchangeable 'K-In K-Out' unit at a special event hosted at the Saatchi Gallery in London.

We commissioned creative studio Bonsoir Paris to realise an installation that celebrates the kitchen's unique indoor/outdoor aesthetic. The firm, helmed by creative directors Rémy Clémente and Morgan Maccari, responded with a series of helical wooden mobiles that formed a delicate counterpoint to Rossana's monolithic kitchen.

Designed by Massimo Castagna, 'K-In K-Out' comprises a freestanding island unit that appears to float, thanks to the high, burnished-steel supporting plinth. This striking illusion is only further enhanced when the island's cover tops are slid open, playing with form and proportion, while appliances and work surfaces are revealed beneath.
Installation view of the 'K-In K-Out' at Saatchi Gallery

Identical on the outside, the kitchen's smart design trickery lies beneath the surface: the indoor version comprises a steel framework with internal workings made from wood and patinated metals, while the framework of the outdoor iteration is made entirely from steel. The kitchen comes in a range of finishes, including a natural grey stone, heat-treated elm, chestnut, eucalyptus and dark olive veneer.

The launch event didn't end there, of course. Guests were able to experience the kitchen in a virtual reality installation that digitally transported 'K-In K-Out' to developer Manhattan Loft Corporation's upcoming sky tower, Manhattan Loft Gardens.

Elsewhere, Saatchi Gallery hosted an exhibition of works by artist Philipp Rudolf Humm, including an oil painting depicting 'K-In K-Out' as an altar. The painting was displayed along other works from Humm's Urban Portraits series, recently shown at both Riflemaker and CNB Gallery in London.
INFORMATION
For more information, visit the Rossana website (opens in new tab)