Yorkshire's magnificent Harewood House opens its first craft Biennial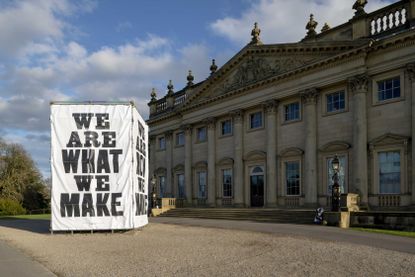 (Image credit: TBC)
From the days of the industrial revolution, craft and design were long pitched against one another; one representing a traditional, even regressive way of life, and the other symbolising progress and the future.

However, since the financial crisis hit ten years ago, the design industry's relationship with craft has been undergoing a sure and steady shift. Out of an era of unsustainable excess, comes a time of reflection. Designers have started to explore craft as something cultural rather than a primitive process.

'The financial crash made a lot of brands realise that design had overstretched itself into the realm of the extravagant and absurd,' observes curator Hugo Macdonald whose exhibition, 'Useful/Beautiful: Why Craft Matters', opens at Yorkshire's magnificent Harewood House.
Macdonald continues, 'today, we've realised that we are living in a very different world to ten years ago. We need to reconnect with what matters and start thinking about resources and repair. We need to start thinking about making things that are fit for purpose and not just making things for the sake of it. It's no accident that as the financial crisis unfolded, simultaneously designers started to rethink their relationship with craft.'

At 'Useful/Beautiful', Macdonald unpacks this subject, examining the role craft can play in culture, identity and society. Invited to curate the exhibition by Jane Marriott, Harewood House Trust director, Macdonald will assemble the work of 26 designers across the house's grand Robert Adam-designed interiors.

For the sprawling country house, which functions as an educational charitable trust and has shown contemporary art exhibitions for over 30 years, the introduction of craft seems long overdue. Completed in 1780s on eve of the industrial revolution, the house itself, MacDonald points out, is an outstanding example of fine craftsmanship.
'The trust wanted to bring contemporary craft into the house in a bold and rebellious manner so that it could function as a platform to talk about what craft represents today,' says Macdonald. 'So the exhibition has a dual purpose – it's part of a wider discussion within the industry but also a way of waking the house up in some way.'

Each room will feature the work of a different exhibitor, which is subtly placed within its interior – often with an implicit connection. For example there will be a bookbinder in a library, and a paper artist in another library. There is spun iron cookware in the kitchens, garden tools made out of reclaimed Second World War ammunition in the garden room, and Simon Hasan's leather vases will be displayed in the library.

'The items are integrated into the house quite subtly but in a very poetic way,' explains Macdonald. 'When people do notice the link it will be a nice opportunity for them to discover a layer of the exhibition that hasn't been fed to them.'
The showcase will also include three special commissions, the first of which is an exhibition of work by Faye Toogood. The London-based designer has selected 40 pieces from her portfolio of fashion, furniture and one-off objects to demonstrate the skill of the UK-based small-scale fabricators and traditional artisans with whom her studio works.

Commenting on how craft is linked to identity, graphic artist Anthony Burrill has contributed a four-metre-high Tyvek-wrapped scaffold tower. Installed outside the house, it features a different slogan writ large on each of its four sides: 'We are who we make', 'We are what we make,' 'We are when we make' and 'We are how we make'.

Meanwhile, Max Lamb has created a 24 sq m yellow rug for the drawing room, which he made using leftover wool from a local textile factory and dyed using natural materials that he harvested by hand from the Harewood Estate. 'Max worked with the estate's head gardener and took an almost forensic approach to the production process,' enthuses Macdonald. 'The result is a feat of dedication. He has created something that is of Yorkshire and the house while at the same time pushing his own learning.'
Macdonald was keen to ensure that the 26 exhibitors were as diverse in terms of the material and scale at which they work as they were diverse geographically and in age. The result is a selection that runs the gamut from graduates and independent artists, to those working on a larger more industrial scale, such as Hiut Denim and 1882 Ltd.

In each room, a passage of text written in the artist's own words explains why they make – a topic that, Macdonald says, is often passed over in favour of the how or what. 'Despite the diversity of the exhibits, a lot of the exhibitors have touched on exactly the same themes, which are some of the most pressing issues we face in life today,' he says.

'Everything from conversations surrounding mass consumption and landfill, to the lack of human connection due to our reliance on technology and the feelings of loneliness, depression and detachment that can bring about. The principles that are baked into craft actually answer quite a lot of these questions.'
With the exhibition opening as Brexit looms large on the horizon, Macdonald believes that this celebration of craft is particularly poignant. He explains, 'what I'd like people to take away is not that slightly mawkish "We can still make it" message that we've heard so much of in recent times, but rather the fact that the skills that we showcase in the exhibition are rich for their diversity and cultural co-mingling.'

'The question of what we can learn from craft and how we can bring it into our wider lives is more timely than ever. It's not about needing to rescue craft from extinction, it's about what we can to learn from it – the reality is that we need craft and not the other way around.'
INFORMATION
'Useful/Beautiful: Why Craft Matters' is on view 23 March – 1 September 2019. For more information, visit the Harewood House website (opens in new tab)
ADDRESS
Harewood House
Harewood
Leeds
LS17 9LG
VIEW GOOGLE MAPS (opens in new tab)