Joint venture: under Michele De Lucchi's artistic direction, an Italian wood workshop is reborn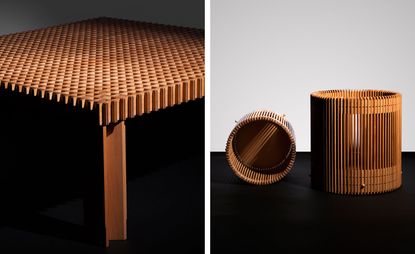 (Image credit: Bea de Giacomo)
The story of Bottega Ghianda demonstrates the entrepreneurial guile, good fortune and smart connections common to so many of Italy's finest family operations. It begins in 1889, when Iginio Ghianda established a small bottega, or workshop, next to his home in Bovisio-Masciago, in the heart of Brianza. He started out producing inlaid parquet flooring, before moving into wooden aeroplane propellers and then, from around 1920, furniture.

Pierluigi Ghianda was born in 1926 into this family of falegnami, or woodworkers. After Iginio died in 1938, his wife Serafina ran the business while Pierluigi and his brother Giuseppe juggled their studies and apprenticeships. They took over in 1945.

In 1936, Gio Ponti had asked Iginio to work on a writing desk, 'Montecatini'. The relationship with Ponti proved pivotal for the workshop, with the architect and designer requesting prototypes of his creations. The workshop went on to collaborate with manufacturers such as Cassina, De Padova, Skipper and Knoll on product development. Ponti's patronage also encouraged a steady flow of orders from great names in Italian architecture, including Gae Aulenti, Cini Boeri, the Castiglioni brothers, Gianfranco Frattini, Richard Sapper and Ettore Sottsass. Ghianda craftsmanship brought their designs to life, producing bespoke furniture and fittings for international projects such as Aulenti's Musée d'Orsay in Paris, and for Livio Castiglioni's homes for industrialist family the Agnellis.

Pierluigi was established as the go-to man for advanced woodworking. Architects and designers sought his advice on construction, joints, inserts and connections, often developed without the use of nails, screws, bolts or any 'foreign' materials. As Mario Bellini puts it, Pierluigi offered 'quality and solutions to the limit of construction techniques'. In 1986, when husband and- wife duo Jean-Louis Dumas of Hermès and architect Rena Dumas wanted to introduce the 'Pippa' line of folding furniture, they too sought out Pierluigi. They knew he shared their obsession with quality.
Romeo Sozzi, another master of Italian woodworking, first met Pierluigi in 1985, three years before founding his own furniture company, Promemoria. In 2015, Pierluigi, now 87, was looking to secure the future of his workshop. His wife, Francesca, had died and his three children had rejected the plane and chisel as a career option. Later the same year, just a month before he died, Pierluigi signed a deal with Sozzi, who acquired all the bottega's intellectual property, as well as its craftsmen. Pierluigi's eightstrong team moved to a new workshop in Valmadrera, around 40km away from Bovisio Masciago, but just a five-minute drive from Promemoria's base.

Sozzi gave the workshop a new name, Bottega Ghianda, and hired Milan-based architect Michele De Lucchi as artistic director. De Lucchi is completely smitten by the product. He says his role is 'to assist and accompany Romeo Sozzi on this adventure, to maintain the spirit of Ghianda'. According to De Lucchi, Pierluigi was a man who 'knew the culture of wood, the story of wood and the identity of wood'.

The two had never met, although Pierluigi had developed prototypes for Memphis while De Lucchi was part of the design collective. 'The special thing about his story is the quality. How do you make something like this? It's incredibly perfect,' De Lucchi says, pointing to a flawless joint. 'For someone who works in wood, it's magic. You can't understand how they make it – it's exaggerated and outside the usual dimensions.'
De Lucchi has designed Bottega Ghianda's very first store in Milan's Brera district, using panels of 'light black' wood, lacquered and hand-polished with steel wool five times over. This process gives the panels a look of blackened stainless steel, albeit with a warm and highly tactile touch; they reinforce the flawless finishing of Ghianda's products.

The goods are illuminated with museum-quality lighting and displayed as if floating away from the wall, on soft-cornered rectangular shelves covered in grey Loro Piana felt – the perfect complement to the warmth of the woods, such as Swiss pear (Italian pear is no good, according to Sozzi, as the trees are cut too low). De Lucchi has used the same lacquered and polished wood, as well as cream coloured Loro Piana cashmere, for the packaging. 'The ceremonial aspect of the packaging is very important, as you only have one opportunity to have a first impression,' he says.

The store displays a collection of objets and furniture designed between 1918 and 2002 by the likes of Aulenti, Bellini, Boeri, Frattini, Carl Magnusson and Emanuela Frattini Magnusson, plus one new piece by De Lucchi and historic items from Iginio Ghianda's era. Over the years, Iginio assembled quite a collection, developed with these architects and produced and sold from the workshop directly. The pieces include a bookmark, first realised in 1935 for a passionate Venetian bibliophile, and a set of photo frames based on the frames made by Iginio for the Musée d'Orsay.
Also on display is Bellini's 'Étagère' shelving, designed as a kind of dare after his first meeting with Pierluigi Ghianda in 1989. 'Knowing you have as a partner an absolute master, I designed a piece using a large amount of very thin vertical columns to connect different shelves – a sort of small, lightweight skyscraper,' Bellini says.

The 'Kyoto' table, from 1974, is made up of 1,705 individual 45-degree joints. It's a design by Gianfranco Frattini, who trained with Ponti and became one of Pierluigi's closest collaborators. A wastepaper basket by Emanuela Frattini Magnusson from 1986, the 'Cestino a baguettes', is constructed from 89 beech strips, known as baguettes, connected top and bottom by 178 spacers and finished with wood-tipped brass rivets. All the bottega's pieces are stamped with an oak leaf in relief. 'Ghianda' means acorn and the oak-leaf logo was designed by graphic designer Pino Tovaglia, who also created the workshop's 'Amore' puzzle in 1959.

Once, when Marella Agnelli, the wife of Fiat owner Gianni Agnelli, visited the workshop, Pierluigi saw her taking out a plastic pillbox. He thought it was most unsuitable and decided to offer his wooden pillbox. This is a piece that impresses De Lucchi a great deal. As he takes one in his hand, he says: 'Wood never stays still. It's alive, it's a fibre which absorbs humidity as it breathes. To create this piece you must have courage – it's a surprise, a marvel.' For him, this is the essence of Bottega Ghianda.

As for the future, De Lucchi feels it is essential, for the health of the business, to develop new products – it is 'not a commercial decision, but a question of vitality'. Bottega Ghianda lives.

As originally featured in the May 2017 issue of Wallpaper* (W*218)
INFORMATION
For more information, visit the Bottega Ghianda website (opens in new tab)
ADDRESS
Bottega Ghianda
Via Formentini 9
Milan
VIEW GOOGLE MAPS (opens in new tab)