Unearthing the cultural stories and emotional forces behind Emirati design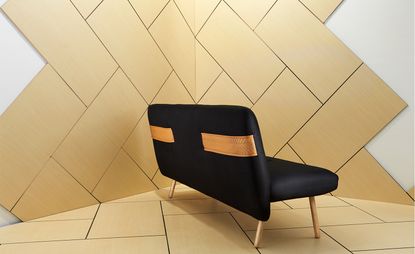 (Image credit: Aljoud Lootah)
Four years on and the UAE has managed not just to inaugurate, then nurture and develop a fine annual Dubai Design Week, by international standards, but to encapsulate under one giant emotional umbrella all that is of cultural significance in the contemporary Arab world.

With a junket of journalists being flown in from all corners of the globe, Dubai Design Week this November became the opportune moment to launch the Jameel Arts Centre by London-based Serie Architects, the first non-profit non-government owned museum for contemporary art in the UAE, as well as the first Fikra Graphic Design Biennial in neighbouring emirate Sharjah. Art Jameel has been a supporter of Islamic arts since the 1990s through weighty venues such as London's V&A and the Met in New York. And now, Jameel finally has its own physical home, with a second to follow in Jeddah in few coming years.
Last year saw the opening of the minimal Etihad museum – Etihad translating to 'unification' in Arabic – which through modern means explains the history of the Emirates themselves in the 1970s. There was also the long-awaited Jean Nouvel-designed Louvre in Abu Dhabi.

Next year we will witness the Museum of the Future, already taking hold under the Emirates Towers, an extraordinary feat both architecturally and content wise, with a 3D-printed skin. There is a push in the Dubai to have all buildings 3D-printed within a very short time. For the 2020 Expo, it is cited that police will be seated atop man-driven drones. Technology is king in the UAE and the local success of the Global Grad Show during Dubai Design Week is indicative of a place at the vanguard of neoteric thought.

Aside from new visions for the Emirates, many real stars this year at Dubai Design Week have been the people who have helped boost the bedrock of Dubai and the Emirates contemporary culture. Included are director of Jameel Arts Centre, Antonia Carver, previously director of Art Dubai, and designer and curator Khalid Shafar, whose earlier work Wallpaper* exhibited at 'Middle East Revealed' in collaboration with Dubai Design District (d3) in London in 2014. Both Carver and Shafar are very good communicators, and after all, isn't art and design all, really, communication?
'UAE Design Stories' exhibited in Dubai was the third incarnation of the project spearheaded by Emirati Khalid Shafar, following Milan during Salone del Mobile and London during the London Design Festival. The Dubai offering is an extremely considered collaboration with select designers commissioned to create pieces inspired by a longstanding Emirati children's magazine, Majid Magazine. With the subtext, 'Designed for Littles, Ours and Others' the pieces shown were unusually un-child like in appearance until explained, and all possess commercial feasibility.

The 'Dana' bench by Aljoud Lootah, who also exhibited at Downtown Editions, was inspired by the curly hair and earrings of Dana, a comic book character. Meanwhile 'Pop' by Alia Bin Omair is a colourful lollipop night light that separates from its base, inspired from a lollipop puzzle in the comic. 'Seesaw', a sophisticated low level bench seat – Majlis style – by Abdulla Almulla is a seesaw when converted.
There is a thoughtfulness and compassion to Emirati design today and a great sense of 'group' and heritage, reminiscent of Memphis with its playfulness and collaborative spirit. Neighbouring countries in the Gulf and within the entire MENASA region also enjoy the platform Dubai Design Week offers via Abwab – Arabic for gateway. The Saudi and Kuwait pavilions took the limelight this year, the latter through the tireless work of young Kuwaiti metal worker Kawther Alsaffar with her work Desert Cast. Alsaffar continues to sand cast most recently using architectural motifs of her region and a work force of casters whose tradition requires new tolerances.

At the brand new Editions section within Downtown Design, the more commercial arm of Dubai Design Week, fledgling and established Emirate-based designers exhibited alongside counterparts from Jordan and Palestine. In five years since even the possibility of Dubai Design Week was first discussed, business is clearly booming, moreover, its the stories that reign supreme and commit clout to culture.
INFORMATION
For more information, visit the Dubai Design Week website (opens in new tab)