Jameel Arts Centre by Serie Architects opens in Dubai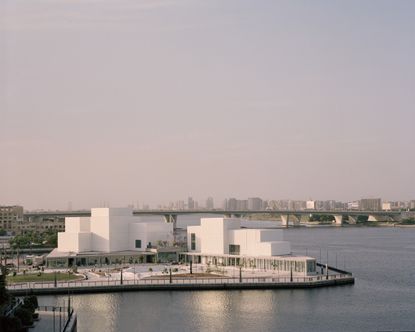 (Image credit: Rory Gardiner)
Ten galleries, four tons of rock and 33 species of desert plants have made their way onto the Dubai Creek at the newly opened Jameel Arts Centre. The institution is the first art centre of its kind in the Gulf, designed by UK-based Serie Architects, it is both independent and non-profit.

Serie Architects based the 10,000 sq m space on the model of 'Sha'abi' low-cost governmental housing, a configuration of low colonnade buildings that reflect that idea of rooms circling a courtyard. 'Sha'abi' was also the focal point of the 2016 UAE Venice Architecture Biennale, and Christopher Lee who spearheads Serie Architects chose this design as an ode to this public 1960s and 1970s architecture of the city. 'It acts as a background structure for life of the centre to unfold, without disappearing from view', he says.

Wondering around the modest three-storey white aluminium and concrete structure evokes a sense of Palm Springs purism with the seven desert gardens, brought to life by landscape architect Anouk Vogel, peppered amongst the buildings and the piercing blue skies as backdrop. It is only the neighbouring Palazzo Versace hotel and skyline on the horizon of the Jaddaf Waterfront that quickly draws us back to the fact that this is the forever contrasting urban concourse of Dubai.
Inside, the multiple levels of gallery space enable a dynamic journey that takes the visitor from the expanding library and research centre past ceiling-height windows that frame the Jaddaf Waterfront and up to a rooftop that currently holds an artificial botanical garden by Kuwait-based Alia Farid and Aseel AlYaqoub.

The Jameel Arts Centre opens its doors with a flurry of shows, including 'Crude' curated by Murtaza Vali that explores the oil industry as a magical agent of social, cultural and economic evolution across the Middle East. Outside, the institution is celebrating the first open-air art park in the Gulf too, the Jaddaf Waterfront sculpture park by UAE-based ibda design who present a host of works that explore themes of nature and transformation.

Director Antonia Carver describes this waterfront retreat as an honour to Dubai as a crucial port city. 'Our first permanent space, Jameel Arts Centre ushers a new phase of development for Art Jameel', she says. 'The collaborative, innovative approach of the architects sets up Jameel Arts Centre to fulfil its mission – to present dynamic, thought-provoking exhibitions, act as a hub for educational research initiatives and continue to engage partnerships with local, regional and international artists, curators and organisations.'
INFORMATION
For more information visit the website (opens in new tab) of Serie Architects