At Triennale Milano, Francis Kéré and Ersilia Vaudo explore what we don't know
The 23rd International Exhibition of Triennale Milano, 'Unknown Unknowns: An Introduction to Mysteries' brings together art, design, film and research to understand what we will need in the future (on view until 8 January 2023)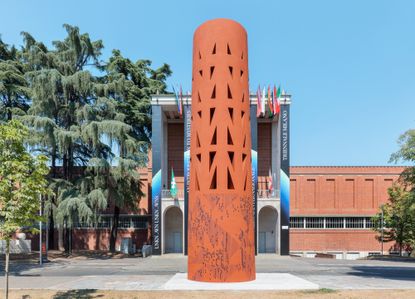 (Image credit: DSL Studio)
Wallpaper* Newsletter
Receive our daily digest of inspiration, escapism and design stories from around the world direct to your inbox
Thank you for signing up to Wallpaper. You will receive a verification email shortly.
There was a problem. Please refresh the page and try again.
In front of the Triennale Design Museum, a 1930s early modernist building in Milan's Parco Sempione is an unlikely neighbour – a squat tower with triangular openings penetrating its skin. It is designed by Francis Kéré, the Burkinabè architect who won the 2022 Pritzker Prize, and as the 23rd International Exhibition of Triennale Milano prepared to open to the public (until 8 January 2023), its finishing paintwork was being applied. With a small entrance, it's evidently architecture, but what is its function?
'I want to force people to go on their knees to enter it, you understand? You will enter this building and feel enclosed. What I want to say is, you feel imprisoned in this situation, you think there is no solution, but if you start to lift your head you will see there are openings that show you the sky. […] It will constantly connect you to the sky,' says Kéré.
The Triennale is titled 'Unknown Unknowns: An Introduction to Mysteries', and features a vast amount of art, design, film, and research which seeks to explore or understand the knowledge we will need in the future. It is all overseen by architect Stefano Boeri, president of the institution since 2018, who doesn't take curatorial ownership over the Triennale but creates the conditions and conversations for ideas to flourish. The 'Unknown Unknowns' theme itself emerged from one of those conversations, a panel discussion which brought together interdisciplinary experts to explore what new knowledge had emerged from the 22nd Triennale, titled 'Broken Nature'.
What became evident within the conversation was just how much wasn't known, Boeri tells Wallpaper*: 'What we don't know is so, so, so huge. We know only five per cent of the universe, then this oceanographic researcher started to say, "Well, we know only five per cent of the oceans," then a neurologist said "Well, we know under five per cent of the synapses." … At that moment the idea of what we don't know, we don't know started to become present, and we started to imagine an exhibition.'
Two of the participants of the conversation were then appointed lead curators: Ersilia Vaudo, astrophysicist and chief diversity officer at the European Space Agency; and Francis Kéré, who has not only designed the external tower but two sculptures inside the building, as well as coordinating six African nations to take part within the International Participation section – 18 national pavilions sit alongside numerous other curated shows and installations to form what Boeri calls 'a constellation of exhibitions'.
Central to it all is the main exhibition 'Unknown Unknowns', a multi-layered exploration of art, design, and architecture to not only suggest tools to understand the unknowns, but also methods of mapping and cataloguing so information flows between silos of knowledge.
There are playful and poetic resonances between works on display. Upon entering, a huge geodesic sphere by Yuri Suzuki, Sound of the Earth: Chapter 3 (2022), feeds crowdsourced sounds through an algorithm to create an evolving soundscape.
Visually, it segues into eleven handmade clay spheres from Bosco Sodi's studio in Puerto Escondido, Mexico, Perfect Bodies (2022) celebrating earthen material and qualities of the handmade, introducing the visitor to ideas of building with nature, later picked up not only in other pieces but also in the exhibition architecture by Space Caviar, 3D-printed from locally sourced biodegradable matter.
A Walter Tschinkel cast of the subterranean spaces of an insect nest speaks to an image in a nearby book, the 1678 Mundus Subterraneus, which shows a diagrammatical diptych of the innards of man and Earth side by side. This mapping of the body and planet in turn speaks to nearby early 20th-century Marshall Islands navigational charts, stick constructions of lashed wood and shells which map the locations of waves, wind, and currents. Then the visitor's eye rises to notice a ceiling-hung projection Gaia (2020), a European Space Agency digital map of 2 billion stars.
This weaving of idea and aesthetic between scales, disciplines, and periods is an exciting way to articulate the open-ended idea of that which is not yet known, and perhaps is in part due to Vaudo's background, and her inquisitive path through ideas comes from her scientific approach as much as the Triennale curatorial team she collaborated with.
Both these ideas came up in conversation with Kéré, who is cautious about 3D-printing offering a techno-construction answer: 'Now everyone is talking about printing a house. What is it if we start to print houses for people to live in? But how would they have income? The building sector is mobilising a lot of resources, but also craftsmanship, and if you start to print houses, who can afford it? Who is it for?'
Kéré prefers to focus on collaboration and existing skills as methods for future solutions. 'If you want to create something, if you want to build a world of tomorrow, you have to check what existed yesterday. We call it yesterday's tomorrow.'
For Burkina Faso's contribution to the Triennale's international section, Kéré offers a simple wall. A Burkinabè woman and her daughter are painting it, uninterested in the watching art crowd, just simply getting on with a creative act central to the nation's architecture for generations. Using natural pigmentations, they inscribe the wall with symbols and patterns, each carrying specific meaning – luck, protection, solidity, ancestral memory – communally painted as an act of embedded knowledge.
The girl is learning from her mother, who in turn learnt it from her mother-in-law, an 86-year-old who practices but could not travel to Milan. It is an act not only of decoration, but also maintenance, the surfaces needing to be reapplied every few years. Kéré sees in this the function of community collaboration: it skills up the very people who will live in a place with the knowledge needed to improve and repair it.
However, in the Anthropocene, maintenance is not enough. Europe is overheating, and Kéré says 'in Burkina Faso it's raining randomly.' The unknown unknown impact of our culture on nature is explored in another main exhibition, Fondation Cartier's 'Mondo Reale', where the first thing we encounter is a Ron Mueck artwork of a naked and unimpressed cross-armed figure stranded on a boat. From Alex Cerveny's mesmerising painting pulling in culture, nature, anxiety and existentialism, to Sho Shibuya's daily working over The New York Times' front page in apparent desperation to cover up the daily despair with new artistic meaning, there is anxiety in this exhibition.
This is most exemplified in Artavazd Peleshyan's film La Nature (2020), a relentless edit of Earth's power manifested through landslides, storms, volcanoes, and lightning to an unremitting soundtrack. Facing the screen, two rows of immaculately upholstered modernist chairs invite us to sit back and passively observe the violence. It's hard to stay the duration; the violent shocks are greater than the comfort of the chairs, perhaps deliberately to force visitors to escape and initiate new kinds of conversations, ones needed to collectively face unknown unknowns.
Back outside, the tower connects the Earth to the stars. Kéré says it's big enough for a few people to enter at once, and as such is not a space of solitude but collaborative exploration: 'I want us to have the courage to escape the situation. Related to the unknown unknowns, between us and our little, little problems, there is the sky, and it is unlimited – and there are a lot of solutions that we don't know yet, but could contribute to solve our issues.'
INFORMATION
'Unknown Unknowns: An Introduction to Mysteries' is at Triennale Design Museum until 8 January 2023
triennale.org
ADDRESS
Triennale Milano
Viale Alemagna
620121 Milan
Receive our daily digest of inspiration, escapism and design stories from around the world direct to your inbox
Will Jennings is a writer, educator and artist based in London and is a regular contributor to Wallpaper*. Will is interested in how arts and architectures intersect and is editor of online arts and architecture writing platform recessed.space and director of the charity Hypha Studios, as well as a member of the Association of International Art Critics.