Explore a design couple's timber loft home inside a converted 17th-century granary in Italy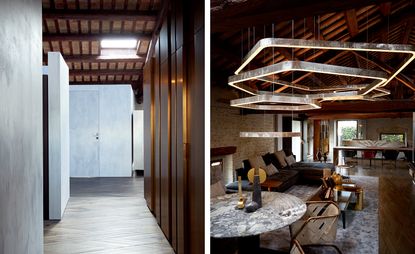 (Image credit: Danilo Scarapti)
Wallpaper* Newsletter
Receive our daily digest of inspiration, escapism and design stories from around the world direct to your inbox
Thank you for signing up to Wallpaper. You will receive a verification email shortly.
There was a problem. Please refresh the page and try again.
On the banks of the Soligo River, amid the prosecco-producing hills of northern Treviso, sits a 17th-century granary whose timber-girded attic attracts a lot of stares from pedestrians. It's not the antiquity of the converted home that's astonishing – almost everything in this village is several hundred years old – but the sight through the windows of a glowing flock of pentagon-shaped lights, floating like UFOs beneath an old pitched ceiling.

The home belongs to Paolo Tormena, CEO of Italian furniture manufacturer Henge, and his companion, the brand's architect, Isabella Genovese. To transform the old garret into a contemporary apartment, Massimo Castagna, Henge's artistic director, applied the brand's artisan-crafted, material-driven aesthetic to every corner and detail of the living space, from the wide entrance door encased in brass to the slatted diamonds of the laser-cut wood floors, as well as hidden details, like the custom-crafted recycling bins and silverware holders in oxidised iron. The coat closet and laundry room are hidden behind doors covered in planks of buffed brass. Sculptures in marble and metal – one of the few touches not created by Henge but instead by the likes of Sara Ricciardi, Fausto Salvi and Lara Bohinc – perfectly match the cast brass and bronze side tables on which they stand.
On a wet spring day, I meet with Tormena, Castagna and Genovese at the apartment. Beyond the kitchen island, a 5m-long faceted monolith in cappuccino marble, the attic's original Palladian arched windows overlook clusters of old terracotta roofs. At a banquet table – the other 5m-long mammoth of the kitchen, this one constructed in fossilised oak – Tormena settles into a brass-framed chair padded with nubuck. 'The most important thing for us was that our home would not be another white cube,' he says. So they started with an odd-shaped and old-fangled granary.

'Contemporary houses in every part of the world are identical – they're all white cubes. But in Italy we still have plenty of historic structures,' says Castagna. 'And it's more interesting for us to reinterpret our own traditions, to make them relevant for today.'

The home, instead of a conventional cube, is an open-plan sloped loft, a converted industrial space in a sense, but one where the industry existed four centuries ago and was headquartered in a warehouse made of stucco and hewn trees. The pitched roof is the visual cornerstone of the apartment, its expanse unbroken by inner walls. The small bedroom is sheltered by a half wall and its own low-rising gabled ceiling, while the rest of the attic's airy space is given over to dining and lounging – to the two kitchen monoliths and the ink-hued leather sofa that runs the length of the living room, with its own smaller round table of cinder-coloured marinace granite slab. 'Plenty of space for being with friends,' says Tormena.
Henge design defines everything here, so the residence has also become a sort of experiential showroom, where clients can dine with Tormena and Genovese at the conveniently lengthy table, set today with platters of local salamis and cheeses and glasses of prosecco from the couple's own vineyard. 'It's important to do these dinners here, where you don't just see what we make – you live it, you use it, you interact with it,' says Tormena. The couple has purchased space on the floor below, which they intend to transform into two guest bedrooms in order to offer visitors a thorough Henge experience. But before this place was a business asset, it was (and remains) a home – a home that needed to be both beautiful and functional, designed by Castagna for his bosses. 'Ha,' says Castagna, who shrugs at the idea. 'They're more like co-conspirators.'

To establish the DNA of Henge, Tormena and Castagna deliberated for a whole year before their inaugural presentation of five pieces at Milan's Salone del Mobile in 2011. 'The first time I met Massimo, I showed up with a piece of stone, a piece of brass, and a piece of wood in my hands,' says Tormena. 'Materials were always going to be at the heart of everything.'

'Paolo was the first collaborator who didn't immediately start talking to me about "product",' Castagna adds approvingly. Seven years later and they've just presented 30 pieces at this year's Salone, but the fundamentals remain unchanged. Henge creates design defined by its materials – fossilised woods, new lumber cooked and cured at low temperatures, and distinctive varieties of marble often found in Treviso's quarries; plus silver-plated brass blackened with traditional liver of sulphur, brushed bronze and brass, and hefty vegetable-tanned leathers.
The furnishings of the brand, and the furnishings of this home, are also fundamental rejections of the industrial method of production. 'We're strong because, in this area of Italy, we still have all types of artisans working,' says Tormena. He raps his knuckles on a stout bronze side table, eliciting a resonant clang. 'We found a caster who used to make church bells but had run out of work,' he continues. The process involves pouring molten metal into a carefully crafted mould in the ground. The bell caster was, at first, not interested in undertaking side tables. 'But now he's making them for us and taught some young guys the craft so they can give him a hand with all the work.'

Castagna adds, 'Every piece of ours has its story, because we search out the materials and we search out these niche artisans that would otherwise disappear. It's always a complicated, if interesting, process.'

And to live surrounded by one's own creations, by all these stories of development? 'It's wonderful,' says Tormena, as the rain thrums on the roof above, and the apartment's burnished metals flicker soft, fiery reflections. 'But when I look at these pieces around me, I still see the sketches and the messy prototypes that spawned them. I still see all this grown-up furniture in its baby phase.'
As originally featured in the June 2018 issue of Wallpaper* (W*231)
INFORMATION
For more information, visit the Henge website
Receive our daily digest of inspiration, escapism and design stories from around the world direct to your inbox