Dressing rooms with a difference at Milan's Teatro degli Arcimboldi
Here's your backstage pass to Teatro degli Arcimboldi. Wallpaper* talks to Milanese architect Giulia Pellegrino, who curated 'Vietato L'Ingresso', a project inviting 17 local practices to redesign dressing rooms in the legendary theatre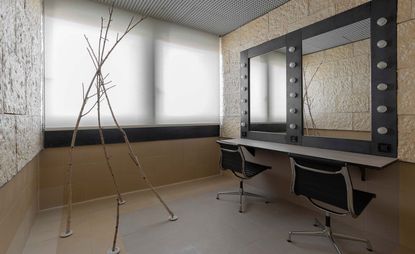 (Image credit: Luca D Privitera)
Wallpaper* Newsletter
Receive our daily digest of inspiration, escapism and design stories from around the world direct to your inbox
Thank you for signing up to Wallpaper. You will receive a verification email shortly.
There was a problem. Please refresh the page and try again.
Milanese architect Giulia Pellegrino did not waste a moment during the pandemic. At a time when theatres were closed and social life was just a distant memory, she started what she calls a 'sofa project', which became a real, virtuous initiative presented during Milan Design Week 2021, and open for viewing on 18 September 2021. The heroes here are the dressing rooms of Milan's Teatro degli Arcimboldi (built between 1997 and 2002 by Italian architect Vittorio Gregotti, in collaboration with Mario Botta and Elisabetta Fabbri). They were in need of a restyling, and Pellegrino took care of it.
Presented by Show Bees (a Milan-based agency for the live arts) and Teatro degli Arcimboldi Milano (TAM), 'Vietato L'Ingresso' (meaning 'entry forbidden', a nod to the exclusive nature of the theatre's backstage areas) involved 17 local practices: Atelierzero, BDGS with Daniela Volpi, Calvi Ceschia Viganò, DAP Studio, Enrico Scaramellini, Francesco Rota, Galante Menichini, Gio Latis Studio, Lupettatelier, Monica Baio with Nicola Quadri, Studio Wok, NM Nick Maltese Studio, Paolo Volpato with Caterina Steiner, Park Associati, RGA studio, Studio Cagnato, and Senselab with Nicolò Gobini.
The rooms feature diverse styles, from the minimalist to the bold and colourful, with furniture designs by the likes of Living Divani, Molteni&C, USM, as well as Laufen and Zucchetti Kos.
Wallpaper* talked with Giulia Pellegrino to discover more about the project.
Wallpaper*: Keeping a theatre up and running without funds is a difficult thing. How did you start this project?

Giulia Pellegrino: This is what I call a sofa project: the months of total closure of the theatre due to the pandemic have forced us into an almost comfortable laziness. I was about to fall asleep lulled by this reassuring world where the 'nothing happens' was not followed by the sense of guilt when, suddenly, a light bulb started blinking. I am linked by a deep friendship with the founding members of Show Bees, Marzia Ginocchio and Gianmario Longoni, and together we worked on the project: the Arcimboldi theatre's management contract with the municipality of Milan was signed 15 days before the closure of the world, and from that moment I had closely followed the evolution of a situation much more complicated than that related to my own work environment.
W*: In your own words, what is the aim of 'Vietato L'Ingresso'?

GP: The dressing room is a place normally off-limits to the public, secret and private places where the artists become characters ready to go on stage. The project kept them in mind, those artists who stir our deepest emotions. The generosity of designers, sponsors and workers has allowed us to give strength to a strong gesture towards the sector with a permanent setting and not a temporary one. The intellectual and economic effort was enormous, but the fact that it is not being dismantled helped it to be successful. The places where magic was born have redone their make-up thanks to them.
W*: How did you select the architects involved?

GP: Once the idea was clear in my mind, I drew up a list of professional firms that were suitable for the project. The criteria were: to have a studio in Milan or the metropolitan area, as the Arcimboldi is owned by the municipality and therefore by the Milanese citizens; to work in interior design, even if on different scales and different design themes; and to have a good dose of recklessness, a huge one. The [project included] complete redesign and execution. In essence, they risked having to donate not only their work but also the realisation of it, the supply of objects and of furniture. Fortunately it did not go that way: we have been sponsored 100 per cent thanks to everyone's efforts.
W*: Did you give 'carte blanche' to the studios or did they receive a specific brief from your side?

GP: The project brief was very condensed: a mirror, a make-up table, some space or a furniture for relaxation and the inevitable pot for flowers. Nothing more. From there on, free pencils!
W*: Did the design interpretation have to be connected to Vittorio Gregotti's architecture?

GP: Since these are interior spaces, we did not set the condition that Gregotti's project had connections with theirs, but some of them did so spontaneously: holding a part of the original dressing room or graphically recalling the distinctive signs of the theatre and the surrounding Bicocca neighborhood.
W*: How did you work around the limitations of the pandemic?

GP: I wrote down the concept of 'Vietato L'Ingresso' in April 2021, the delivery of the projects was set in May, and the opening of the construction site was fixed on 6 June. My personal satisfaction was that of being an enlightened client, who does not ask to change the colour of the curtains nor is bothered by the choice of lamps. They had maximum freedom and my mantra was: the dressing rooms are all the same from the outside, just distinguished by different handles, but once you cross the threshold you will have 17 stories to be discovered.
W*: There is also an open contest, so that people can vote for the best dressing room; how important is it to involve the audience in such a kind of project?

GP: The technology of virtual visits, which has undergone an acceleration in the last year and a half, allows for an unlimited dissemination of any initiatives. The theatre is everyone's heritage, therefore everyone must be able to express their opinion. It is really about the audience, whether it's a concert, a ballet or an opera. The audience always imagines what's behind the scenes. Imagination always matters.
INFORMATION
'Vietato L'Ingresso' can be visited on 18 September 2021, from 4pm to 7pm. Booking available via teatroarcimboldi.it
ADDRESS
Viale dell'Innovazione, 20
20126 Milano
Receive our daily digest of inspiration, escapism and design stories from around the world direct to your inbox
Maria Cristina Didero is an independent design curator, consultant and author, who has contributed to many publications over the years; she is currently Milan editor of Wallpaper* . Didero has consulted for companies such as Vitra, Fritz Hansen, Lexus, Fendi, Louis Vuitton, Valextra among others. Based in Milan, she works internationally, curating exhibitions for institutions: some of her most recent projects include Nendo: The Space in Between and The Conversation Show at the Holon Design Museum, Israel; FUN HOUSE by Snarkitecture at National Building Museum, Washington D.C.; SuperDesign a project about Italian radical design, NY; Vegan Design, or the Art of Reduction by Erez Nevi and The Fish and The Crowd by Carlo Massoud, Milan. In April 2022 she curated a Mathieu Lehanneur exhibition at the Triennale in Milan called The Inventory of Life, while in July she debuted a project at the MK&G in Hamburg titled Ask Me if I Believe in the Future, alongside a series of ongoing collaborations. She was appointed 2022 Curatorial Director of Design Miami/. She is currently preparing two projects for Milan Design Week 2023.
With contributions from