After 40 years in craft, French textile artist Simone Pheulpin is finally making her point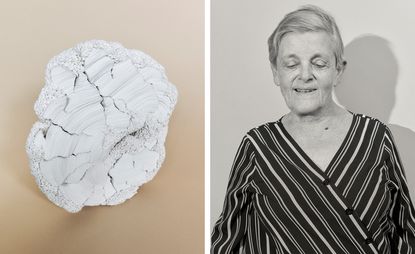 (Image credit: Thomas Chéné)
A large sculpture dominates the living room of Simone Pheulpin's modest apartment west of Paris. It is laid out on a table, its surface a riot of shapes and textures. It boggles the mind that the entire thing – part of a pair commissioned by clients for their new home in the Hamptons – is made of cotton and pins. Pheulpin put over four months of patient handiwork into sculpting them, a real challenge despite 40 years of experience in her craft. 'Now I see I was capable of doing it,' she says, 'and I can't believe it.'

At age 77, Pheulpin is finally having her moment. This year she is exhibiting in both France and the UK, has won the Grand Prix de la Création de la Ville de Paris and received a special mention at the Loewe Craft Prize. As Loewe's creative director Jonathan Anderson says, 'Simone transforms humble materials into incredible sculptures. Her work is not something you come across every day, it is a true source of inspiration.' Major museums are also taking note: both the Art Institute of Chicago and London's V&A Museum have bought some of her works for their permanent holdings.

Antonia Boström, the V&A's director of collections, became aware of Pheulpin's sculptures about a year ago. 'When you first see the work, you think it's ceramic or clay that's been cut,' she says. 'Then, when you understand what it's really made of, it's amazing. It adds to the extraordinary wonder of the object.'
Pheulpin's character is equally surprising – a petite grandmother of five with a pleasant, matter-of-fact demeanour and sly flashes of humour. Born in 1941, she grew up in the Vosges region. Her home town produced cotton for automobile tyres; as a child she played in the mills among the fabric. At 17, she was turned down to study at Nancy's École des Beaux-Arts, so she took evening classes, married, had children, worked as a medical secretary and taught tennis. In her leisure time she sewed colourful fabric panels for her children's rooms. One day she put the colourful fabric aside and picked up the raw cotton lining that gave it structure.

'I remember the first piece I did. I put little circles in a box. But why I did that I don't know,' she says. She was 35 years old. In the years since, she has perfected her technique, always using raw cotton in the same off-white shade. There are no preparatory sketches: once her hands get started, it's the material that guides her. Repeating the same folding and pinning gestures, she produces a startling variety of shapes from the natural world: swirls like sheep wool, concentric circles like cross sections of trees, fault lines. It took her ten years to figure out how to craft a hole; these days her goal is to recreate the cracked earth of the desert.
RELATED STORY
Pheulpin works at a small table in her flat or her family home in the Vosges. She is on her third thimble, having pierced two by pushing on millions of pins. She once asked a pin manufacturer for sponsorship, but it declined, saying that the pins were not visible in her work. Shortly afterwards, she was having her ankle X-rayed and thought of doing the same to a sculpture. The result was stunning, its exposed skeleton a prickly, swirling ballet. Now she regularly gets smaller works scanned, and the pin maker has become a sponsor.
One of Pheulpin's biggest pieces required 5kg of pins, 3kg of fabric and nine months of effort. It belongs to Galila Barzilaï-Hollander, who owns four of Pheulpin's sculptures. 'She reflects herself in her work,' the art collector says. 'It's very Zen, quiet, meditative, humble.'

For a long time, Pheulpin's career was also quiet, notably in France, where textiles have only recently been considered a 'noble' art form. Pheulpin says, 'People would see my work and say: "It's beautiful. Oh… it's fabric?" And suddenly it wasn't so beautiful anymore.' Things changed after she met Florence Guillier Bernard of itinerant gallery Maison Parisienne, who has represented her since 2008. Now, Pheulpin's problem is that she works nearly every day, and still struggles to keep up with demand. When other artists ask where she stores her unsold works, 'I don't dare tell them I don't have any', she says with a sheepish laugh.

As originally featured in the September 2018 issue of Wallpaper* (W*234)
INFORMATION
For more information, visit Simone Pheulpin's website