SCP returns to west London with a small but smart boutique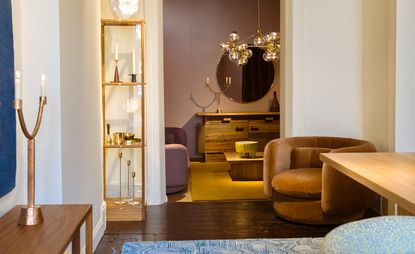 (Image credit: TBC)
Although much-loved British furniture brand SCP brand has grown exponentially over its 34 years, its physical stores have remained surprisingly few – a deliberate move that says much about its founder's belief in quality over quantity. However, now, two years after making its departure from Notting Hill's Westbourne Grove, where its first and only second store was located for ten years, the east London-based brand is making its return to the west with a new boutique in Pimlico.

Unlike the previous west London store, which mimicked the company's sprawling Shoreditch home, the new Pimlico outpost adopts a more tailored approach. It occupies a small but smart spot on Pimlico Road – a more intimate setting that will showcase a tight edit of high-value furniture and lighting by brands such as Piet Hein Eek, De La Espada, Roll & Hill and David Weeks Studio, not to mention its own collection of UK-made upholstery and furniture.
Director and founder Sheridan Coakley, who opened the brand's HQ on Curtain Road in 1985 but operated as a vintage furniture dealer long before that, has had his eye on the area for a while. 'We've been looking for a new space since we closed the Westbourne Grove store, so nearly two years,' he explains. 'It was just difficult to find the right spot. The new store is relatively small compared to our Curtain Road space – 130 sq m compared to 1,400 sq m – but small showrooms are what is common in the area.'

The arrival of a number of other contemporary brands to the neighbourhood in recent years – namely Pinch, which opened up shop on nearby Bourne Street in 2017, followed by Danish furniture brand Carl Hansen & Son in 2018 – would seem to be a signal that there is demand for more modern design among the area's plentiful antiques stores and frilly-furniture brands.
'Pimlico Road has always been the centre of what used to be called the interior decorator district, but over the years it has evolved from by-appointment antique shops and galleries to now include specialist high-value contemporary furniture, fabric showrooms, restaurants and a weekly farmers market,' observes Coakley.

'Our approach is to make a showroom that has a small selection of high-value items and objects. It's very much my choice of things, and will feature pieces that are made with exceptional skill and the best natural materials.'
Jon Harrison – who has worked with the brand since 2011 creating various furniture and products as well as installations for trade shows and events, has created the new store interior alongside SCP's go-to graphic studio Farrow Design led by Mark Farrow. To ensure that there is a clear visual distinction between the east and west outposts, the new space uses a darker, inkier shade of the brand's trade mark blue, which the designers felt was more befitting of the new surroundings and clientele.

Coakley and his team are also planning a busy programme of events for the store's future. SCP Pimlico Road kicks off with a showcase of its 2019 collection, featuring the new 'Barrel' collection by Philippe Malouin and a collection of rugs by Donna Wilson, which were debuted at Maison et Objet in January. May looks set to be a busy month at the store with the first UK show of large scale vessels and objects by Dutch ceramist Floris Wubben during London Craft Week, as well as a live upholstery making demonstration from the brand's own specialist factory in Norfolk, Coakley and Cox. The end of May will see a special floral installation by designer Poppy Booth and floral decorators JRASIC honouring the nearby Chelsea Flower Show.
INFORMATION
For more information, visit the SCP website (opens in new tab)
ADDRESS
SCP Pimlico Road
57 Pimlico Road
London
SW1W 8NE
VIEW GOOGLE MAPS (opens in new tab)