Inside Karen Chekerdjian's new HQ in Beirut's industrial district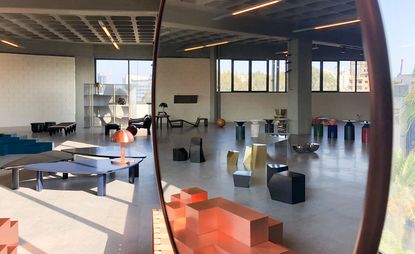 (Image credit: Alaim Sauma)
Lebanese designer Karen Chekerdjian's working life has been anything but static. From studying cinema and working in advertising, to studying an MA in Industrial Design under the mentorship of Archizoom co-founder Massimo Morozzi, and opening her eponymous label in 2001, she has had quite the interdisciplinary career.

This eclecticism underpins what is arguably Chekerdjian's biggest project to date: the relocation of her showroom and studio from the Beirut Port district to Karantina, a largely derelict industrial neighbourhood of the city. 'I thrive in areas that are under appreciated, in the unconventional parts of Beirut,' Chekerdjian says. 'Such places thrill me and ask me to extend beyond my boundaries as a designer. Engaging such places is a project in its own right, and is as defining as my own work.'
The exponential growth of her 18-year-old design catalogue fuelled the designer's drive to relocate. Her search for a new space brought her to The Kamel Building, a former tannery designed by Lebanese architect Mawan Maamari in the 1970s. 'My scale and scope changed after Trans|Form (a three-piece collection shown at Design Miami in 2015), and my work literally outgrew the space,' she continues. 'I felt physically and creatively confined by the downstairs showroom and upstairs studio. I no longer wanted to be constricted by walls. I needed an open space. I wanted to breathe.'

The building's top floor space provides ample room for her colourful oeuvre, which has been refitted with an emphasis on its raw personality. A patterned concrete mesh ceiling and white brickwork form a brutalist shell that brings together her collections.
Outdoor views of the surrounding Karantina and Bourj Hammoud neighbourhoods act as a backdrop to Chekerdijan's ranges. To celebrate the move, she opened an exhibition in the space, titled 'Above Ground | Outer Space.'

With all of her pieces finally brought together under the same roof, Chekerdjian is excited to see her designs find new context. 'In this vaguely defined and open space, I am able to house all my pieces, from the largest to the smallest. They are in perpetual dialogue with one another, constantly forming and transforming their relationships so that the timeline between them almost disappears.'

While she blurs the ages of her past pieces, one can only wonder how Chekerdjian's new home will act as an inspirational catalyst for future work.
'Infinity' table, by Karen Chekerdjian. Photography: Alain Sauma
INFORMATION
'Above Ground | Outer Space' is on view until 30 June. For more information, visit the Karen Chekerdjian website (opens in new tab)
ADDRESS
Kamel Building
Fourth Floor
Seaside Road
Beirut
VIEW GOOGLE MAPS (opens in new tab)