Rudolph Schindler's Fitzpatrick-Leland House hosts an array of design-centric exhibitions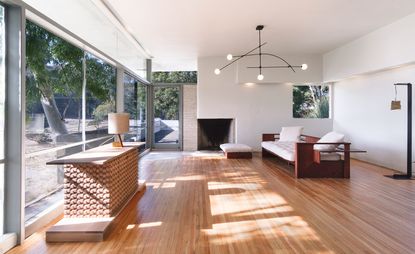 (Image credit: TBC)
The famed Fitzpatrick-Leland house, perched at the top of Mulholland Drive, has been billed a 'theatrical' structure by historians – as well as, frankly, 'a come-on'.

Built as a spec house to attract similar development in the 1930s, it sits at the intersection of the city's notorious mountain drive and the twisting thoroughfare of Laurel Canyon, an area today hosting many impressive homes.

This year, the Rudolph Schindler creation, now owned by the MAK Center for Art and Architecture, will welcome a series of design exhibitions and programming related to the home's history. The series begins with 'Pin-up: A Designed Tribute to Schindler's LA', juxtaposing the work of LA-based designers and artists with that of Schindler, who hailed from Austria and moved to LA in 1921.
Schindler's innovative designs utilised the interplay of indoor and outdoor space as well as uncommon materials, making him one of the city's vital architectural voices even today. A former collaborator of Richard Neutra, he built more than 150 homes in the LA area from the 1920s onward. Participating designer Pamela Shamshiri, a former film set designer, lives in the Schindler-designed Lechner House, which she recently restored. Shamshiri, behind the look of spots like the Ace Hotel Palm Springs, made pieces on display in collaboration with artist John Williams. Brendan Ravenhill, also on view, has too made the Schindler legacy part of his design practice, restoring the Southall House in Echo Park and designing fixtures for Schindler's Bethlehem Baptist Church in South Los Angeles.

The design group Atelier de Troupe, led by Gabriel Abraham, has created an on-view group of light fixtures and furniture that takes cues from 1920s aesthetics; while a kidney-bean shaped wood table and chair set were designed in collaboration with MOC Woodworking. Also contributing designs is Marmol Radziner, a long-time Schindler supporter, with a recreated Schindler sofa, ottoman and sling chairs. The talent on display may well be a contemporary come-on for those tempted by LA's booming design scene.
INFORMATION
'Pin-up: A Designed Tribute to Schindler's LA' is on view until 11 February. For more information, visit the MAK Center website (opens in new tab) and the Atelier de Troupe website (opens in new tab)
ADDRESS
MAK Center for Art and Architecture, Los Angeles
835 North Kings Road West
Hollywood CA 90069
VIEW GOOGLE MAPS (opens in new tab)