Rocket science: chmara.rosinke craft Handmade seasoning kit with Rasmus Kliim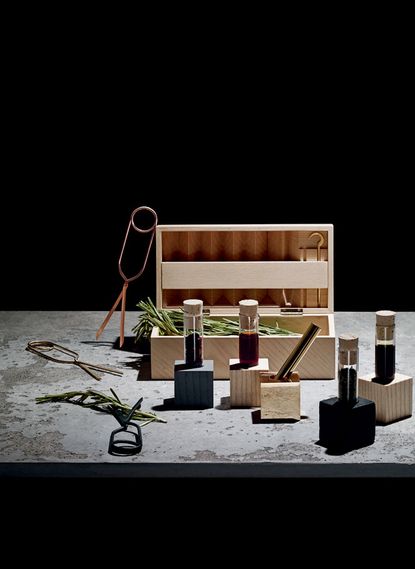 (Image credit: Andy Barter)
A foodie's kitchen cupboard is incomplete without seasonings. For our sixth edition of Wallpaper* Handmade, we decided to bring together the basics of cooking by appointing Viennese design studio chmara.rosinke to create the perfect seasoning kit. To add even more flavour to the project, we then invited New Nordic chef Rasmus Kliim to provide a palette of ingredients which reflected his style of cooking to fill the kit. He happily complied and also provided some authentic recipes to inspire even the least culinarily-minded folk to conjure up some Nordic goodies.

Ania Rosinke and Maciej Chmara founded chmara.rosinke in 2012 and have since explored true craftsmanship through their ecological and sustainable approach to design. It is their earlier experience with design for food that we thought made them the ideal candidates for our project; the pair have previously crafted a bespoke place setting for a three-course meal by chef and restaurateur Konstantin Filippou at his eponymous Michelin starred establishment in the Austrian capital, using concrete, leather and brass for the haute cuisine menu.

With our concise brief, the pair reconceived the notion of cooking as an experiment and created a chemistry-style conceptual kit. All held together in a travel-size wooden box, the set includes test tubes, ash and brass holders, and a brass mortar, spoon and sickle.

Matching food and materials was an attractive prospect for the design duo. Not only do they pedantically choose their materials – 'laboratory glass is a good material to keep spices and brass is the classical material for mortars', Chmara tells us – their craftsmen are also equally specific. Their neighbour Carl Auböck made the brass pieces and the ash was shaped by a Polish furniture restorer in Vienna who, Chmara says, 'is a type of craftsman you cannot find anymore.'

Rasmus Kliim then gave our scientific project a foodie edge. Kliim works under the skilled tutelage of Claus Meyer, a food entrepreneur who originally co-founded Noma and is one of the brains behind the New Nordic movement, giving precedence to hyper-fresh and foraged ingredients. Kliim – who did stints at both Geist and the Michelin-starred Paustian before becoming head chef at his own restaurant, Radio – is now a product developer for Meyers foods.

Thus, he has provided some locally foraged, flavour enhancing ingredients, as well as some great recipes. So go on, dig in.

In our kit – provided by Rasmus Kliim
Spruce salt
Smoked apple vinegar
Spice of söl (seaweed dulse), blackcurrant and blackberry
Dried spice of Juniper shoot
Greenland thyme and myrica gale
Ramson oil
Parsley root crisps with spruce salt and horseradish dip
A great snack with a lot of flavour

(Serves 4)
400g parsley roots
1 litre vegetable oil
spruce salt
100g yoghurt
5ml horseradish juice (horseradish blitzed in a juicer)

Peel the parsley roots and slice as thinly as possible. Heat the oil to 165°C and fry the sliced parsley roots until light brown and crispy. Season the crisps with the spruce salt. Mix the yogurt with horseradish juice (this is really strong) and salt to taste. Serve the parsley crisps with the horseradish dip on the side.

------

Fried squid with grilled leeks, brown butter and smoked apple vinegar
Perfect as a starter

(Serves 4)
4 leeks
50g butter
10ml smoked apple vinegar
5g honey
salt
vegetable oil
200g cleaned baby squids
handful of parsley leaves

Cut the leeks into long strings and wash them. Brown the butter in a pan; it's important to get it really brown but not burnt. Mix the brown butter with the smoked apple vinegar, honey and a little salt, and set aside. Stir-fry the leeks in vegetable oil in a very hot pan until nicely coloured, adding the parsley leaves at the last moment. Cut the squid thinly, into 0.5cm slices, and fry in vegetable oil in a really hot pan for 5 - 10 seconds - don't let it get chewy. Mix the squid with the leeks and parsley and arrange on a plate. Pour over 2 tbsp of the brown butter vinaigrette to serve.

------

Grilled spring cabbage with herbs and ramson oil dressing
A vegetarian dish that can also be served as a side with meat or seafood

(Serves 4)
100ml cream (at least 40 per cent fat)
50ml ramson oil
10ml elderflower or other vinegar
salt
1 spring cabbage (2 if serving as a main dish)
dill sprigs, chervil leaves, tarragon leaves and lemon thyme leaves

Mix the cream, ramson oil, vinegar and a little salt to make a dressing (it will split, but it is supposed to). Cut the cabbage into four and grill the pieces on a very hot pan for 1–2 minutes each side – it should turn a nice dark colour but not burn. Season with salt. Pour 2 tbsp of the dressing over each cabbage and top with a mix of herbs.

-----

Dehydrated beetroot with spiced söl, blackcurrant and blackberry
A tasty side dish for meat or seafood, or serve as a salad

(Serves 4)
400g beetroot
100ml beetroot juice
50g honey
20ml cherry or other vinegar
spice of söl, blackcurrant and blackberry

Boil the beets in water until tender. Peel and cut into slices 1cm thick. Dehydrate the slices in the oven for 1 hour at 130°C until they have a chewy texture. Reduce the beet juice with the honey and vinegar to a syrup texture. Add the beets and glaze them. Serve seasoned with spice of söl, blackcurrant and blackberry.

-----

Lamb loin with caramelised garlic spread seasoned with spice of juniper shoots, Greenland thyme and myrica gale
This Nordic spiced lamb loin goes really well with the dehydrated beetroot dish but can be served with other sides

(Serves 4)
600g lamb loin
spice of juniper shoots, Greenland thyme and myrica gale
100ml vegetable oil
50g peeled garlic cloves
salt
apple vinegar

Marinade the lamb loin with the spice of juniper shoots, Greenland thyme and myrica gale. Let it rest and infuse for 24 hours. Heat the oil and add the garlic cloves. Fry slowly at a low temperature until they are light brown and caramelised. Blend together the garlic with a little salt and apple vinegar to produce a smooth paste. Pan roast the lamb on the fat side to give it a nice colour. Turn around and give it 30 seconds on the other side. Put it in the oven at 160°C for 10 - 15 minutes. Let it rest for 10 minutes, spread the garlic paste on top and serve.
Receive our daily digest of inspiration, escapism and design stories from around the world direct to your inbox