The Old American Can Factory in Brooklyn invites a new maker studio
Design platform Radnor, founded by Susan Clark, puts down roots in a new studio space in Gowanus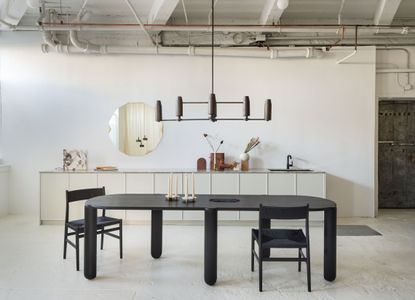 (Image credit: Matthew Williams)
Creativity thrives inside the Old American Can Factory in Gowanus, Brooklyn, a historic industrial complex made up of six buildings occupied by more than 300 makers. When Susan Clark, founder of Radnor, came to know the site through her close collaborators Workstead, she knew it made sense to join. 'It's very much about supporting makers, so we feel honoured and lucky to be a part of it,' she says at the opening of Radnor's new studio space there.
Radnor, a design platform that creates limited-run collections – Radnor Made and Radnor Represented – with likeminded designers and makers who believe in the fruitful combination between craft and design, is similarly predicated on collaboration.
'A lot of the work comes from industrial designers who have really taken on the knowledge and expertise of their craft,' Clark explains of Radnor Studio's offering. 'And then there are the traditional ceramic artists, or woodworkers, true traditional makers who are inspired and push their work into the design realm.' Loïc Bard's Bone Dining Table can be counted as an example of the former, a piece that 'on its own feels incredibly sculptural,' Clark says, 'but once you put it into context, you understand the liveability of the work.'
A candle holder and block sconce table lamp by Henry Wilson, an industrial designer who collaborates with a forgery close to his studio in Australia, is similarly sculptural, yet defined by process and technique.
Some of the most tactile pieces shown in Radnor's new studio are made by the second kind of Radnor collaborator: craftspeople with a design edge. Alexandra Kohl weaves with horsehair, while Salem Van Der Swaagh uses selvedge from Scotland woolen mills to weave textiles with her blind cousin. They created custom cushions for the Lotus Chair, a 1968 design by Miller Yee Fong with a 'technical wicker construction that is mind-blowing', says Clark.
Radnor's celebration of craft and technique comes together with a host of other design collaborations too. The Marilyn twin bed designed with Adam Rodgers and manufactured in a Mennonite and Amish community in the U.S., Bunn Studio's Halyard Rugs made according to updated traditional Seisal techniques, and a new edition of the Arv Chair, designed by Studio David Thulstrup for the historic Danish company BRDR Krüger – strong instances of how Radnor's dialogue between technique, process and functionality drives design forward.
INFORMATION