Pure communication: Frederick McSwain takes his design vision to LR Paris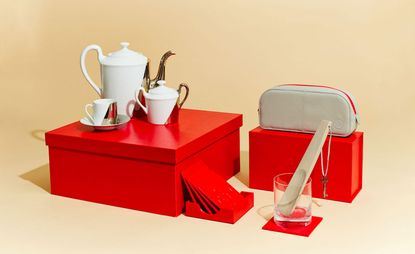 (Image credit: Frederick McSwain)
When we think of promotional products and gifts, we don't tend to connect them with high design; the consumer world has a reputation for mass-production and crowd-pleasing that sets it aside. However, the arrival of multitalented designer Frederick McSwain into the consumer market is challenging this notion. McSwain, you see, has just been made chief creative officer of the bespoke gifting studio LR Paris.

The designer's CV spans many elite design brands – from buying for Conran to sales for Poltrona Frau and showroom design for Cappellini. His creative aesthetic has been moulded by an artistic background, while his own studio works boast a minimalist style. We took a moment to discuss how his design language will translate to this new role, producing gifts for brands such as Graff, Harry Winston and the Guggenheim.

Wallpaper*: Where does your design inspiration come from?
Frederick McSwain: When beginning a project, I generally look for some type of catalyst to serve as the entry point. Since every client's needs are different, a project's scope can often vary between a blank page and something predetermined. On either end of the spectrum, inspiration can be found anywhere and everywhere. For me, it's not as important where an idea comes from... but where it's taken to.

How do you feel you have been able to transfer your personal design aesthetic to LR Paris?
Aesthetically, I'm typically drawn to simple, clean, and understated forms and branding. That being said, it's our mission at LR Paris to craft a thoughtful, personalised and emotional narrative that's told through our client's voice. Whether designing a minimal porcelain vase or a maximal pattern in silk, every product is put through the same level of scrutiny –from conception to production. We aim to eliminate the arbitrary, select the most relevant materials/production methods and essentially boil each project down to its purest iteration when communicating the values of the brands we work with.

Do you have any preferred materials you enjoy working with? Have you been able to incorporate them into your work for LR Paris?
Over the last few years, I've done quite a few projects in machined aluminium. I'm really drawn to the jewel-like precision of the CNC process mixed with the more organic and hands-on nature of anodising. Although still confidential, this is a material that we will be utilising in a big way later this year. I'm also quite interested in how more technical materials can be juxtaposed with artisan materials and techniques (porcelain, silk, leather, crystal, etc.).

In your opinion, how does good design solve the problem of the disenfranchised 21st century consumer?
It's funny, when I think of 'good design' I think of objects that are problem-solving, beautiful and often timeless. In our fast-paced and over-saturated marketplace, form, function and even quality are expected (not requested). For me, what really sets a product apart is its ability to tell a story. More and more, consumer decision-making is being driven by the emotive and cerebral. Good design, in essence, communicates on many levels. Nowhere is this more apparent than when giving or receiving a gift, and never has it been more vital that our clients' voices break through the clutter of the modern world.

What other other projects you are working on for the future?
We are working on the launch of a consumer-facing brand under the LR Paris umbrella called Leonie; that's actually what the 'L' stands for. For this venture, we will be utilising all of LR Paris' manufacturing capabilities and partnering with designers, artists and creatives from around the world to compose a collection of timeless and thoughtful objects. Leonie is on track to debut in 2016. I can't wait to share who we're already working with.
Receive our daily digest of inspiration, escapism and design stories from around the world direct to your inbox