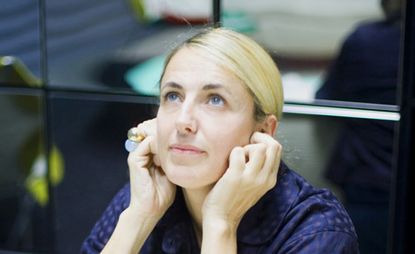 (Image credit: Press)
Wallpaper* Newsletter
Receive our daily digest of inspiration, escapism and design stories from around the world direct to your inbox
Thank you for signing up to Wallpaper. You will receive a verification email shortly.
There was a problem. Please refresh the page and try again.
Do you enjoy cooking yourself? If so, what is your favourite kind of food to prepare?
I really enjoy cooking, even if I do not have a lot of time to do it. I like to mix European and Asian recipes, or adapt them.


Do you have any comments on current lifestyle trends, both in kitchen and design? How do you think Scholtès is harnessing these trends?
I do not think we need any more kitchens that like museums. The space should be functional and fulfil our real needs, whatever our lifestyle. It should be open-plan to the dining room and be a convivial space. The kitchen should also have elements that enable you to experiment with different styles of cooking and provide an opportunity to invent your own. It should be a space where one can eat at any time from a light breakfast, to a snack, a family dinner or a party.
Scholtès is very much in tune with social trends and the value of the kitchen space within the home. When creating the Scholtès Centre of Excellence it was imperative that this design seamlessly integrated interactivity and demonstrated the gentrification of professional level cooking styles, particularly as Scholtès has revolutionised the kitchen space as the hub for the performance of home cooking and entertaining. I think people should be able to build a personal style and habitat that follows them, rather than the space defining them.


Was there anything you wanted to do but were restricted from doing?
I would have liked the Scholtès Centre of Excellence to be more in contact with the outside world, through video and web so that more people could be connected with it, or the visitor could continue his experience at home. Or, for people from the street to be aware of what it is happening in the basement, if there is a demonstration, chef masterclass or event. However, the design at street level creates a draw for passersby. It is a powerful design.


What is your favourite restaurant of all time?
Probably the Four Seasons Restaurant in the Seagram Building in New York City. With its 52 years of history, there is very little I would change. Plus, it puts me in a positive, '1960s New York' state of mind.


Would you ever draw the line at collaborating with or for anyone or anything?
Yes, I would, and I have done so. First of all I need to feel that there is a possibility to give as much as receiving from my client. I also need to feel that it would be possible to work for four hands with them. I always need the opportunity create quality work. I believe that whatever the value of the product or of the architecture, there is quality in every price category.


What one product in the history of design to you wish had your name on it?
All the lights from Castiglioni.


500 years from now, which one of your products has stood the test of time and taste?
I want to be forgotten in 500 years time. It would be great if some of my products lived after I died, but I'm just working in design for a living.


What excites and/or terrifies you on a daily basis?
The fantastic ups and downs of a project. Something that starts fantastically well, then has problems, and that it's fantastic again. Like in the book 'Arboretum' by David Byrne.
Receive our daily digest of inspiration, escapism and design stories from around the world direct to your inbox
Melina Keays is the entertaining director of Wallpaper*. She has been part of the brand since the magazine's launch in 1996, and is responsible for entertaining content across the print and digital platforms, and for Wallpaper's creative agency Bespoke. A native Londoner, Melina takes inspiration from the whole spectrum of art and design – including film, literature, and fashion. Her work for the brand involves curating content, writing, and creative direction – conceiving luxury interior landscapes with a focus on food, drinks, and entertaining in all its forms