New York's PK Shop puts Mattia Bonetti's endless creativity on show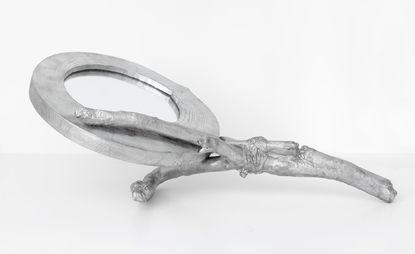 (Image credit: press)
The Swiss-born, Paris-based designer Mattia Bonetti (opens in new tab) has long been known for his quixotic oeuvre - from surreal bronze chairs and commodes, some dripping with liquid gold, to tables trimmed up with chunky crystals. But now he's branching out even further, boosting his prestige in the process. On 29 April, New York dealer Paul Kasmin's PK Shop (opens in new tab) will debut Bonetti's first ever wallpaper, along with the designer's whimsical, boudoir-like 'Boy Scout' hand mirror and picture frame, which are cast in aluminum from twigs he collected in his hometown Lugano, Switzerland.

Then, upping his cachet comes a two-volume book on Bonetti's thirty-year career. Mattia Bonetti will be published by the Editions Louvre Victoire (opens in new tab) and launched exclusively in the US. The set of books is a window into Bonetti's considerable creativity, chock-full of his freehand design drawings, along with extensive photos. Bonetti himself will be on hand for the book signing, which also takes place on the same day. The books, the wallpaper and the new design objects will be sold exclusively at PK.

'Mattia has long turned to designing textiles, so wallpaper was a perfectly logical next step,' says Kasmin, who also represents Ron Arad, Les Lalanne and Tina Barney.
As for the wallpaper's entry into the haute fine art world? Just last month, Kasmin lined his entire stand at Maastricht's European Fine Art Fair (opens in new tab) in the distinctive wall covering, with its swirling, amorphous shapes of white against an elegant grey background. Interest in Bonetti's 'Meander' wallpaper was considerable, reports Kasmin.

In case you needed proof of Bonetti's creative clout amongst international tastemakers, just look at his client base. Tom Ford, Princess Gloria von Thurn und Taxis and Reed Krakoff are just a few of his clients. Madonna, too, is a prolific collector.

If you want to catch a glimpse of his wizardry, head to Le Centre Georges Pompidou in Paris, London's V&A Museum or even Manhattan's swanky Mark Hotel (opens in new tab) (where Bonetti designed the furniture for Jacques Grange). If you can't make it, head to the PK Shop and pick up the new Bonetti books. Once there, you'll be hard pushed not to be enticed by the mirror and the picture frame, too.
ADDRESS
PK Shop
297 Tenth Avenue
New York
NY 10001