New furniture collective Joined + Jointed to launch at the London Design Festival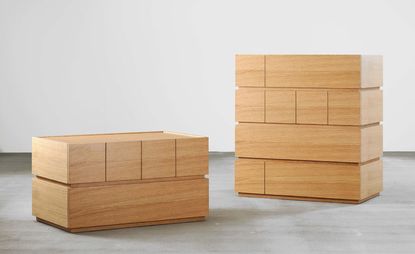 (Image credit: Samuel Chan)
One of the most promising design brands to choose the London Design Festival as its launch pad next week is British furniture collective Joined + Jointed. Helmed by Samuel Chan, it hinges on a simple but potent ethos: 'creation through collaboration'. And there's certainly strength in numbers. The impressive first collection will launch with nearly 100 brand new pieces of furniture by design stalwards including Simon Pengelly, Alex Hellum, Wales & Wales, Freshwest, Sean Yoo, Henrik Sørig and Chan himself.

Navigating the minefield of a fledgling business can be tricky - but Chan comes armed with plenty of design pedigree, having founded and led bespoke furniture brand Channels for fifteen years. Back in 2010 Channels teamed up with Anthony Burrill for Wallpaper* Handmade and more recently, his 'Finnieston' console table scooped a Design Guild Mark for 2013. With Chan's proven track record, Joined + Jointed will be quick to carve a niche for itself.

A selection of prototypes will be on show at Design Junction - where the brand will make its official debut - while the full collection will available to view and order via Joined + Jointed's website.

We caught up with Joined+Jointed founder and designer Samuel Chan to find out more about his new venture…

You've had a lot of success with your own brand Channels. What prompted you to branch out with other designers?
When I first started, I didn't have a set agenda. I approached designers that I had worked with in the past, while others were good friends of mine. I simply wanted to bring a group of designers together to use my existing production facilities - all of them agreed it was a good idea - and that's how it started. But we also share similar interests: timber and wood are the main materials that we have been using.

Did you have a brief?
Most of them are familiar with the work that I produce for Channels and understand my strengths. I encouraged them to use my workshop and push the boundaries as much as they could - that was the brief. Because of that freedom, you find that some of these designers can actually be very fun.

That would be any designer's dream brief…
One of the main things that came up in conversation with all the designers was a mutual frustration that many manufacturers are not prepared to invest in prototypes, or that they try to cut corners and say a design detail is too expensive to produce. But with my background - having trained as a furniture designer - I think it's very important to retain these nuances. So for all the pieces that we've produced, I've managed to maintain all the details that the designers wanted. I'm prepared to experiment so we just gelled together very easily.

Furniture is obviously very tactile, and it can be quite daunting for a customer to make such huge purchases over the Internet. Why have you decided to launch through an online platform?
Partly because I have already established a physical retail business with Channels. And partly because my factory also manufactures furniture for other brands, all of which already have established showrooms on the High Street. That's how I wanted to set Joined + Jointed apart from them. We have a warehouse that will act as a makeshift showroom, so if people want to check out the furniture, they're welcome to - but they still have to order the pieces online.

Will the pieces be made to order?
At the moment we'd like to have them available to ship straight away, but there will be pieces that will be made to order, especially those with upholstery in case the customer has their own fabric. With the launch in September at Design Junction we'll be showing prototypes, but the factory is already in production.

What's next in store for Joined + Jointed?
The six designers will keep working with me, coming up with more new collections but at the same time we will continue to look for people that share our vision.
ADDRESS
The Sorting Office
21-31 New Oxford Street
London WC1A 1BA