Modern man: Matthew Hilton on blogging, cappuccinos and cutting-edge design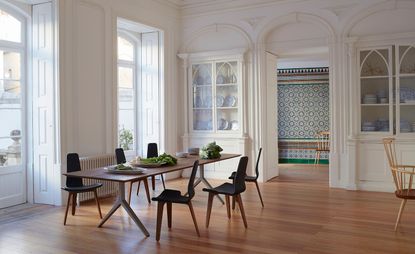 (Image credit: TBC)
Master craftsman Matthew Hilton has been a feature of the British design scene for decades – and his work never fails to move with the times. Consistently modern and ever-elegant, he's known for his clever material choices and simple lines, and his work is held in permanent collections at the V&A and Manchester City Art Gallery.

We caught up with the designer ahead of his 'An evening with...' event with design journalist Max Fraser at the Heal's flagship store in central London, where a live maker's demonstration of his seminal 'Balzac' armchair will also take place – 25 years after he first dreamt it up.

W*: How did the idea for an evening 'In Conversation' at Heal's come about?
MH: It was very much a joint idea between Heal's, the manufacturers SCP Limited and myself. Heal's is an extremely important retailer of my work. Whether that's with my own brand collection or designs I've created for SCP, Ercol or Case, they sell it well, in a great environment with well-informed sales advisors.

Speaking of SCP Limited, your eponymous brand has been linked to the high end manufacturers for what seems like decades. How did this relationship come about?
It's true – I've been working with SCP's founder and director, Sheridan Coakley, for over 30 years. I'll work in hand with their team of product developers and upholsterers at their specialist factory in Norfolk during every step of the design process. Practically, this process has been the same since my first piece of upholstery for SCP, the 'Balzac' armchair, to most recently, the 'Solstice' sofa and 'Trieste' shelving.

Have any of these pieces stood out as your favourites? Are there any that you've encountered real problems with?
The 'Balzac' armchair is one of the pieces that I am most proud of. It has been in production since 1991 and is SCP's bestselling armchair. The idea came from Sheridan – he wanted to make a leather club chair, an idea that I initially wasn't that keen on, but in the end, it was actually very easy. I drew a sketch and made a small blue foam model, and this is what we took to the upholsterer. Success swiftly followed its launch when Terence Conran spotted the chair at a trade show and started stocking it. It was used in countless magazine shoots and developers acquired it for their show homes to signify a fashionable and contemporary space.

Having said this, I am really proud of all of my designs. As to problems, of course – I encounter difficulties in designing everything. To me, design is a series of problems to which a designer needs to find solutions.

Along with the Q&A you're preparing for in London, you have a really active blog on your website. Do you believe transparency and openness between designer and design-owner makes for a better relationship?
The internet allows a closer view into all kinds of worlds. If people are interested in what we as designers are doing, then I think it is helpful to have a place to access that. I love creating the blog posts but I negate the need to document what I've had for dinner or how many cappuccinos I've had that morning. If I see something interesting and can photograph it well enough and say something about it, then I like to do that. I love the feeling of making things which people take into their homes and use. I like things to be used, get marked, get older.

How do you balance your signature, contemporary feel with methods of traditional craftsmanship?
I am working in the modern world and will use whatever tools or materials feel right to use at a particular time. I think there is a strong interest in craft at the moment and knowing where things come from and who made them. But that is just one strand of the consuming public's interest – there are many others. We also have the most advanced CNC manufacturing available in timber furniture now, which allows great creativity.

What exciting projects might you have in the works that we can look out for?
It is certainly an exciting time for me. I'm surrounded by a great design team in my studio, I have a long experience to call on and I am working on rationalising and improving my working relationships with the companies I am linked with. So looking forward, I want the next ten years to be my most productive yet.
INFORMATION
'An Evening with Matthew Hilton' takes place on on 15 September, 6pm–8pm. For more information, visit the Heal's website

Photography courtesy Matthew Hilton
Elly Parsons is the Digital Editor of Wallpaper*, where she oversees Wallpaper.com and its social platforms. She has been with the brand since 2015 in various roles, spending time as digital writer – specialising in art, technology and contemporary culture – and as deputy digital editor. She was shortlisted for a PPA Award in 2017, has written extensively for many publications, and has contributed to three books. She is a guest lecturer in digital journalism at Goldsmiths University, London, where she also holds a masters degree in creative writing. Now, her main areas of expertise include content strategy, audience engagement, and social media.