Misha Kahn prepares to unveil his latest shape-shifting works in New York
Ahead of his exhibition at Friedman Benda, Wallpaper* pays a visit to designer Misha Kahn to discuss digital and analogue proccesses, low-brow pop-culture, and being an anomaly in contemporary design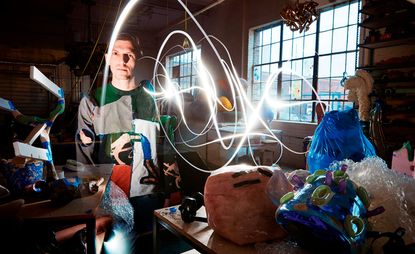 (Image credit: Photography: Alexei Hay)
Sunset Park, nestled between the East River waterfront and Brooklyn's Chinatown, has seen an influx of creatives, taking over the former Navy Yard buildings and industrial spaces. Among them is 30-year-old designer Misha Kahn, who has set up his new studio in the area. And on the cold, rainy December day that I visit, Kahn and his five studio assistants are bundled up. Tall and lean, Kahn is wearing long johns and sturdy outdoor attire, a strategic outfitting he probably picked up during the cold winters of Duluth, Minnesota, where he grew up.
He walks me through the studio, a former thread-dyeing factory, still industrial at its core. On one side is a loading dock, where that afternoon his team hoisted in a large crate containing a robot, typically used on car assembly lines. It had been shipped from Spain and the crate was waiting to be opened. (He later explained this would be part of his set-up for micro-manufacturing furniture.)

Kahn graduated from Rhode Island School of Design's furniture design programme in 2011. His sharp upward trajectory since then has been atypical, like the designer himself. He didn't assist a designer or go to work for an established furniture brand; instead he worked for a prop stylist. 'I learned an insane amount,' he explains of the stint. 'Like how to make everything in a room look good together.' And it makes sense, given Kahn's whimsical, borderline surreal installations. His uncommon combinations of materials – wood, resin, vinyl, fibreglass, woven basketry, glass, cement, aluminium, bronze, spun copper, grass, mohair – come together to create a singular universe that would be hard to imagine if not created by Kahn.
But it's this singularity that has also made Kahn an anomaly in contemporary design. 'I've been very lucky in getting a lot of opportunities, but I also feel slightly excluded from so many things, because most of the work is not manufacturer-friendly,' he says. 'Bigger companies can't license the designs, which is such a big part of most designers' work. Then, on the flip side, there are a lot of art collectors buying my work. But it's murky enough that people are never quite sure whether they can firmly validate that it's art.'
Kahn is preparing for a show at Friedman Benda. Since his last solo show at the gallery in 2017, he has been in a whirlwind of group exhibitions and residencies, in Dallas, Seoul and LA, all showcasing pieces that defy right angles and have been described using such endearing adjectives as 'squishy' or 'slouchy', as if you were referring to a cartoon character or stuffed toy. As I walk through the studio I glimpse a bronze shelf, which was handcast on site. On its side, it looks like an abstract sculpture, but when stood up, shelves appear from its anthropomorphic figure. I, too, start to think of this structure as a lovable cartoon character.

Across the studio, one of Kahn's assistants is piecing together foam cross-sections of one of his Claymation sofas, created using a digital programme, and soon to be upholstered in cashmere. This marriage of digital and analogue is a throughline for the show, Kahn tells me. All the pieces have been touched by some digital process, but crafted by hand at the start or end of their production. The exhibition, which will feature individual works rather than a room-filling installation (a departure for the designer), also shows off a slew of materials and techniques as though the natural and unnatural, high and low, hard and soft are all part of one complex but beautiful language.
That's not to say there isn't tension between these materials and techniques, but they create a beautiful kind of chaos. It's liberating. 'We have so much autonomy to be as creative as we want with whatever we do; people build houses that are totally lunatic. And there are so many people who want that. As soon as you give people the leeway to go there mentally, then they'll happily wander into a new version of reality,' says Kahn.

'I've always had a certain fascination with low-brow pop culture, I think because it felt so exotic,' he adds. 'And there is a Minnesotan craftiness that I am always drawn to, and those things have so much tension together but feel of a place.' This, too, is how it feels talking to Kahn. He has both depth and seriousness but, simultaneously, light-heartedness and whimsy. We're sitting in his small office that overlooks the studio. On the shelves, you can find books by illustrator Charley Harper, filmmaker Wes Anderson and sculptor Bruno Gironcoli. Kahn mentions a few more of his influences, from Isamu Noguchi to Ron Nagle.
That evening, the designer is on his way to the Moschino runway show, invited by his friend Jeremy Scott, who is the brand's creative director. As we're finishing up our conversation, Kahn changes out of his workgear into a fabulously asymmetric silver suit and a pair of Space Odyssey-esque trainers. He's ready for the night, a transformation that captures him perfectly.
As featured in the March 2020 issue of Wallpaper*
INFORMATION
'Misha Kahn: Soft Bodies, Hard Spaces' on view 27 February – 4 April, Friedman Benda, New York
friedmanbenda.com (opens in new tab)
mishakahn.com (opens in new tab)