Michael Anastassiades' public drinking fountains address plastic pollution during London Design Festival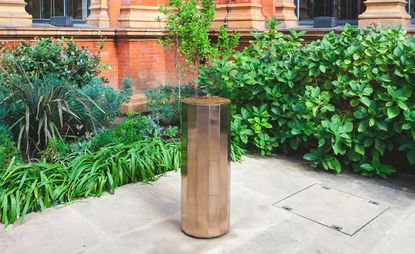 (Image credit: press)
Curator Jane Withers and collector Charles Asprey have joined forces to launch the London Fountain Co, which is set to unveil a contemporary public drinking fountain during London Design Festival next month designed for modern day life by Michael Anastassiades.

Free public drinking fountains have been in use across England since the mid-19th century – a time when fresh drinking water was scarce and beer, more often than not, was the only alternative. However in recent decades these stone fountains have been slowly disappearing from the country's city streets or falling into disrepair. It's a fact that few will have noticed, as they were quietly usurped by the now ubiquitous and environmentally damaging plastic water bottle.

For Withers and Asprey however, their disappearance has become the focus of this new and particularly pressing project to reinvent and reinstate the drinking fountain into the urban streetscape. 'We have both loved fountains for years and spot them wherever we travel,' explains Withers. 'It seemed a pity that in the UK despite such an illustrious fountain tradition the ones installed recently are mainly rather basic utilitarian models. We wanted to see if we could commission a beautiful and functional fountain that could become a loved feature of the city in the tradition of the Wallace Fountains in Paris or Rome's Nasone.'
Cypriot-born London-based Anastassiades, who is more commonly known for his ethereal lighting designs, has realised a new cast bronze fountain that will be installed outside of the V&A Museum with another close to South Kensington tube station. 'Michael combines an extraordinary ability as a form-maker with a strong focus on technical aspects which is essential for drinking fountain design,' praises Asprey. 'We wanted a contemporary fountain in the tradition of British street designs like the letterbox and telephone box that has a strong character but is not adding unnecessary noise to already crowded streets. He has done this beautifully with The Fleet Drinking Fountain.'

Made from polished cast bronze – which references historical fountains and other street furniture but is also hygienic – the faceted form, Anastassiades says, is an abstraction of a classical column with a scooped top to imply drinking from a bowl. 'It needed to be more of an experience than just a place to stop and fill a bottle,' says Anastassiades. 'It needed to blend into the environment and not to scream for attention.'

The footprint has been kept deliberately small, while the scale allows for a wide variety of people to use it and also facilitates filling a bottle. A shadow gap runs the fountain's length, providing drainage while also concealing the spout, nozzles and pipes so that, like Anastassiades' gravity-defying lighting, it divulges nothing about its inner workings.
'It is my first public-space project, on this kind of scale and of this nature. Especially here in the UK,' says Anastassiades. 'In terms of process, I didn't treat this any differently to anything else that I've designed; it's a design object, the requirements are different when you are dealing with the public domain, but once you understand the limitations you work around them. It has a great potential to grow into something very interesting.'

By making drinking water freely available, the trio hope to persuade people to stop using single-use plastic bottles and make the shift to a refill culture. They are working in collaboration with the Blue Marine Foundation and #OneLess, with the goal of implementing the fountains on a larger scale in the capital and beyond.

'There are challenges in terms of planning and permissions largely because we have lost the habit of drinking fountains in the public realm,' explains Withers, 'but hopefully this is being reviewed and streamlined. It also takes time to change behaviour as people are so used to the convenience of plastic bottles but as fountains become more common this will change.'
INFORMATION
London Design Festival is on view 15 – 23 September. For more information, visit Michael Anastassiades' website (opens in new tab) and the London Design Festival website (opens in new tab)
ADDRESS
V&A Museum
Cromwell Rd
Knightsbridge
SW7 2RL