Mexican artists and designers experiment with Grupo Arca marbles
At their Wynwood showroom, Grupo Arca presents a series of expressive marble designs from a roster of Mexican artists and designers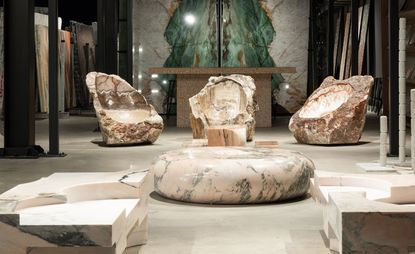 (Image credit: en.gpoarca.com)
As with their eye-catching Wynwood showroom designed by Esrawe Studio and Danish art collective Superflex, natural stone heavyweight Arca was looking to draw an audience with their anticipated exhibition held during Design Miami 2021, featuring collaborations with Mexico City leading art galleries OMR and Masa. They had the monumental task of clearing out a large section of their Miami gallery-style display, usually stocked with layers of mounted marbles in every hue and vein, to allow space for the commissioned installations on display throughout the week.
Making the most of their access to Grupo Arca's abundant stone library, artists Gabriel Rico and Jorge Méndez Blake, together with OMR, created an oasis of sculptural objects harbored over sand dunes in an archipelago of abstract and figurative forms. Guadalajara-based Rico, whose body of work usually merges taxidermy with found and constructed objects of natural and unnatural qualities, shaped a family of marble fawns and foxes accompanied by a variety of cacti; some ambushed by arrows, others offering cryptic messages and numerical formulas engraved on their bodies like mysterious prophecies. Calling himself an 'ontologist with a heuristic methodology', most of his work revolves around grouping conflicting pieces together as one harmonious composition. A dichotomy that invites the viewer to contemplate our complex relationship with the natural environment.
Using architecture as a reflection of language and expression, Méndez Blake's carved amphitheater blocks in white marble also stood over powdered islands across the showroom floor. Pristine semicircles chiseled out or sliced through the stone blocks resembling stadiums erected over the hills of ancient Greece. Historically a space for dialogue, the artist looks at the ancient Greek theater as a symbol of current global issues, stressing that aside from the pandemic 'our society faces two other crises: a democratic and a poetic one.'

Alongside the main exhibition space, modern advocates of Mexican craft and tradition, Ewe Studio present a pair of marble benches layered with circular cutouts. Made in collaboration with Masa gallery, the round gaps outline a human presence not always present. Demarking where the viewer should sit, it reflects our current fixation with personal space and social distancing. Also presenting were sculptor Adeline de Monseignat, Mario Garcia Torres, and designer Brian Thoreen - confounder of Masa gallery with Ewe Studio's Hector Esrawe - who contributed a more playful approach with smooth candy shaped sculptures in shades of light Miami pinks.
INFORMATION
ADDRESS
260 NW 27th St
Miami
FL 33127
United States
Originally hailing from Puerto Rico, Maria Sobrino spent seven years with Wallpaper* as an interiors stylist. These days you can find her enjoying a dinner al fresco at her Miami MiMo apartment on Biscayne Bay, or riding her scooter around Miami in search of beautiful things, both exterior and interior.