Maison & Objet 2013: the highlights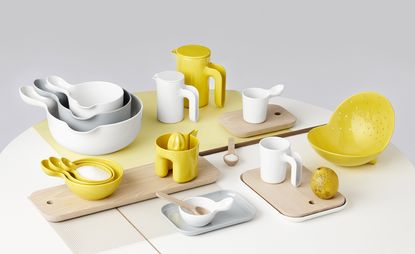 (Image credit: Ole Jensen)
September's Maison & Objet in Paris is the big showcase for the Autumn/Winter collections of the international design world. Some of the heavy hitters of the furniture world show up just for the Spring/Summer collections in January (opens in new tab), but autumn's Maison & Objet is gaining ground, with many companies endorsing September's edition with the launch of a whole gamut of nouveautés.

The timing lends itself particularly to the unveiling of outdoor furnishings, so companies such as Fermob, Tribu, Emu, Gloster and Manutti, and Vondom had a significant presence. There were standout collections at Gloster, which launched Bella and Vista collections by Carsten Astheimer; Tribu, which launched the Tosca collection by Monica Armani; and Matière Grise, whose collection by Constance Guisset took us happily back to 1950s Miami.

Menu, the Swedish design brand hitherto focusing on functional tabletop, chose this fair to rebrand, with a new logo, streamlined aesthetic, and many new covetable offerings that included bathroom and outdoor accessories, shelving and mirrors. And Galerie Bensimon, a regular destination in the 3eme for those in search of unique designs from emerging talents, chose it as the occasion to launch its own line, Maison Bensimon, with the MB01 armchair. Newcomers included Belgium's Lina Dura, a colourful collection of metal shelving and storage pieces and France's La Joue, with raw wood pieces large and small by Pierre Casenove

The Scandinavians, and the Danes in particular had a notable presence. A whole new range from Danish Crafts, a sofa, footstool and chair by Anderssen and Voll from Muuto, and from Room Copenhagen, a great melamine kitchen set designed by Olé Jensen.

The objet part of the fair's title is important - this is where to find the best of the world's tabletop designs, and usual suspects Michaël Verheyden, Christofle, Dibben, Normann Copenhagen and Non Sans Raison all augmented our kitchen and dining wishlists.

Outside the vast hangers of the Parc d'Exposition, forays into the galleries of the Marais and St Germain uncovered a beautiful collection by Damien Langlois-Meurinne for Gallerie Pouenat, a brilliant exhibition of glass sculptures by Fabrica (opens in new tab)at Christian Lacroix, and elsewhere, a lot of setting up. Maison & Objet now precurses Paris Design Week, so only those exhibitors with the foresight to set up in time to capture the early Maison crowd hit our radar on this occasion. But it was plenty to feast upon.