Emerging talents and canny collaborations steal the show at Maison et Objet 2017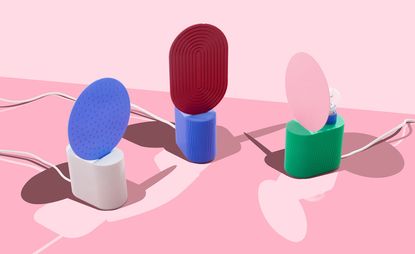 (Image credit: TBC)
The autumn fair season kicked off in Paris with Maison et Objet and Paris Design Week, welcoming the European design community back from its summer holidays. It was a well-padded schedule, both at the Parc d'Exposition and around town, where galleries had mounted fresh shows; and at the Cité de la Mode, buzzing with emerging talents showing at the Now! Le Off space.

In the exhibition halls, the 'Objet' component of the show was strong. In particular, desktop paraphernalia was imagined in many different ways, with exhibitors from Taiwan and China (Yen Objects, TA&D, Ey Products and Kimu, for example) dominating the offering. Established companies such as Hartô and Pulpo bolstered their collections of furniture with small-scale products – lamps, hooks and trays at Hartô, and glassware and carafes at Pulpo – while Minimalux, specialists in perfectly pared-back small-scale accessories, showcased a host of new items, created since recent investment reinforced their hand.

Tinted glassware seemed popular in launches at Pulpo, Tom Dixon and Ichendorf, while new ceramic offerings seemed to favour mid-century colours and forms – as seen at Rig-Tig, Namhee Kim, Zens and Nicola Tassie, who launched her ceramic lamps at Margaret Howell in town.
The cooking section was on fire, with multiple launches from Merci, who teamed up with Serax to produce tabletop ceramics ideal for bringing a touch of refinement to desk lunches; with Paola Navone on a collection designed for cooking pasta; and with Emile Henry on a set of stoneware cooking pots. While many companies were prosaically exercised in their quests for the perfect take-out lunch and drink containers (see Black+Blum, Eva Solo and Acera), others focused on gilding their table offerings. Almost literally in the case of Alessi, who produced a collection of their iconic bowls, dishes and trays in a special punched brass finish, using an ancient goldsmithing technique called Etruscan granulation. The effect is to transform pieces we know well, giving them deserved new life.

The standout offering at the fair was that of Giobagnara and sister brand Rabitti 1969, which, with Stéphane Parmentier newly at the creative helm, exhibited a whole new collection of leather furniture and accessories, from consoles to poufs, trays of all sizes and a memory card game.

There was plenty to see around town. At Now! Le Off it was an exhibition by Atelier Synapse – a newly merged group of craftsmen, comprising members of design studios Ateliers Seewhy and 13douze – that caught our eye. Sponsored by Laverdure, the collection used epoxy resin as a key material. More fresh talent from around the world was on show at Galerie VIA. Stand-outs included an innovative dimming wall light, dubbed 'Binomios', by Mexican design group Comité de Proyectos; and an essential oil distillery by Tiffany Lei.

Staple design/art galleries like Tools Galerie, Gallery Bensimon, Pouenat and Carpenters Workshop were all ready with arresting new collections, with charred wooden pieces at Bensimon courtesy of Roberto Sironi; spraying and stencilling by Katia Jacquet at Tools; and original sculptural pieces by Sybille de Margerie at Pouenat, and 'Furnification' by Atelier Van Lieshout at Carpenters.
INFORMATION
For more information, visit the Maison et Objet website (opens in new tab)