Stéphane Parmentier masters the hide with new lines for Giobagnara and Rabitti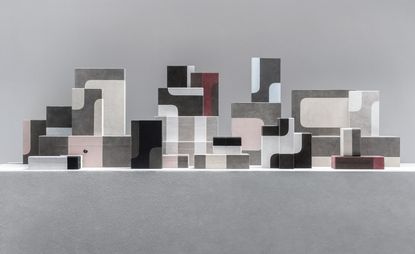 (Image credit: Cartacarbone)
With a mastery of interiors, architecture and products, Parisian designer Stéphane Parmentier was already an dynamic collaborator with Italian leather company Giobagnara when he was tapped to become its creative director in January. Parmentier's new role extended to branding, marketing and packaging in addition to design, also encompassing Rabitti, the pioneering saddle-leather accessories brand Giobagnara acquired in 2015.

Nine months on, the prolific designer has just launched his first collections for both at Maison et Objet in Paris, introducing an array of nearly 70 objects, accessories, and furnishings in all. 'It was a big new challenge for this small Genova-based company,' says Parmentier, whose interpretation of the team's legendary leather know-how has ushered in a new era of graphic experimentation.
The new 'Atari' collection for Rabitti — made from hefty saddle-leather tiles interspersed with intricate, 2mm-wide incisions — comprises mirrors, tables, nightstands, stools and a table lamp, the base of the latter wrapped in exquisite marquetry. It's a homage to the grid as much as a paean to craftsmanship, and Parmentier cites everything from Tron to Josef Albers and vintage IBM punch cards in his arsenal of references. 'I think this is the basis of my work — always trying to make contrasts,' he says. 'Pairing technology with craft, or mixing masculine with feminine… for me, when you have elements that don't fully go together, it gives it a special flavour.'
Parmentier's array of designs for Giobagnara is more extensive, ranging from keychains and trays to desk consoles and dressers. Imbued with Italian heritage influences, the designs run the gamut between classical architecture ornaments found in Milanese palazzos, to dazzling camouflage patterns and the irreverence of more contemporary design icons like Enzo Mari and Ettore Sottsass. Most impressive are the 'Scala' furniture pieces, made from stacked, rounded and circular forms entirely wrapped in suede and nappa; 'like liquid leather', Parmentier marvels. There's nary a wrinkle or imperfection in sight.

Abstract glyphs, patterns and playful forms are rendered in flawless suede and shearling inlays in the 'Dazzle', 'Flow' and 'Memory' gift and accessory lines. For a company known for all-leather-everything, Parmentier also extended the material palette to travertine — a naturally porous and imperfect stone — and paired it with suede for the 'Palazzo' trays, to cleverly underscore contrasts, colours and textures.
INFORMATION
For more information, visit the Giobagnara website (opens in new tab)