Lighten up: Loop.pH installation VelO2 shines a light on active, healthy cities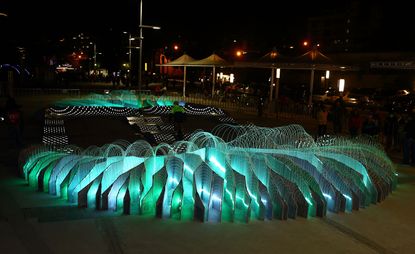 (Image credit: Shin Kong Life)
Fresh from the success of The Chronarium Sleep Labs, international design studio Loop.pH is lighting up Taipei with a brand new installation.

Commissioned by Shin Kong Life to celebrate Velo-City Global 2016, the preeminent cycling conference, Loop.pH have conceived VelO2, an interactive light installation that highlights the link between active and healthy cities.

'It celebrates the human potential and inner light within us all,' explains the London-based studio, founded by Rachel Wingfield and Mathias Gmachl in 2003. 'The form is based on the lungs and the cycling of air. The double track is circulated like air in the lungs with an installation growing from the track that resembles the branching structure of trees and lungs.'

Drawing on the principles of aerodynamics, the study of air in motion, the installation aims to reflect the 'dynamic and borderless nature of our planet's fragile atmosphere'. Air pollution, as in all modern cities, continues to be a huge problem in Taipei, which is this year's World Design Capital.

The outdoor track is designed to allow two spectators to race around at once – using bicycles provided by event partner Giant – adding an element of competition and activating the peripheral lighting according to their speed and local air quality. (Lap speeds can be shared on Twitter as well, should you wish to compete with other speedy racers.)

Following its Taipai debut, the hope is that the installation will travel to Taiwan before eventually venturing to Europe to continue the design studio's collaboration with Change London, the campaign group who have supplied the advanced air sensor used in VelO2.

Brightest of all though, is the use of light as a 'silent communicator', used in this case to 'make visible the invisible'.
INFORMATION
To take part in VelO2, register online via the website (opens in new tab)