London Design Festival 2021: explore the city through design
London Design Festival 2021 (until 26 September) features a rich programme of events and installations across the city, with projects including a mixed reality installation at the V&A by Sou Fujimoto, a sculpture celebrating beehives by Arthur Mamou-Mani, and a central London streetscape by Yinka Ilori. Wallpaper's guide to specially curated exhibitions and what's on in each Design District across London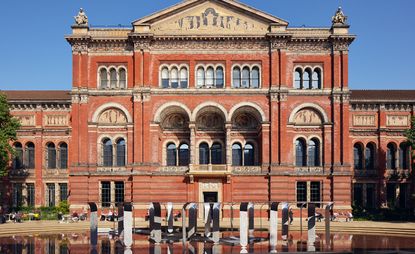 (Image credit: Ed Reeve)
Wallpaper* Newsletter
Receive our daily digest of inspiration, escapism and design stories from around the world direct to your inbox
Thank you for signing up to Wallpaper. You will receive a verification email shortly.
There was a problem. Please refresh the page and try again.
London Design Festival 2021 is now on across London (until 26 September 2021), with a new programme of outdoor installations, exhibitions and events throughout the city. The 2021 programme brings art and design interventions to the city's landmarks, neighbourhoods and cultural institutions in collaboration with local and international creatives.
'London has some of the world's greatest designers living and working here, who come from all over and make this city their home,' says London Design Festival chairman Sir John Sorrell. 'Over the years, this has enabled us to develop exciting programmes which showcase both design's joyous side but also the ideas and innovations with the capacity to shape our societies. We hope that this year's festival will not only be seen by those in London but audiences all around the world, and that we're able to demonstrate that design will be at the heart of the future.'
London Design Festival 2021 at the V&A
Medusa by Sou Fujimoto and Tin Drum
The core of the 2021 edition of the festival will be a new installation titled 'Medusa', staged at the V&A's Raphael Court and created by Japanese architect Sou Fujimoto in collaboration with mixed reality studio and technology developer Tin Drum. The mixed reality installation (a first for the Japanese architect) examines structure, nature and visualisation, through elements of light, sound, nature and architecture that responds to movements of audiences in the space; it creates a living design to prompt us to think about space, climate change and the role of nature in modern life.
'I really like to go back to the fundamental aspects of the architecture experience, creating the relationships between people and the place, or between a space and and people's feelings,' says Fujimoto. 'Those experiences are quite important, and quite essential, especially these days when everything is digital and [we are] connected with each other but not really connected. So I like to explore those fundamental experiences, via technology that can remind people of the importance of human touch in these relationships.'
Between Forests and Skies by Nebbia Works
An installation taking centre stage over the fountain of the V&A's John Madejski Garden, 'Between Forests and Skies' by emerging architecture practice Nebbia Works is an immersive, low-carbon aluminium pavilion using a minimal amount of material to demonstrate its expressive and structural qualities. Supported by low-carbon aluminium specialist En+ Group, the pavilion comprises a self-supporting structure crafted from a single sheet of metal, cut and bent to create shade over the courtyard, making for a poetic space suspended between sky and water.
LDF special commissions across London
Winner of the 2020 Emerging Design Medal, Yinka Ilori transforms Tottenam Court Road into an outdoor art gallery, in collaboration with students from the University of the Arts London. The streetscape is part of the Mayor of London's 'Let's Do London' campaign, and is created in collaboration with the City of London Corporation, Cheapside Business Alliance and Bloomberg Philanthropies' Asphalt Art Initiative, providing grants for arts-driven street interventions to improve safety and engage local communities through the revitalisation of public spaces. 'We've had a year where we've had no galleries or museums open, so being able to work in the public realm that's accessible for everyone is incredible,' says Ilori. 'What I want to try and do is celebrate London being open again, try to bring everyone out and celebrate what it means to be a Londoner.'
At Fortnum and Mason, French architect Arthur Mamou-Mani has created a 3D printed installation made from bioplastics to draw attention to Britain's declining bee population. Titled 'Mellifera: The Dancing Bees', the installation swirls down the retail destination's atrium and celebrates Fortnum & Mason's rooftop beehives, a local effort to bring pollinators back to the city.
Observation Point on the South Bank hosts an architectural installation by Danish practice Henning Larsen with Velux, designed as 'a sanctuary where Londoners can unplug, unwind, and let the combination of daylight and fresh air put their mind at ease'.
London Design Districts: what's going on in London during LDF
For the first time in the festival's history, the city's ten design districts will be unified thorugh a project in collaboration with American Hardwood Export Council (AHEC) and Benchmark (also involved in 'Discovered', a project supporting design's next generation in collaboration with Wallpaper* at the Design Museum, until 10 October 2021). Ten sculptural waymarkers will welcome visitors to each location, created by students and recent graduates under the mentorship of architect Izaskun Chinchilla and designer Peter Marigold. Districts include Brompton, Clerkenwell, Islington, King's Cross, Mayfair, Shoreditch Design Triangle, the William Morris Design Line, and the newly launched Design District at Greenwich Peninsula, Park Royal and Southwark South.
'Cultural and creative activity is a powerful tool to help reignite the city and kick-start London's economy,' comments London Design Festival director Ben Evans. 'London Design Festival will provide the public and visitors with an opportunity to take to the streets to discover new pockets of London, and find works by leading designers and emerging talent, while enjoying all the city has to offer.'
Brompton
Across Brompton, a series of exhibitions explore the theme of 'From Here Onwards', an invitation by district curator Jane Withers asking designers to consider 'what happens next'. District highlights include 'Verdigris Landscapes for the Post Normal Domestic' (Cromwell Place, SW7), a showcase of Formafantasma's 'Ex Cinere' tiles for Dzek featuring modular forms that blend furniture and architecture, 'creating versatile interactions that encourage sharing, working and resting, sitting or standing'.
Seeds Gallery presents 'Joy' (Cromwell Place, SW7), an exhibition featuring 11 designers who created new works responding to themes of happiness, the power of colour, as well as inclusive, playful and poetic messages.
Domestic landscapes are further analysed through exhibitions including 'Design for Our Times' (Garage at 15a Cromwell Place Mews, SW7), exploring alternative design materials and and 'The Future of Home' (6-7 Thurloe Place, SW7), a showcase by Scottish design studios curated by Local Heroes, an exhibition on the new role of workspaces within the home.
At the Conran Shop (81 Fulham road), French artist Damien Poulain created a geometric display transforming the shop's windows into a multicoloured canvas serving as the backdrop for iconic pieces by the likes of Hans Wegner, and new designs by Magnus Long and Matthew Hilton.
The district is also home to a series of furniture showrooms including Molteni & C, Cassina, Poltrona Frau and Boffi De Padova, showcasing new collections and collaborations in their spaces.
Islington Design District
Islington Square, N1, is the centre of the action for the district, with ceramics brand NKDWare unveiling 'Centring the Clay', an exhibition showcasing the usually hidden processes behind the potter's wheel, as well as illustrator and design podcast host Justyna Green's '100 Days of Gratitude' project. On show at Residency (North Arcade), the project follows an invitation to 100 global creatives to discuss what they have been grateful for – from connection to nature to family and cultural escapes, the 100 testimonies have been transformed by Green into colourful illustrations bringing the creative community together through positive and powerful ideas.
Clerkenwell
The area is home to furniture showrooms presenting new collections, including Carl Hansen (16 Bowling Green Lane, EC1R) showcasing a new colour series of its Hans Wegner icons curated by Studioilse; and Fritz Hansen (78 Cowcross St, London EC1M) presenting a new approach to the home office and products including a new lamp by emerging practice Ahm & Lund.
Bathroom specialist VitrA (Turnmill Building, 64 Turnmill Street, EC1M) unveils 'Liquid', a new collaboration with British designer Tom Dixon (his first ever bathroom range) featuring ceramic monobloc elements with curved edges.
Design District at Greenwich Peninsula
Newly opened creative hub Design District at Greenwich Peninsula comprises 16 buildings by eight world-leading architects and for London Design Festival 2021, its spaces will be open for the public to explore. The District's programme includes a series of talks exploring pressing issues across design, fashion, craft and creative innovation at new members' club Bureau.
King's Cross
The area surrounding the Heatherwick Studio-designed Coal Drops Yard includes a series of retail and exhibition spaces, as well as creative studios. At the heart of the district is an urban seating installation titled 'Hemp - Clay - Lime' and exploring the possibilities of the three materials. Created by Stéphanie Marin, the installation features hexagonal modular seating, mimicking natural geometries to create infinite compositions.
More public seating is created by Casa Estudio using a recycled paper composite called Richlite and with a design referencing the area's industrial past.
From his Coal Office spaces, Tom Dixon presents the latest instalment of his European Grand Tour: after Milan, where he showcased new lighting pieces under the title 'Luminosity', in London he explores 'Materiality' through different architectural spaces. The collection's materials include super-polished brass furniture, large-scale designs in cork and stackable glassware.
Granary Square hosts 'Planted' (23 – 26 September 2021), a new contemporary design show aiming at reconnecting people and spaces with nature through innovative design concepts and pieces by brands including Vestre, Benchmark and Nikari.
Peter Marigold presents 'The Unboxing Show' (Kiosk N1C, 108 Lower Stable Street), an exhibition 'bringing back the nostalgia of creating cardboard models and highlighting the potential of the material that is usually considered as consumer waste'. Marigold invited global creatives (from Faye Toogood to Max Lamb) to design an object made of cardboard, encouraging visitors to join in to make their own prototype on site.
Design Galleries in Mayfair
The cluster of design galleries in Mayfair includes Gallery Fumi (Hay Hill), presenting a new show of collaborative works by the gallery's international designers. At Carpenters Workshop Gallery (4 Albemarle St, W1S), Korean designer Wonmin Park unveils his latest design featuring natural volcanic stone and steel, featuring organic forms and handcrafted in Japan using traditional techniques. Galerie Kreo makes its debut in a new space (24 Cork Street), with a collection of colourful modular shelving designs by Marc Newson.
Shoreditch Design Triangle
Shoreditch's creative spaces traditionally come to life during London Design Festival, with some of the most exciting launches by local studios and stores.
SCP (135-139 Curtain Rd, EC2A) presents a series of collections based on the new balance between domestic and workspace (aptly titled 'All our Working Lives'), and a new series of designs created in collaboration with Ishinomaki Laboratory. Through his shop (24b Kingsland Road), Jasper Morrison presents 'Bouroullec Père', an exhibition of carved wooden spoons by Gabriel Bouroullec (the father of the French designers Ronan and Erwan Bouroullec).
Also in Shoreditch is Lee Broom's space (93 Rivington St, EC2A), where the British designer is presenting his new 'Penthouse' collection, and Pearson Lloyd's workshop (1-3 Yorkton St, E2 8NH), hosting an exhibition by Modern Art Hire.
Design store Twentytwentyone (18C River St, EC1R) celebrates its 25th anniversary with an exhibition curated by founders Simon Alderson and Tony Cunningham. Titled 'Back + Forth', the showcase presents 25 designs that have provided meaning to them over two and a half decades of curating and selling design.
At Peer (97-99 Hoxton Street, N1 6QL), artist Lubna Chowdary exhibits a series of wall-, floor- and plinth-based pieces in her signature ceramics combining industrial techniques such as water-jet cutting with hand-applied glazing.
Among the showrooms in the area are Danish company Kvadrat (10-12 Shepherdess Walk, N1), making the London debut of its textile collaboration with Peter Saville, and Hay (Underwood Works, 6-14 Underwood Street, N1), with a display of their 'Quilton' sofa, by Doshi Levien.
Southwark South
Among the South London district's leading projects is 'Against The Grain', an exhibition curated by designer Jan Hendzel and Fels at Peckham's Copeland Gallery (Unit 9I, Copeland Park, 133 Copeland Rd, London SE15) and celebrating 'some of the innovative practices and material journeys being explored in contemporary design'. Among the creative practices on display are Studio ThusThat, Attua Aparicio and Studio Furthermore.
Park Royal
The latest design destination to join the London Design Festival, Park Royal is presented as 'an incubator of design talent' featuring creative hubs in repurposed warehouse spaces. The area's highlights include Bill Amberg Studio's insights into contemporary leather craftsmanship, including the latest printed leather collaborations with the likes of Bethan Gray, Faye Toogood, Yinka Ilori and more.
Local designers and makers partnered into London's Kitchen, a collaborative project featuring a collection of six limited-edition products linked to Park Royal's industrial heritage. The collection includes a colourful weaving kit by Raisa Kabir with Dot Laser, a glass plinth and organic soap combo by Joy Bonfield-Colombara with Dina Foods, Lola Lazaro-Hinks and Saboon Alee, a bronze and steel doorstop by Michael Marriott with DYN-Metal Ltd and food-inspired ceramics by Erica Eyres.
William Morris Design Line
A local community-focused Design Route through the streets of Walthamstow, the William Morris Design Line is inspired by the 'art made by the people and for the people', concept celebrated by Morris. For its second year at London Design Festival, the design route focuses on local community initiatives.
Design London: latest furniture launches and talks programme
London's principal furniture and design fair, Design London (22 – 25 September 2021) takes place at Magazine London (North Greenwich). Among the brands presenting new pieces and concepts is Ideal Standard, bringing its 'Together World Tour' to London, presenting its premiere its latest film, focusing the city's creativity. A specially built Danish Pavilion (in collaboration with the Danish Embassy) presents ten Scandinavian furniture and lifestyle brands.
For the fair, Yinka Ilori created a 'kaleidoscopic tunnel of colour' leading to a specially designed, colourful auditorium that will host a series of talks throughout the week with speakers including Ilori, Pearson Lloyd, Eley Kishimoto and Henry Holland. 'I'm super excited to design my first ever dedicated talks space; meeting people and expressing my creativity is what I love most and this brings the two together,' says Ilori. 'Community and creating spaces to make people feel safe and comfortable is so important, especially this year, and Design London is the perfect environment to unite, celebrate and uplift one another.'
INFORMATION
London Design Festival runs from 18-26 September 2021

londondesignfestival.com
Receive our daily digest of inspiration, escapism and design stories from around the world direct to your inbox
Rosa Bertoli was born in Udine, Italy, and now lives in London. Since 2014, she has been the Design Editor of Wallpaper*, where she oversees design content for the print and online editions, as well as special editorial projects. Through her role at Wallpaper*, she has written extensively about all areas of design. Rosa has been speaker and moderator for various design talks and conferences including London Craft Week, Maison & Objet, The Italian Cultural Institute (London), Clippings, Zaha Hadid Design, Kartell and Frieze Art Fair. Rosa has been on judging panels for the Chart Architecture Award, the Dutch Design Awards and the DesignGuild Marks. She has written for numerous English and Italian language publications, and worked as a content and communication consultant for fashion and design brands.