Craft is shifting its image in London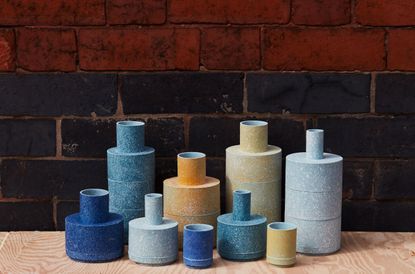 (Image credit: TBC)
Wallpaper* Newsletter
Receive our daily digest of inspiration, escapism and design stories from around the world direct to your inbox
Thank you for signing up to Wallpaper. You will receive a verification email shortly.
There was a problem. Please refresh the page and try again.
As we become more conscious about our own consumption, there seems to have been a resurgence of interest in the ways products are made. Our homes are becoming handpicked havens of one-off objects, in a bid to reject the throwaway culture we have fed for decades. So it comes as no surprise that this year, London Craft Week is embarking on its biggest programme yet.

London Craft Week was founded by Guy Salter back in 2015. At the time, the cultural scene in the city was similar to how it is now – every week packed with design, art, architecture, fashion, and food events. But Salter felt that somehow, a celebration was still missing for the craft industry, so he set about working on pulling together a programme that would provide makers with a platform to showcase their skill.
'We set out to have sufficient diversity in the programme, in order to do justice to the richness of talent across a wide variety of disciplines,' Salter says. 'In many ways the core raison d'être behind LCW is to shine a spotlight on unsung creative talent, whether that's an artisan working in a Paris atelier for a famous luxury house or an independent maker, who has next to no profile but is as good or better than a more celebrated artist.'
Among Salter's highlights of this year's programme was the Mount Street Curates programme, which sees brands such as Roksanda, Matches and J&M Davidson coming together with designer-makers like J Mchenry, Katja Angeli and Zuza Mengham to exhibit their work. He also steered crowds to visit Kings Cross, to see an installation of indigo flags by Japanese artisan and farmer collective Buaisou and a pop-up store from the masters of the 'Splat' ceramic, Granby Workshop. Here they presented a new collection of slipcast bottles, cups and jars made using stackable modular moulds.

While there were hundreds of beautiful products to see, an element that attracts people to craft is the act of actually 'doing' it. With this in mind, Salter and his team organised workshops across the city, giving the public a chance to sit in the seat of the craftsmen. Visitors could attend a draping class with COS and Usha Doshi, former senior teacher at the Royal College of Art, that took them from moodboard to the finished product; get a copper-curling tutorial with independent designer Sadie Clayton, or watch architectural hand quilting by Sheelagh Boyce and Annabelle Harty.
'I felt many of us were hungry to understand how something is made,' Salter added. 'By watching a master craftsman demonstrate their skills, asking them questions or actually having a go, it can fundamentally change a person's appreciation of, and relationship with an object.'
This year, in hopes of giving a London-centric event a truly international feel, the lineup included representatives from an impressive 18 countries. On Dover Street, luxury boutique Varana presented a show of six design studios that curator Sujata Keshavan felt express a 'vision for the integrity for Indian craft traditions'.

Elsewhere in Marylebone, Jo Nagasaka's ColoRing collection for Artek set up shop in The Conran Shop. Shown for the first time at Salone del Mobile, the collection celebrates the centenary of Finnish-Japanese relations and sees the designer make his own colourful mark on some of the brand's most important pieces.
Back on home turf, this year marks the first time that London Craft Week has established its own exhibition too. Tucked away inside the incredible surroundings of the Fitzrovia Chapel was 'Scorched!' – an exhibition of blackened, charred artworks curated by Sarah Myerscough.
With the public's appreciation for the hand-woven, hand-thrown and hand-turned showing no signs of dwindling, how does the industry's future look? 'The appreciation of craft has long been on the rise, but it still has a long way to go before it finally shakes off its associations with the worthy or village craft fair, and even further to go before it has the effortless cool of fashion, or the prestige of contemporary art,' says Salter. 'But we all now understand that inspired design is insubstantial without exceptional craftsmanship, and in that sense, understanding making and materials I believe will become as mandatory as caring about and knowing the source of our food and drink'.
'Craft is at the forefront of a sort of cultural movement in which we all become a little bit more knowledgeable and thoughtful,' he muses, 'but which has far from played out.'
INFORMATION
For more information visit the London Craft Week website
Receive our daily digest of inspiration, escapism and design stories from around the world direct to your inbox