Explore this Italian garden inspired by Japanese wabi-sabi culture
Curator Federico Poletti has interviewed artist and philosopher Leonard Koren, and Ricky A Swaczy, founder of an Italian Japanese garden, to ponder the meaning of wabi-sabi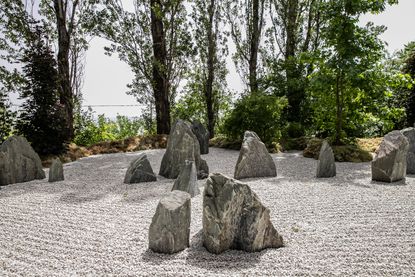 (Image credit: Courtesy Federico Poletti and Wabisabiculture)
When writer and curator Federico Poletti met American artist Leonard Koren and Zen master Ricky A Swaczy, founder of Italian association Wabisabiculture, the encounter resulted in an intense dialogue about the meaning of wabi-sabi aesthetics, and how this theory has been applied to build a place worth visiting. The Wabisabiculture garden is a Japanese garden in the heart of Italy, a unique destination located in the Marche region; it's a magic corner of Japan abroad, a cultural bridge between the two countries.
Explore the garden and watch our film, below.
Leonard Koren and wabi-sabi
'Wabi-sabi can be described as the most conspicuous and characteristic feature of what we think of as traditional Japanese beauty,' says Koren. 'It occupies roughly the same position in the Japanese pantheon of aesthetic values as do the Greek ideals of beauty and perfection in the West.'
Says Poletti: 'My journey into wabi-sabi started ten years ago, when I went to visit Wabisabiculture. I was initially shocked by the combination of Italian and Japanese aesthetics with rural, bio-architectural integration, consisting of stone and wood houses forming some sort of small hamle
Karesansui, the Japanese dry gardens, are traditionally made of granite. After in-depth study and several trips to Japan, for the Wabisabiculture garden, Swaczy selected black and white Italian Montorfano granite, representing yin and yang. The big monoliths are of serpentine stone, thought to drive away negativity, bring positive energy and help meditative concentration and healing. 'The meditative experience in front of the garden implies a deep concentration and self care,' says Poletti, who describes the place as a fusion of a Japanese ryokan (old country inn) with an Italian rural country house. The project – developed by Swaczy and Serenella Giorgetti – was inspired by Koren's book, Wabi-Sabi: For Artists, Designers, Poets & Philosophers.
Wabi-sabi: Leonard Koren and Ricky A Swaczy in a magical Japanese garden
INFORMATION
wabisabiculture.org (opens in new tab)
ADDRESS
Via Papa Giovanni XXIII, 23
San Ginesio 62026 (MC)
Italy
VIEW GOOGLE MAPS (opens in new tab)
Maria Cristina Didero is an independent design curator, consultant and author, who has contributed to many publications over the years; she is currently Milan editor of Wallpaper* . Didero has consulted for companies such as Vitra, Fritz Hansen, Lexus, Fendi, Louis Vuitton, Valextra among others. Based in Milan, she works internationally, curating exhibitions for institutions: some of her most recent projects include Nendo: The Space in Between and The Conversation Show at the Holon Design Museum, Israel; FUN HOUSE by Snarkitecture at National Building Museum, Washington D.C.; SuperDesign a project about Italian radical design, NY; Vegan Design, or the Art of Reduction by Erez Nevi and The Fish and The Crowd by Carlo Massoud, Milan. In April 2022 she curated a Mathieu Lehanneur exhibition at the Triennale in Milan called The Inventory of Life, while in July she debuted a project at the MK&G in Hamburg titled Ask Me if I Believe in the Future, alongside a series of ongoing collaborations. She was appointed 2022 Curatorial Director of Design Miami/. She is currently preparing two projects for Milan Design Week 2023.