Jennifer Lee takes over Kettle's Yard in Cambridge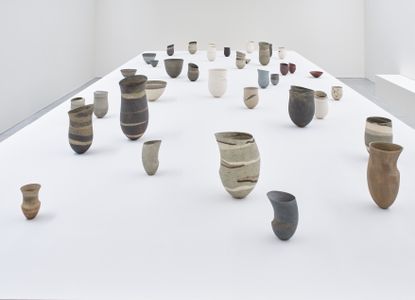 (Image credit: Stephen White)
Jennifer Lee is reticent about her latest exhibition being referred to as a retrospective. Yet Jennifer Lee: the potter's space at Kettle's Yard in Cambridge is the ceramist's first public solo show in the UK since 1994 and includes some 40 pots that date back to her Royal College of Art degree show in 1983, and up to 2019, with the inclusion of three new pieces made in the run-up to the show. The pots represent just a handful of key moments in Lee's prolific career, and in this sense, a synopsis might be a better fit.
Part of the exhibition has been designed by architect Jamie Fobert, who completed an extension to the gallery in 2018. The pieces are loosely chronologically arranged across a low table that has been covered in a delicate layer of fine plaster. The table's height is based on the level of the workbench in Lee's south London studio, and a band of putty coloured paintwork, that runs around the walls to represent the height of the studio while also lowering the eye to the work, also echoes her workspace.

Eschewing a vitrine, which Lee sees as a kind of retrofitted glazing, the vessels are presented open-air. 'Because there's no glaze on the work, to actually put a piece of glass between you and the work is almost like giving it another dimension, another texture and it's taking away from what I want the work to look like,' says Lee. 'It's almost glazing it.'
The occasional pair of pots are subtly rotated towards one another in a nod to their connection, while others are clustered together in small series' that make it possible to pick up on dialogues between her very earliest and latest work. One cream pot with an angled lip and a halo of rusty speckles is the result of an experiment with a bag of clay mixed with oxides 30 years ago. The piece won Lee the Loewe Craft Prize in 2018 and it's a technique that has now become embedded in her practice.
Her hand-coiled stoneware evokes a strong sense of place, with clay chosen from specific locations and raw metal oxides manipulated to produce veins or speckles of rich pigmentation. Names given to the works, like Amber, Shale, Peat and Slate, also suggest physical places, presenting links to the natural landscape.
Trips to America, Egypt and Australia have had a huge bearing on Lee's work, but it is Japan that she has found most captivating, 'somehow Japan has intercepted and taken me in,' she says, reflecting on a residency during which she experimented with red clay for the Shigaraki Red series, as well as an exhibition by Issey Miyake and Tadao Ando that saw her work presented alongside that of ceramicist Lucie Rie.
It is also in Japan where Lee finds the constant rumbling of the art-craft hierarchy debate is silent: 'I can't be bothered with the "is it art or is it craft?" debate anymore,' she explains. 'It is something that people in Britain still think – and maybe in Europe – whereas in Japan it is all on the same plain. They have such a profound appreciation of ceramics. The way they talk about pots is just different.' It's a feeling curator Sarah Griffin also wanted to reflect on with the exhibition's title. 'Potter is it's a very strong word, it has lots of connotations. And it's just using it confidently. To describe this incredibly sophisticated body of work. You know, I think it's kind of funny,' she explains.
Having freed ceramics from their domestic connection in the gallery, Lee is reunited with the works of Austrian potter Lucie Rie for an extension of the show in the quasi-domestic setting of the house that stands alongside the contemporary gallery at Kettle's Yard. The house holds the private art collection of Jim Ede, who converted a trio of Victorian cottages in 1957 to create Kettle's Yard. For Lee, who visited the space as a student, this part of the show is a 'fantastic honour.'
Meticulous planning for each pot is made in huge ledgers and on test tiles, and the final result documented in drawings of near-forensic detail. A selection of these is found in the show's reading room alongside videos of Lee in her studio, which sweeps away any preconceived notion of a meditative potter at work.
INFORMATION
'Jennifer Lee: the potter's space', until 22 September, Kettles Yard. jenniferlee.co.uk kettlesyard.co.uk
ADDRESS
Kettle's Yard House and Gallery
Castle street
Cambridge
CB3 0AQ
Receive our daily digest of inspiration, escapism and design stories from around the world direct to your inbox