A first look at White City House members' club in London's iconic Television Centre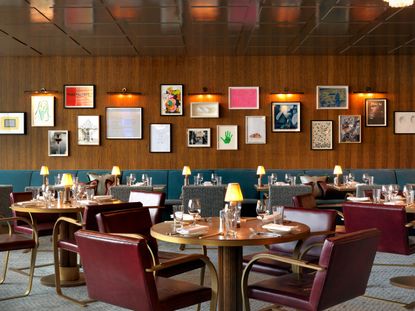 (Image credit: press)
Ever since Nick Jones carved his very first Soho House members' club out of an atmospheric warren of Georgian rooms in Soho in 1995, he's demonstrated an uncanny knack for sniffing out real estate diamonds in the rough. Pick a club, any Soho House club, around the world – of which there are now 19 – and there isn't a dud among them. Whether it's a former Midland Bank building in London's City that now houses The Ned emporium, a sprawling warehouse in New York's Meatpacking District, or a 19th-century palazzo in Istanbul. White City House in west London is another such gem.

Although Jones may now only own ten per cent of Soho House Group he is still very much involved and hitching his latest wagon to the mixed-use redevelopment of London's iconic BBC Television Centre to create White City House proves he's still very much on the money. And what a symbolic coup for a brand that's built its reputation on being the media world's favourite haunt. The former Television Centre officially opened in 1960; rumour has it that architect Graham Dawbarn found inspiration when doodling on the back of an envelope in a pub, the masterplan being inspired by a question mark-shaped block with studios linked by covered walkways.

The members' club occupies the 8th, 9th and 10th (top) floors of the new-build adjoining the iconic Grade II-listed doughnut-shaped Helios ring, which houses 45 White City House hotel guestrooms (spanning across two floors), alongside private residential apartments. Creating the club in a brand new property posed a challenge, as Soho House design director Linda Boronkay explains. 'It was very different as usually we have the heritage aspect of a building, but this was a fairly blank canvas. So we had to work hard to create atmosphere in the space, ensuring that every floor feels different, while retaining the Soho House ethos,' she says. Most of the club areas are on the top two floors, with the 8th floor a flexible events space comprising an area with stage and a bar that can be screened off.

Such a landmark site is deeply embedded within the national consciousness, not just as the BBC headquarters but as home to beloved broadcasting institutions ranging from Top of the Pops to Blue Peter, from Take Hart to Doctor Who. It's exactly this pop culture aspect of the property's heritage that the Soho House team has referenced in the interiors and artworks of the club, combined with a definitive nod to midcentury design.

Just under four years in the making, Boronkay says that period film and television provided the initial inspiration. 'We watched movies like James Bond from the 1950s and 1960s and also Mad Men, but we didn't want to create a movie set.' New bespoke furniture and lighting and patterned fabrics (created for the project by the resurrected Tibor brand, a globally recognised modernist textiles company which originally contributed fabrics to the BBC during the Sixties) combined with vintage pieces, prevent the interiors from being too much of a parody.

The lavish use of wood, such as in the bas relief panelling in the lifts featuring a circular motif inspired by the Doctor Who TARDIS, and head of collections Kate Bryan's well-curated contemporary artworks (a significant piece being Archie Proudfoot's ode to Test Card F), plus design details such as the illuminated dots on the Allis bar facade that reference the 'atomic dots' on Television Centre's brick facade, imbue White City House with warmth, British whimsy and character. As Boronkay says of the interiors: 'The references aren't immediately obvious but they feel familiar. Guests should be able to connect the dots in the end.'

Soho House Group's global expansion continues apace with the opening of DUMBO House next in New York and an Amsterdam outpost following this summer, with a redevelopment of the 1937 Bungehuis university building that dates back to 1937. 'It's a real sleeping beauty, a very functional building but with a touch of Dutch art deco' says Boronkay of the project. Little Beach House in Barcelona will also open later this summer.
INFORMATION
For more information visit the White City House website
Receive our daily digest of inspiration, escapism and design stories from around the world direct to your inbox