The Science Museum celebrates India's scientific and cultural fabric with two illuminating shows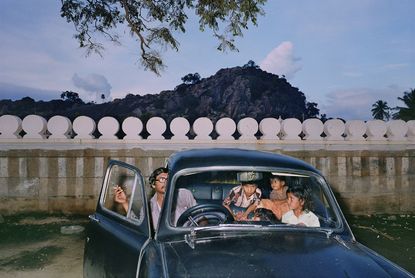 (Image credit: Courtesy of Galerie Thomas Zander, Köln)
The Science Museum is celebrating 70 years of Indian independence this winter with two major concurrent exhibitions, dedicated to both technological and scientific innovations and artistic endeavours from the country.

The first show, '5000 Years of Science and Innovation', stretches back not only to the start of an independent India in 1947, but 5,000 years – to the Indus Valley Civilisation in 3000 – 2500 BCE, who developed some of the earliest standardised weights, and the Bakhsali Manuscript, the oldest document in the world in which the zero symbol appears.

These objects are on display alongside countless others, tracing India's long interest in understanding the world. Bringing this into the present, among the special events taking place at the Science Museum to coincide with 'Illuminating India' are a tea-blending workshop, and Q&As with space researcher Moumita Dutta and film director, Danny Boyle.
If you are more inspired by India's visual culture, 'Illuminating India: Photography 1857 – 2017', running in tandem at the Science Museum, is one of the largest displays of Indian photography ever to take place in the UK. It's also an unprecedented insight into the development of modern India through the eyes of soldiers, journalists, artists and explorers who have lived in and travelled the country over the last century and documented its people, architecture and nature on camera.

Focusing solely on photographs – known to have arrived on the continent in the mid-19th century, not long after the first pictures were taken in Britain in 1839 – the exhibition evokes the importance of pictures not only as a scientific development, but as a vehicle for understanding and empowerment. Visitors can also familiarise themselves with some lesser-known contributors to the history of photography, including India's first recognised photographer, Ahmad Ali Khan.

In addition to pioneers such as Marahaja Ram Singh II of Jaipur, who would spent hours in the laboratory with his plates, and Shapoor N Bhedwar, 19th-century photographer and critic, whose elegant studio portraits are also included in the show. Another name absent from the western art history canon is Homai Vyarawalla – India's first female photojournalist – whose depictions of the crowds celebrating independence at Red Fort and outside Parliament in 1947 are perhaps among the most iconic images of the nation's recent history, yet have rarely before been seen abroad.
INFORMATION
'Illuminating India' is on view until 31 March 2018. For more information, visit the Science Museum website
ADDRESS
Exhibition Road
South Kensington
London SW7 2DD
Charlotte Jansen is a journalist and the author of two books on photography, Girl on Girl (2017) and Photography Now (2021). She is commissioning editor at Elephant magazine and has written on contemporary art and culture for The Guardian, the Financial Times, ELLE, the British Journal of Photography, Frieze and Artsy. Jansen is also presenter of Dior Talks podcast series, The Female Gaze.