A legacy of Bangladeshi architecture on show at the Dhaka Art Summit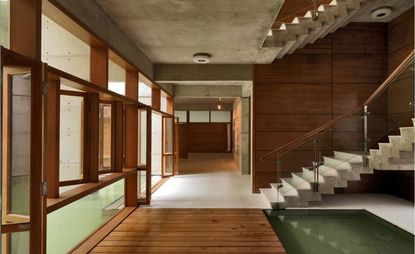 (Image credit: Daniele Domenicani)
In the wake of partition, the Indian Prime Minister Jawaharlal Nehru enlisted Le Corbusier to build a new Punjab capital. The result, of course, was Chandigarh. A decade or so later, the Pakistani government invited their own super-star architect to built a new National Assembly for East Pakistan in Dhaka. Louis Kahn got the gig, though Le Corbusier and Alvar Aalto were apparently also considered.

Work started on Kahn's complex in 1964 but it would take two decades to complete, by which time East Pakistan was Bangladesh and Kahn was eight-years dead. It is, though, his finest building; massive and seemingly out of the past and out of the future all at once.

From a western standpoint, it is easy to imagine that Kahn's modernism was a complete novelty in the country. But 'Architecture in Bangladesh' – part of the third edition of the Dhaka Art Summit and curated by the Pompidou's Aurélien Lemonier – makes clear that the country had already developed a domestic 'humanist modernity', particularly in the work of Muzharul Islam.

Islam had already designed a number of public buildings before the call went out to Khan. Indeed, it was Islam who had initially been tasked with the designing the National Assembly building and it was his idea to enlist Kahn, who had taught him at Yale (he would also bring Richard Neutra, Stanley Tigerman, Paul Rudolph, Robert Boughey and Constantinos Doxiadis to Bangladesh).

Lemonier's exhibition looks at the legacy of Islam and Kahn, the role of architecture in building national identity and the later attempt to integrate culture, history and archeology to year-zero modernism. Crucially for Lemonier though, the exhibition is more than anything a showcase for a new generation of Bangladeshi architects whose concern is less the 'horizontal axis of history', as he puts it, than the 'vertical axis of geography'. And Lemonier insists that architects in Europe and the US have a lot to learn from their response to the geography, in terms of sustainability, water management, and urban development.
INFORMATION
For more information, visit the Dhaka Art Summit's website