Bharti Kher escapes to Somerset in search of solitude
The New Delhi-based artist presents an exhibition of new installation, painting and sculpture work following her 2017 residency at Hauser & Wirth Somerset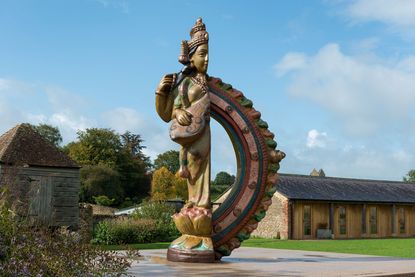 (Image credit: Ken Adlard.)
The rolling hills, rural lanes and soothing whiff of manure in Somerset are a far cry from the smoggy haze of New Delhi, the city where London-born Indian artist Bharti Kher has lived and worked since 1993. Kher is now in her second residency at Hauser & Wirth Somerset, which has offered some much-needed solitude. 'It's terrifying, but it helps you confront your own fears about your work,' she says. 'You have to quiet the chaos. You have to find the rhythm in the pendulum.'

Kher has our attention before we've even left the car park. Her outdoor sculpture, The Fallow, does what it says on the tin, in form and metaphor. Its title refers both to its dusty yellow-brown colour and also to the period in the agricultural calendar when land is left to regenerate. 'It's when we all leave the earth alone and let her do exactly what she needs to do to heal herself,' says Kher, admiring her 3.5m bronze Goddess, halved and hollowed with an ornate, semi-circular band emerging from her innards.
In the Threshing Barn, something peculiar is dangling under the rafters. It's Kher's first of two 'balance pieces' and the exhibition's namesake, A Wonderful Anarchy. This compilation of motley readymades includes a ladder from the Victoria and Albert Museum, a piece of black lace from Kher's mother's sari shop in Streatham suspended in peaceful equilibrium with chains, a severed cast of an arm, a horn, an astrolabe and an architects' measuring rod, among other detritus. The walls feature a series of abstract, algorithmic drawings on old ledger paper and recurring circular motifs.
'You have to quiet the chaos. You have to find the rhythm in the pendulum'
Further in, we get acquainted with The Intermediary Family, a series dreamt up during Kher's first residency in 2017. She gathered a series of Golu dolls (typically displayed in South India during the autumn festive season) from flea markets, then shattered and glued them all back together in obscure assemblages. Glance and you might see genteel, plump-faced porcelain ornaments posed on tubular cement and candy-coloured wax plinths. Look closer and find freaky cut-and-paste figurines like you've plunged headfirst into the warped world of Hieronymus Bosch. Fruits are heads, lions have legs and any religious connotations are quickly buried under the chaos of bodies undergoing bizarre and sometimes comedic polymorphs.

Each figurine has a name, offering a few clues to their provenance. Ship of Fools looks like a pantomime being performed on the Raft of Medusa. Artemis, the goddess of fertility, has a collection of severed heads protruding from her midriff, bringing to mind the Artemis Fountain in Tivoli where the sculpture's grid-like bosom expels water like an overactive udder. 'These are the avatars of human existence; they are the avatars of the gods and goddesses and the myth-making of what it is to be human,' says Kher. 'When I break them down I fashion new life.'
RELATED STORY
In the Pigsty gallery is another of Kher's concentric contraptions, Consummate Joy and Sisyphean. A large hoop of wood frames a scene to match the complexity of its title. A reel of copper wire teeters on the edge of a block of anonymous wood. 'The circle is all over us, it's in our atoms,' says Kher. 'These are objects that have their own central gravity and centre of grace.' Another plinth holds what looks like a hunk of raw beef but is in fact jasper stone.

Virus X brings the exhibition full circle. This project – which began in 2010, and concludes in 2039 – involves hundreds of bindis applied in a hypnotic swirl directly onto the wall. This particular piece, in varying shades of green, represents the year 2019. The bindi is an enduring and versatile symbol in Kher's work. It's the third eye, the seat of wisdom and also an object of cultural misunderstanding, commoditisation and appropriation in popular culture. 'It's a vortex. It's a peephole. It's an entrance. It's an exit. It's a womb,' she says.
Each year, Kher creates another 'Virus' accompanied by a passage of text predicting the state of the world mixed with a few personal updates – part 'dear diary', part spooky clairvoyant reading. At times, this is a terrifying, dystopian commentary that ranges from plausible to absurd. She forecasts that next year (Virus XI) texting will be made possible through 'thought power alone'; in 2029 (Virus XX) 'artificial intelligence in a computer will pass the Turing Test' and in 2035 (Virus XXVI), 'holographic recreations of dead people will become a possibility'. Much of this is informed speculation; the only thing Kher knows for certain is that with each Virus, her age will increase by one.

'A Wonderful Anarchy' can be mythical, scientific, ritualistic, sacred and secular all at once. Occasionally you find yourself in an anecdote, something deeply personal or on an unconventional passage to India. There's a wonderful rhythm to these interwoven subplots, but the whole experience feels more cathartic than anarchic.
INFORMATION
'Bharti Kher. A Wonderful Anarchy', until 5 January 2020, Hauser & Wirth Somerset. hauserwirth.com
ADDRESS
Hauser & Wirth Somerset
Durslade Farm
Dropping Lane
Bruton BA10 0NL
Harriet Lloyd-Smith is the Arts Editor of Wallpaper*, responsible for the art pages across digital and print, including profiles, exhibition reviews, and contemporary art collaborations. She started at Wallpaper* in 2017 and has written for leading contemporary art publications, auction houses and arts charities, and lectured on review writing and art journalism. When she's not writing about art, she's making her own.