Ikea and Sabine Marcelis offer first look at luminous new collection
At the Ikea Festival during Milan Design Week 2022, Ikea and Sabine Marcelis offer a sneak peek of the much-anticipated 'Varmblixt' collection, with conceptual lights that 'bounce off the wall'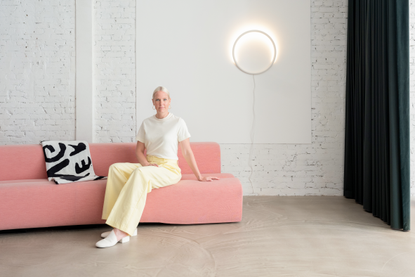 (Image credit: press)
During a bustling Milan Design Week 2022, the Ikea Festival offered an education on the future of home living spaces. Staged at Base Milano cultural centre until 12 June, the festival is offering a spread of vibrant events and experiences to explore how the relationship between people and their home environments has evolved. This comes after two years of our domestic spaces taking centre stage during the pandemic, and questions the reconfigured priorities of the home environment.
Among the headline announcements at the festival was a sneak peek of Ikea's collaboration with Dutch designer – 2020 Wallpaper* designer of the year – Sabine Marcelis. Titled 'Varmblixt', the collection is fronted by two LED lights with a broader collection of home furnishings to be announced later in the year, and available on sale in 2023.
'When I select designers [I ask them], "What do you have on your mind? What is your vision? What do you want to change in this world?"' explains Henrik Most, creative leader at Ikea. 'For me, it's about finding the original signature a designer has, and what it is that separates this person from others. [But] the question is: "How do you define originality?" As an aesthetic person, I hope I have a feeling for when somebody has an originality that stands out. With Sabine, I recognised it from the beginning.'
For the collection, Marcelis sought to create a piece focused on art and emotion and that had life far beyond functionality. '[Light] is a very powerful tool to design with, because you can drastically change how you experience a space just by the temperature of the light, or the way it highlights different parts of the architecture it's placed in,' she says.
According to Most, the 'open-minded' conversation, which began virtually during the pandemic, led to a 'bunch of ideas'; wide-ranging in concept and geometry. 'It was a very tempting menu that she presented,' says Most. 'It was super hard to choose. So we went through all the concepts, and the functions and tried to narrow it down to sync to kind of a curational thread where light, material and colour were the focus.'
The standout piece of the 'Varmblixt' collection – and one that garnered much attention from Ikea Festival visitors – is a circular wall lamp, the top of which appears to 'bounce' off the wall creating a dramatic glow behind. The minimal lamps, previewed in linear and circular versions, can either be configured in multiples or as single wall pieces. When turned off, they can function as sculptures in their own right. 'The concept was to take a singular line, and to gently pull it off the surface it would be mounted on. And that gap would allow for a void of light to flood on the surface', says Marcelis. 'Maximum impact with minimal materials.'
Ikea remains tight-lipped on further details on the collection ahead of the launch, but it does say the collection will involve further home furnishings with an emphasis on creating a social atmosphere through colour and glass. 'There will be products that cater to the idea of socialising together,' says Most.
Also announced at the Ikea festival were upcoming collections with Latin America creatives (including an artist, a chef, a musician and a textile designer), a collaboration with Finnish design house Marimekko, and an ongoing home fragrance range with British designer Ilse Crawford.
INFORMATION
Ikea Festival at Base Milano, via Tortona 54, Milan
ikea.com (opens in new tab)
Harriet Lloyd-Smith is the Arts Editor of Wallpaper*, responsible for the art pages across digital and print, including profiles, exhibition reviews, and contemporary art collaborations. She started at Wallpaper* in 2017 and has written for leading contemporary art publications, auction houses and arts charities, and lectured on review writing and art journalism. When she's not writing about art, she's making her own.