Design dispatch: highlights from Ambiente 2016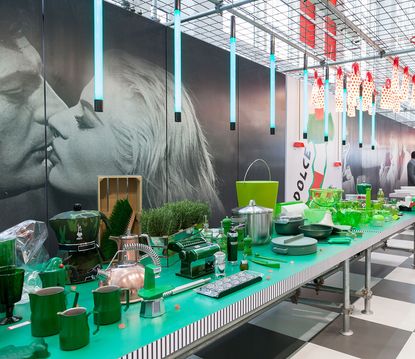 (Image credit: Thomas Fedra/Messe Frankfurt Exhibition GmbH​)
This year's Ambiente design fair in Frankfurt – which ran from 12–16 February – was the biggest to date, with around 137,000 visitors and 4,387 stands crammed into its 27 halls and 308,000 sq m of exhibition space. Apparently, you would have to trudge around 47km to visit every stand. It is an overwhelming, tiring experience, but the best things in life are rarely the easiest.

When it came to particular stands, it was generally the smaller brands that stood out in terms of contemporary design, with outstanding ranges this year from Poland and Belgium, as well as strong showings from Italy and Germany itself, and (one of Ambiente's strengths) some beautiful products from Japanese craft companies. The German Design Awards occupied their own separate exhibition, and included everything from the Bentley 'EXP 10 Speed 6' and the white gold 'Lambda' watch by Nomos to the 'BetteLux' bath by Bette (as featured in the Wallpaper* bathrooms supplement back in July 2015).

On the subject of trends, Ambiente's vice-president Nicolette Naumann singled out Guzzini for its jellybean-coloured acrylic 'Tiffany' picnic sets as a great example of the current celebration of super-bright colours, but she also notes that 'there seems to be a bit of a revival of Bohemian styles, with dark colours and craft-made products; I'm also seeing a lot of updated versions inspired by 1960s designs. Also, 3D printing is leading to a new interest in encrusted surfaces and origami shapes.'

Guzzini also showed some attractive prototype lemon squeezers that include an integral zester – one of those simple culinary solutions that (when well-designed like these) makes a clever idea look simple. They also belong to a some larger trends, as Naumann points out. 'Gadgets are doing well,' she believes, 'but I'm also seeing a lot of innovation in porcelain and glass. Some big manufacturers such as Villeroy & Boch are doing completely new ranges like barbecue and soup sets aimed at new markets, but it'll be interesting to see whether people will buy a special set just for barbecues or soups. Manufacturers are definitely thinking about the Asian market, but also about demographic changes – the fact that so many people have TV dinners these days, for example.'

Glassware definitely caught our eye this year. Nude, our favourite Turkish glassware brand, showed some excellent new designs, including a set of vessels with bases dipped in gold, and another set of beakers decorated with an etched grid pattern. Beakers with gold bands also featured in the 'Hang Rack', designed by Studio Simple for the Belgian brand Serax, which had one of this year's stand-out stands. Among their other new designs was a set of beautifully crafted ceramic spoons, designed by the Antwerp-based florist and photographer Ellen Cole, plus stacking ceramics and half-etched bottles for water or milk.

French wine-accessories brand L'Atelier du Vin's new 'Perched' carafes, meanwhile, stood out for their refined design, with heavy glass bases and smart coloured-glass stoppers, while their gold and silver carafes continued the dipped-metal theme already seen at Nude and Serax.

Legendary Italian designer Paola Navone's signature fish motif appeared on Gense's new 'Amo' cutlery, but this was the least of her contributions to Ambiente this year, as she had also been commissioned to design the main show stand for Italy, which was this year's partner country for the show, and was also behind the Memphis-inspired 'Milano Milano' cafe.

Needless to say German brands were well represented, with huge stands for Villeroy & Boch, Meissen and Rosenthal, but we also really liked the sturdy but cleverly detailed 'H2O' buckets and 'Tip' pedal-bins from Authentics. Moving further north-west, a mirror from the 'Georg' range from Denmark's Skagerak won a German Design Award, the range having only the previous week won the Swedish Design Award for bedroom furniture of the year. Also new was Skagerak's clever 'Georg' coat stand, designed by Christina Liljenberg Halstrøm, which cleverly supports itself against a wall without the need for any fixtures.

Smaller Japanese design brands were well represented as usual, but perhaps our favourite product was the 'Y Series' stool in walnut and beech from the Taiwanese company Lo Lat, founded in 2014.

If we had to choose one country, though, from all the rest, it would be Poland, thanks to two very different companies. Cmielów porcelain dates back to 1790, and is probably best known for its 1960s figurines, but in 2013 the company established the Cmielów Design Studio, led by designer Marek Cecula. His 'Geometry' collection, which includes the 'Ergo' tea set and 'Domus' salt-and-pepper set, offers an appealing contemporary take on classic Bauhaus motifs, while his 'Atelier' range of tableware has a zingy retro 1960s feel.

Exhibiting at Ambiente for the first time, TRE Product is a brand-new Polish design studio established by Tomek Rygalik, whose stand was packed with attractive new products such as David Derksen's '1L Carafe', whose decorative stripes were inspired by laboratory glassware. Dorothee Mainka's 'Mood Mirror' collection comprises three reflective metal shelves that embrace a coloured mirror face. And Victor Legin's 'Balance Light', made from thermally treated beech, includes a clever sliding counterweight which means that multiple lights can be hung at different angles to build up a striking installation. Bright ideas every one.
INFORMATION
For more information, visit Ambiente's website (opens in new tab)