Going off-book: Justin Donnelly creates geometric interiors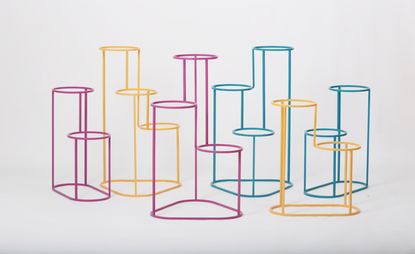 (Image credit: John Li)
Designer Justin Donnelly left architecture in 2013 to form his own design practice. He made ICFF's shortlist of Emerging Talent 2016
Designer Justin Donnelly doesn't use cookbooks anymore. The passionate home chef, whose architectural offerings will soon include kitchen accessories, takes a similar approach to developing products for his eponymous brand.

'Cooking to me is very much like design, it's very intuitive, as you do it more you get a better feel for how things go together,' says Donnelly.

The DC native studied architecture as an undergraduate at Stanford before earning a Master's of Architecture from the University of Maryland. He practiced architecture in DC, and worked with Skidmore, Owings & Merrill to expand and renovate the historic St. Albans School. The project took nearly three years.

'At the end of the day, there's a building,' Donnelly says, but in 2013 he was ready for the experimentation and output his own brand would provide.

'The reason that I'm doing interiors is that it's so much more immediate,' Donnelly says. His intuitive approach has paid off, and he made ICFF's shortlist of Emerging Talent 2016.

Donnelly's 2015 offerings– including a tubular steel bench and tessellating wallpaper– may seem disparate as first; however, all favour a sort of crystalline simplicity.

'I'm still really compelled by architecture,' the designer explains, and his colourful Spiral planters prioritise linearity over monolithic shapes. Donnelly appreciates that the powder-coated steel can be thinned down to a degree he never could have achieved with wood.

ICFF called out Donnelly's Wave shelf, a modular piece focused on eliminating spatial and material waste. The catalyst for the project was Donnelly's personal need for a shelf that could comfortably store his record collection, fit oversized art books, and naturally display smaller objects.

The solution was seven shapes traced out of three squares of white-lacquered MDF(bamboo plywood for custom orders). They produce no excess material. Once assembled, they become one unit of stackable shelving suited for apartments small and large.

'I'm always thinking about shipping [in this ] era of global design,' Donnelly explains. It's a point of pride that a single unit of the Wave shelf can be flatpacked into a USPS envelope. His own apartment in DC used 12 of the units.

Donnelly's assembly instructions borrow heavily from the IKEA style for better or worse, he gamely admits. A fan of the company's research division, the designer is nonetheless grateful he can bring a design to life after a small amount of testing and then tweak it afterwards.

'You really get to know the chair you designed when you sit in it all day,' he says. His recipe for success is intimacy in every step of the production process.

For his next collection, Donnelly's focus is on prismatic shapes. He's made the move from DC to New York, and is working on setting up his studio. The designer hopes future collaborations will bring his designs to a larger audience, but he isn't giving up the independence he savours.
'Cooking to me is very much like design, it's very intuitive, as you do it more you get a better feel for how things go together,' says Donnelly, a passionate home chef
INFORMATION
For more information visit Justin Donnelly's website and follow him on Instagram
Receive our daily digest of inspiration, escapism and design stories from around the world direct to your inbox