Sloping beauty: Patricia Urquiola reaches mountain high with tableware for Georg Jensen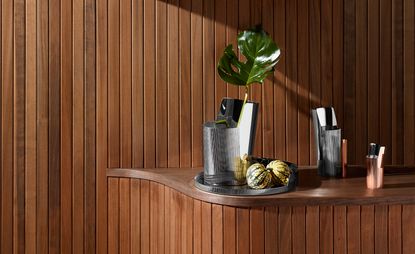 (Image credit: Richard Foster)
At the beginning of her career as one of Europe's most acclaimed and in-demand architects/designers, Patricia Urquiola embarked on a journey across Scandinavia, attending lectures, visiting ateliers and meeting designers in Denmark, Norway and Sweden. Her mission was driven by a desire to discover, to get out of her own comfort zone as a continental Europe designer. 'I wanted to make a connection with the elements, the aesthetics in Scandinavian culture, explore their materials and manufacturing techniques. Look at things with a different eye,' says Urquiola. 'That visit made an impression on me. It was a good connection. I discovered that we had so much in common... that even though I was from a completely different design culture, the architectural rigour to my work meant that we actually understood each other really well.'

Decades after that influential journey, Urquiola is back in the northern hemisphere again, collaborating with Denmark's premier silverware marque, Georg Jensen. Following previous creative alliances with cutting edge designers such as Marc Newson and Zaha Hadid, the Georg Jensen 'Urkiola' collection features jugs, bowls, vases, trays and an angular candelabra, all made from distinctive, mirror-polish finish stainless steel, with contrasting handles and sections PVD-coated in coppery rose gold.
The 'Urkiola' pieces – bold, architectural, contemporary – are representative of a very modern Georg Jensen; a heritage, luxury marque with a history that spans more than 100 years but is always looking to the future, finding new ways to unite quality craftsmanship and a timeless design aesthetic with a distinctive Nordic vigour, integrity and authenticity.

For inspiration, Urquiola first delved into the Georg Jensen archives, her interest particularly piqued by the ribbed patterns on the classic 'Bernadotte' cutlery range. 'The recent trend for designers working with stainless steel is to make the pieces feminine, fluid and organic,' says Urquiola. 'With the "Urkiola" collection I wasn't interested in that. I wanted to do something more rigorous. More strict and severe. The ribbed sections give the pieces a strength – both physically and spiritually.' The cylinder is the dominant form in the pieces with sections meticulously engineered to sit inside one another. The collection is resourceful and adaptable too; a vase can be used as a champagne cooler, a pitcher doubles up as an ice scoop, a bowl becomes a desk tidy.

So, why 'Urkiola' and not 'Urquiola'? Patricia was born in Oviedo in northern Spain (her bio playfully describes her as 'Spanish by birth, Italian by choice'), her surname originating from the neighbouring Pays Basque. 'Urkiola', also the name of a Basque country mountain range, is the traditional spelling of the name in the Euskara Basque language (a lexicon that doesn't include a letter Q) while 'Urquiola' is its Spanish/Castilian rendering. 'Using that version of my name – Urkiola – as the name for the products is a way of coming back to my roots,' she explains. 
Certainly, there is a robust masculinity evident in the tabletop architecture of the 'Urkiola' collection that might well reference the warm, mountainous beauty of northern Spain. 'Those items, they look simple but they are actually quite complicated to make,' she says. 'I had never worked in stainless steel before but the people at Georg Jensen let my imagination run wild. I proposed something rather oblique; the intersection of two solids, one cylinder engaging a second, ribbed cylinder to create an interesting junction. The resulting pieces look simple but were actually quite complicated to accomplish.'
Designing the 'Urkiola' pieces turned out to be something of a learning process for Urquiola. 'Every project I do is an education,' she says. 'For instance, a few years ago I was asked to work with a porcelain factory in Japan. I went into that assignment thinking I had a pretty good working knowledge of porcelain and how to make it perform. It turned out completely differently and I learned so much more! It was a similar experience at Georg Jensen. This is a good thing because I'm curious. And I love to break a prejudice, including my own. Like all artists, I like to move forward.'

Urquiola's velocity as both product designer and architect continues apace with her latest venture – a spectacular new hotel on the shores of Lake Como. Designed, decorated and furnished by Urquiola and her Milan-based team, the recently opened all-suite Il Sereno offers panoramic views of the waterfront and the adjacent mountains. There's also a private beach and an infinity pool. Guests have the choice of two custom-built Riva speed boats while each of the rooms is accessorised with items from the 'Urkiola' collection. 'We put the "Urkiola" tray and the little jar in each room,' says the designer. 'The hotel bar uses the ice bucket and the champagne cooler. The pieces make a connection with the simple design and materials of the building.' It's an elegant accent of Nordic cool in temperate, northern Italy.
INFORMATION
For more information, visit the Georg Jensen website
ADDRESS
Georg Jensen
89 Mount Street
London W1K 2SR