Cassina marks 90 years with a revamped HQ, a new gallery space and a fresh look at its classics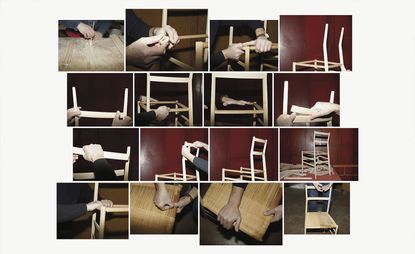 (Image credit: Armin Linke and Giulia Bruno)
As part of this year's anniversary celebrations, Cassina commissioned photographers Armin Linke and Giulia Bruno to follow the work of its artisans. Here, a master carpenter assembles a ''699 Superleggera'' chair, an iconic model designed by Gio Ponti for Cassina. Made of a natural ashwood frame and India cane seat, the ''super lightweight'' chair has been in production without interruption since its creation in 1957.
A squat 1940s workshop, set behind a single train track in blue-collar Meda, Lombardy, produced the first industrialised models for the Italian furniture maker Cassina. For a while, the Cassina family lived here too, running a small shop on the premises. While Milan, 20km away, became the pretty face of modern Italian design, here in Meda is where the Cassinas got their fingernails dirty. This year Cassina turns 90, and to mark the occasion, the pioneer of 20th-century Italian design got a manicure, facelift and more besides.
In Meda the Spanish designer Patricia Urquiola – Cassina's art director for nearly three years – has transformed the old production facility into a post-industrial nirvana. Urquiola has sheathed the front courtyard in theatrical perforated-aluminium curtains, smoothed the rough stone surfaces, built an 'tower' in perforated Cassina-red metal and reached into the back catalogue of Cassina maestri to furnish the cavernous spaces: 1949 side tables by Piero Lissoni as well as low 'Refolo' tables by Charlotte Perriand and 'LC2' sofas by Le Corbusier, Pierre Jeanneret and Perriand in updated sorbet-green and blue. To create an intimate breakout space she's installed a replica of the Refuge Tonneau in the 'refreshment room'. The futuristic mobile shelter was designed by Perriand and Jeanneret in 1938 and produced for the first time by Cassina in 2012.
The renovated central courtyard now features an 'office tower' in Cassina-red perforated metal, designed by the brand's art director Patricia Urquiola. © Armin Linke and Giulia Bruno, 2017. Courtesy of Galleria Vistamare, Pescara
It all encapsulates beautifully Cassina's philosophy, something managing director Gianluca Armento calls looking back to move forward. It's counterintuitive, but I believe the truer you are to where you've come from, the more innovative you'll be, he says, after unveiling the space to employees last summer. Inaugurating this new, bolder look for Cassina HQ is the culmination of two years of dusting-off and deconstructing old classics – from Gerrit Rietveld's 1935 'Utrecht' armchair, upholstered with Bertjan Pot's triangle-pattern jacquard, to the relaunch of the 'Pampas' chair by Le Corbusier, Jeanneret and Perriand. Similarly, Urquiola's streamlining and 'challenging of the original architecture at Meda shows the real spirit of Cassina in a more modern way', says Armento.

'The soul of Cassina is making advancements on how we create things. What do we want to leave behind? Not just midcentury modern pieces, but an evolution. Keeping it authentic while modifying the angle and story is a science of how to maintain a glorious heritage. And anniversaries are part of that.' A rather literal expression of that sentiment can be found in the HQ's new gallery, metres from where co-founder Cesare Cassina first tested the soundness of Gio Ponti's '699 Superleggera' chair in the 1950s. The inaugural exhibition, by photographers Armin Linke and Giulia Bruno, follows Cassina artisans as they piece together furnishings such as the 'Cicognino' table by Franco Albini and the new '646 Leggera', an updated version of the classic 'Superleggera'.

Linke's photographs zoom in on the tools of the trade: Bacci CNC routers for fashioning round-edged ash legs and computers equipped with sophisticated 3D programmes. Ultimately, though, the same hands-on method from the 1950s takes over. The process of capturing it, Linke says, was downright anthropological. 'The "Leggera" chair is shaped by artisans who have been working this way for centuries, but also by the classical industrial process and finally the era of robotics. So you have one piece of furniture from three different eras.'

And so continues the dialogue between modernism and the present day, the intertwining of handcraft – 'which is now often forgotten, but fascinating,' says Linke – with the outer limits of digital technology. 'Every component has a story, and finding that language to fit them together has an elegance, like writing software code or choreography.'

To expound further on the theme, this month Cassina releases its 90th-anniversary monograph – no mere coffee-table retrospective, but rather a treatise on the industry moving forward. Edited by Pin-Up magazine founder Felix Burrichter, This Will Be the Place taps contemporary experts including designer Konstantin Grcic, architectural historian Beatriz Colomina and architect Zhao Yang, and asks them to arrive at a vision of the future home based on their appreciation of the past.

The significance of history 'as a point of reference of excellence' is something Barbara Lehmann, director of Cassina's archives, sets up in her introduction. 'There can be no future without a knowledge of the past,' she writes. Armento insists the brand has always looked forward a generation for creative input. 'Some of the furniture we produce was designed over 100 years ago, but remember, the designers were in their twenties, thirties and forties, creating change, creating progress,' he says. 'That is still our responsibility, and that is what I want to pay tribute to.'

As originally featured in the October 2017 issue of Wallpaper* (W*223)
A replica of Charlotte Perriand and Pierre Jeanneret's 1938 Refuge Tonneau takes centre stage in the communal area of Cassina's Meda HQ.
Models from the Cassina archive, including 'Superleggera' and 'Leggera' chairs, photographed by Linke and Bruno for the inaugural exhibition of the HQ's new gallery space.
Cassina's 90th-anniversary monograph This Will Be the Place (Rizzoli, €80).
INFORMATION
For more information, visit the Cassina website (opens in new tab)