Gaetano Pesce grabs our attention like never before at New York's Allouche Gallery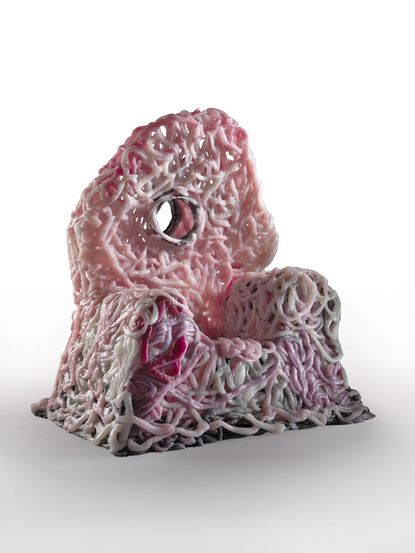 (Image credit: Sebastian Piras)
At the ripe old age of 75, Italian architect and designer Gaetano Pesce shows no sign whatsoever of slowing down. Now on his plate is a stunning exhibition devoted to his latest work as well as his design, drawings, signature maquettes and drawings harking back to the 1960s at the SoHo Allouche Gallery. 'Gaetano Pesce: One of a Kind Iconic Works 1967-2015' pays homage to his distinctive artistry.

'Gaetano's always been a living legend when it comes to art, architecture, design and sculpture,' says dealer Eric Allouche. 'But this new show will further cement his artistry on the global axis,' he says.

Talk about ahead of the curve oeuvre. Pesce blazed a trail in his use of foam, resin and urethane early on. What else has been the driving force for Pesce, whose work crosses the figurative and abstraction? 'I've always believed that my art must frequently address critical issues of today,' says Pesce. Take his politically charged 1968 UP 5 + 6 Chair, which resembles a huge seated female figure chained to a ball. 'I wanted to demonstrate that women are political prisoners of men,' says Pesce. While the maquette is in foam, the full scale version in wood is also on view.

For him, nothing is cookie cutter. 'Repetition to me is boring and repressive so each example is unique,' he says.

Saturated color is another hallmark of Pesce and a sense of playfulness can be the norm. His 2006 Fish Table evidences that to perfection with the top in the shape of fish drenched in brilliant blue. Then his Fuoco Vase in searing orange and yellow resin approximates a candle dripping wax. 'Color is essential as it's so expressive of emotion,' says Pesce.

Even his lighting is revolutionary. Take his 2013 Kid Lamp with the shade alike a tangle of hair in resin.

Aside from his work in the hallowed halls of such noted museums as the Louvre, London's V & A Museum and the Metropolitan Museum of Art, A-list collectors who have plucked up his work include mega dealers Jeffrey Deitch and Adam Lindemann as well as fashion designers Domenico Dolce and Stefano Gabanna.

With the gallery opening set for this evening, Allouche expects a huge crowd. 'The exhibit will rein in entire new batches of collectors far beyond those who covet design,' he says.
ADDRESS
115 Spring Street
New York, NY 10012
VIEW GOOGLE MAPS (opens in new tab)