François Champsaur: how do we make a design that is alive?
For the French interior designer, tackling the climate emergency means reducing our ecological footprint and avoiding dead materials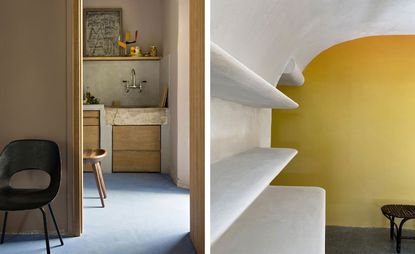 (Image credit: Fabien Borg, Nicolas Mathéus, Florian Touzet, Joe Thomas)
Faced with the climate emergency, many of us see no other option than to bury our heads in the sand or, at most, switch to recyclable or secondhand designs where we can. Not so French designer François Champsaur, who, in the past few years, has largely turned away from the big projects that made his name – such as the Hôtel Vernet in Paris and Le Bailli de Suffren on the Côte d'Azur – to move back to his native Marseilles and focus on smaller-scale designs, including his own 'cabanas' in Marseilles and Mallorca.
He has narrowed down his list of clients, reduced his ecological footprint, and eschewed supermarkets in favour of local organic schemes. In his new take on the 'less is more' mantra, 'less' refers not so much to a certain minimalist aesthetic but to an entire downsized way of life.
François Champsaur: 'We cannot continue to make plastic chairs'
'I follow the idea of décroissance, or degrowth: less income and a much simpler standard of living, in order to have the freedom to choose my projects – projects where ecology is taken into account,' says Champsaur.
The designer views our current situation as a brutal comedown after decades of excess. 'The world we have built in the past 50 years is based on consumption, on ultra-liberalism; there is permanent abundance for some, and nothing at all for others,' he says. 'We think we are happy because we have access to everything, but it's like a big shot of illicit substances – now we're seeing the consequence of this artificial happiness.' What was hidden from sight is now impossible to ignore: 'We hide everything we don't like – industrial waste, radioactive waste, polluted rivers. But today, everything is coming to the surface. This is why it is necessary to evolve, to find the know-how, to experiment, and to become humble again.'
Humble towards the power of nature and the beauty of our planet, which we have neglected for so long: 'We are at a very important historical, moral and aesthetic crossroads: we must reconnect with the Earth.' And this goes for designers, too, of course: 'Ecology and neoliberalism are totally incompatible. As the ecologists say, in a very precise phrase: there is no infinite growth in a finite world. And if designers do not realise this, they will disappear.' His solution, first fully explored during his stint as jury president at the 2019 Design Parade Toulon, where he organised an exhibition titled 'Resuming Natural Discussions', is to focus on 'natural design' using 100 per cent natural materials, which have to be 'compostable and reusable'.
For Champsaur, this means using anything but plastic: 'We made people believe that we could reuse plastic. This is false; 80-90 per cent of plastic ends up in garbage cans, in the oceans. The only thing to do is to use materials that are as unprocessed and natural as possible.' His materials of choice include terracotta (a passion inherited from his ceramicist mother), with which he created the 'Utopie Frugale' table; or chestnut, which he used to fashion furniture for the Musée Carnavalet's restaurant in Paris. 'If you use earth, wood, plaster, lime, you can return them to nature, compost them.' Although many designers of his generation do not seem to be interested in these organic materials, Champsaur is enthusiastic about new talent, including young designers such as Samuel Tomatis, who uses seaweed, or Champsaur's close collaborator Samy Rio, who researches invasive plants, and has worked with the Luma Foundation, an Arles-based organisation set up to support the activities of independent artists and pioneers.
'With all these things still to be invented, we cannot continue to make plastic chairs,' continues Champsaur. 'Design is both content and form; if the substance is void, the form is void.' The designer goes one step further, adding: 'I think we also have to give up 3D and digital techniques a bit to come back to the intelligence of the hand. I make terracotta models to visualise my projects. It's more pleasant to work with organic, living materials, not dead materials. In fact, this is the fundamental question for the next few years: do we make a design that is alive?'
Approaching new collaborations
This issue came to the fore in his latest big collaboration, the furniture for Ian Schrager's new Edition hotel in Madrid, designed by John Pawson. It was a commission he felt he couldn't refuse, but it tested his passion for all things natural. 'To change things, you have to be convinced yourself. If one is only half convinced, it is difficult to convince others,' he says. But it seems his commitment to a new 'natural design' is utterly convincing: all the hotel's new guest room furniture has been made with Champsaur's trademark materials, including wood, wool and plaster.
Plaster, hemp, lime and compacted earth all feature in the designer's two houses on the Mediterranean, which he uses as laboratories to explore new ideas, working with local artisans to create unique pieces and finishes, a process in complete contrast to how most houses are built today. 'People bring in tiles from Italy, windows from Poland – it's just about assembly. There are two problems with this: visually, it's ugly; plus, it destroys the local know-how,' he says. 'We can no longer do assembly like that – it's aesthetically, ecologically, politically and socially irresponsible.' Champsaur also believes that the current architectural aesthetic, with large bay windows cooled by air-conditioning, is not viable anymore, that we should go back to traditional solutions to cope with the weather: 'Houses in the south of France all had a plane tree at the front to create shade in summer – it helped decrease the temperature by five or six degrees.'
Surrounded by greenery and traditional canisses, or reed screenings, his own house in Marseilles is also his studio, from which he has been working on his latest project: new interiors for the shop at Villa Noailles, which will include pieces made from stone, chestnut, plaster and local reed. Also in the works is a collection in collaboration with other designers, including Samy Rio, focusing on happy small-space living. It is not by chance that a very specific type of design is coming back to the fore today: 'When we look at auctions and the furniture that is highly collectible, it is pre-industrial furniture by the likes of Charlotte Perriand, Jean Prouvé or Jean Touret. All these designers worked in tandem with craftsmen; they were very close to the material and very attentive to the work of the hand of man, and not of the machine.'
Those brave enough to face our environmental and societal problems will find renewed energy and inspiration in a different, gentler way of living, more attuned to our local community and geography. 'You will have to be really optimistic, clever and pugnacious to change the model. It's a moral issue because we can't leave our children a field of ruin, can't say we tried and didn't succeed,' says Champsaur. 'It's also an aesthetic issue, as we must invent new ways of creating and consuming, as well as manufacturing less, and manufacturing locally.
Information
The August 2022 Design for a Better World issue of Wallpaper* is available from 14 July in print, on the Wallpaper* app on Apple iOS, and to subscribers of Apple News +. Subscribe to Wallpaper* today
Léa Teuscher is a Sub-Editor at Wallpaper*. A former travel writer and production editor, she joined the magazine over a decade ago, and has been sprucing up copy and attempting to write clever headlines ever since. Having spent her childhood hopping between continents and cultures, she's a fan of all things travel, art and architecture. She has written three Wallpaper* City Guides on Geneva, Strasbourg and Basel.