How Dubai stamps its cultural persona at the latest DXBDW
Ahead of the Dubai Expo next year, the city's design week presented a considered showcase that embraces future talent and invites new territories to shine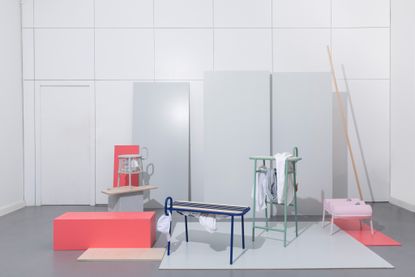 (Image credit: TBC)
When Dubai Design Week was founded five years ago on the back of the then diminutive commercial event Downtown Design (the latter has grown to some capacity under director Rue Kothari), there was a thought that the fair should not just embrace local talent from the UAE and its environs as its crux, but would cast the net to a much wider community and audience. Not just because everything in Dubai has to be bolder and better, and lucrative, but because it remains, and has always been, a very active port, through which generations of creative minded people have passed peddling their wares. The pearl fishing has gone, the show boats remain, and Dubai is still a crossroads.

DXBDW, as it is called, is based upon the airport acronym DXB and defines the fair as one that intentionally ignores boundaries — the 'dXb' logo and its symmetrical graphics cleverly symbolising design that crosses borders and indicates a two way street. This was the initial plan and it works. A simple and clever idea leading to good marketing, internally and abroad.
What better place then to host and harvest a Global Grad Show, also in its 5th year, held in partnership with the Investment Corporation of Dubai. This iteration was curated for the first time by Eleanor Watson from London's Design Museum (opens in new tab), and saw a vast selection of the very best in innovation, engineering, design and technology from colleges all over the world comes to life within d3 (Dubai Design District). The district also houses fascinating explorations into MENASA (Middle East, North Africa, South Asia) via immersive pavilions under the name of Abwab (Arabic for gateway).

At Abwab this year, three quite abstract spectacles were offered. A friendly wall by T Sakhi Architects from Lebanon portrayed socio-political barriers in our society, while from the Eastern Provinces of Saudi Arabia, a structure by Azaz Architects of traditional palm frond weaving encased a play area where children jumped relentlessly. The Indian contribution was visual narrative of seven pre-Hindu creation stories executed by Busride Design Studio via a demure illuminated walkthrough.
Us journalists are privileged to be able to travel to see how young brilliant minds are working towards a better future in health, happiness (a word much used in the UAE — there is even a minister for one) and tech, through graduate shows and design fairs, whether its at the chaotic Salone del Mobile in Milan or London Design Festival.
Somehow, dXb manages to bring it all together, from the commercial international arm to the immediate local talent and its micro production. Global Grad Show, in particular, through its selection addressing social aid, disabilities, biodiversity, the environment and sustainable cities is pretty comprehensive. What is even more encouraging is that all students — from 120 universities — and many of their professors, are flown in to discuss their projects and there is an end user in mind. As design week closes, these young entrepreneurs are invited to pitch to individuals, potential patrons and businesses thanks to supporter Arm Holdings.
Interestingly, this year's Global Grad Show included work for the first time from Ghana, Kenya, Columbia, the Philippines and Kuwait – help is clearly at hand to support innovation not just visible online, but in reality. Let us hope someone is truly listening to the voices of tomorrow, as well as bearing witness to the beautiful and engaging design objects and furniture Dubai continues to showcase at its annual event.

Dubai Design Week combined time wise with the inauguration of first Sharjah Architecture Triennial, for even more sensory overload. This first edition was contemplative and thought provoking, housed partly in a 1970s former school — a throw back and reminder to the days the Emirates were formed United. 2020, the year of Dubai's Expo, will also mark the opening of Dubia's Museum of the Future at the base of the Emirates towers where Brendon McGetrick, former curator of the Global Grad Show, is now creative director. Watch this space.
INFORMATION
dubaidesignweek.ae (opens in new tab)