Driade joins forces with Moleskine and Philippe Nigro for portable office range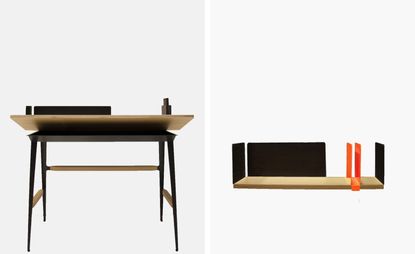 (Image credit: TBC)
When envisioning Italian notebook king Moleskine meeting furniture stalwarts Driade via French designer Philippe Nigro, the mind strings many a thought. Launching at IMM Cologne this year, the trio have joined forces to create a dynamic and modular 'Portable Atelier'.

Essentially a moveable office, each of the brands harnessed their specific expertise to form a smartly simplistic and refined collection. What began as a desk design has grown to a collection of fundamental workspace pieces, including a matching adjustable stool, a detachable shelf to slot into the desk and plenty of Moleskine-inspired accessories.

'Portable Atelier''s manoeuverable state brings to mind memories of Nigro's transportable ottoman and 'Coffre à Lutrin' mobile office from 2013's 'Les Nécessaires d'Hermès' collection. This, together with Moleskine's travel-friendly, organisation-focused aesthetic and Driade's expertise with lightweight contemporary materials, makes them a match made in heaven.

The collection is made of plywood, oak and matt steel, allowing for the perfect pack up office environment. But it's not all serious office business; the range is also injected with playful fluorescent yellow and orange tones merging together with black and white basics, making it ideal for mixing and matching.

Described as 'nomadic', they developed the project from the concept of a moving, journeying office environment. 'All the pieces interact with each other,' explains Nigro, 'but they can live independently at the same time.' 'Portable Atelier' will soon be distributed by both Italian manufacturers, and there's been talk of expanding the collaboration and introducing designers Maurizio Galante and Tal Lancman to the fold. Watch this space.
INFORMATION
'Portable Atelier' will soon be available from Moleskine and Driade