At Kortrijk's Biennale Interieur, an air of optimism and silver linings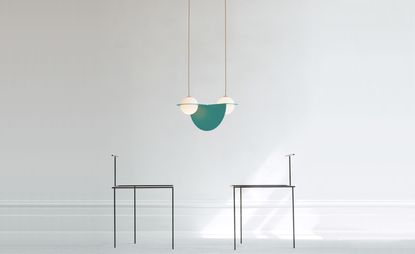 (Image credit: Courtesy of Lambert & Fils)
The Biennale Interieur in the Belgian town of Kortrijk stands out from the design fair crowd, not least because of its accessible scale, judicious mix of conceptual installations and commercial brands and, above all, its enticing attention to detail.

For the biennale's 25th edition – themed 'Silvers Linings – Interiors' – the curatorial team was made up of Brussels-based architecture firm Office Kersten Geers David Van Severen, artist Richard Venlet and graphic designer Joris Kritis. Silver as a leitmotif was accordingly featured in everything from the billowing fabric lining the ceilings to the Ann Demeulemeester uniforms worn by the hosts replete with sparkly shoes and bags. A series of 'complete interiors' commissioned or designed by the curators and invited galleries and studios were also housed in perforated or opaque corrugated silver aluminium shells and boxes to great effect.

Of the 250-odd brands on show standouts included Berlin Design Selection, a collection of designers based in the German capital whose products – displayed in an alluring space painted deep blue, pink and green – demonstrated flair, manufacturing know-how and originality. Showing for the first time in Europe, Canadian lighting marque Lambert & Fils wowed with its spare, architectural and geometric new collection entitled 'Laurent', made by hand in its Montreal workshop, while London-based Australian designer Brodie Neill chose to debut his deceptively simple marble-and-wood 'Elements' table in Kortrijk.

Paris-based Studio Dessuant Bone teamed up with local window frame-manufacturer Allaert Aluminium to create a striking installation that showcased the latter's manufacturing capacities and Belgian design also shone at Serax, a furniture, tableware and textiles brand known for its accessible and on-the-pulse collections. This year it launched a collection of tables, shelves and clothes racks by Brussels design studio PJ Mares made (partly) out of powder-coated steel in appealing pastels and shades of gold.
The International Design Center Berlin (IDZ) showcased the work of nine Berlin-based designers. Eye-catching pieces included Niclas Jørgensen's highly original stadium lights (pictured left) and Daniel Becker's 'Emily' mobile-like pendant lights (right), crafted from sheet steel.
For his first ever visit to Interieur, London-based designer Brodie Neill launched the new 'Elements' table under his Made in Ratio label. It combines three different geometries with various materials (marble, stainless steel and solid wood) to form one functional and alluring whole
Winner of the Grand Prize in the Interieur Awards was Swiss designer Dimitri Bähler. His piece, 'Volumes, Patterns, Textures and Colors', explored the materiality and tactility of ceramics with an array of unusual and enigmatic objects.
One of six 'interiors' commissioned by the fair curators, this taster of Solo House by Brussels-based architects Office Kersten Geers David Van Severen (about to complete in north-eastern Spain) includes a stool retro-fitted with a light by Brussels-based artist Richard Venlet and interventions, such as the water tank in gradated colours, by Belgian artist Pieter Vermeersch.
Alain Gilles and Jessy Van Durme's rattan sofa and armchair, for Vincent Sheppard, is the result of a series organised by regional design platform Designregio Kortrijk that fosters collaborations between local manufacturers and established and new designers
Antwerp's Valerie Traan Gallery was one of four design galleries showing at Interieur. She showcased Muller van Severen's latest collection of wire furniture – which can be used both indoors and outdoors – and the duo's first, limited-edition rug, which is hand-knotted in Nepal out of Tibetan highland wool, cashmere silk and pashmina wool.
Paris-based Studio Dessuant Bone worked with expert aluminium window frame manufacturer Allaert Aluminium (located not far from Kortrijk) to make a delightful installation of rotating, sliding and opening-and-closing architectural frames.
Berlin-based Atelier Haussmann showed wonderfully tactile coffee tables by Hervè Humbert made out of marble pieces discarded by artisans and cut so that each piece has at least one right angle.
Belgian brand Serax launched a new collection of tables, clothing racks and shelves by Brussels design studio PJ Mares that, like all its wares, are accessible, functional and instantly desirable. Pictured here, the 'Sanba' tables with powder-coated legs in moreish colours.
INFORMATION
The 25th Biennale Interieur ran from 17–22 October. For more information, visit the website (opens in new tab)