A former printworks makes an impression as a gallery and home for designer Xavier Lust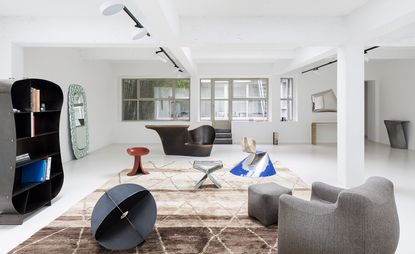 (Image credit: Frederik Vercruysse)
Xavier Lust's new home and showroom in the leafy Ixelles neighbourhood of Brussels is an early modernist structure that still bears a sign declaring 'Imprimerie des Sciences', a relic of its past as the nearby university's in-house print shop. It is lower in height than the neighbouring buildings, but Lust was drawn to its ample floor space. 'I started my career with no money, no collection, and no space', says the Belgian furniture and interior designer. 'My previous house had small rooms, tiny stairs. I needed a place like this.'

The building's two-year restoration involved only relatively minor modifications, bar one major change of Lust's own devising. Together with a local glassmaker, he developed laminated glass skylights to replace four polycarbonate half-cylinder ceilings on the ground floor. The double glazing shuts out all noise, from the lively chatter of the nearby school playground to the pattering of rain, and creates fascinating patterns of light on the showroom walls.

'Renovating was not easy or fun,' says Lust, 'but I really appreciate it now that it's finished. I can combine work with life here. There are no hours for me; I work all the time, everywhere, anywhere. My brain is always active. We designers are all like that. It's more difficult when you have a family. Sometimes they require your presence when you're not ready,' he laughs, referring to his girlfriend and their young son. 'Now I'm closer, and can say hi a few times a day.'
Lust's office is adjacent to the white-walled gallery and showroom on the ground-floor. Upstairs, the living spaces are in a 'Belgian style', he says: classically proportioned rooms with herringbone parquet floors and high ceilings. His designs take pride of place throughout, including in the dining area, where his Calder-inspired 'Fireworks' chandelier hangs above a glass 'S' table with bronze base – 'an emotional piece'. Lust knocked down a wall here, opening up the space into the living room, in order to create a 'long proportion, as in a Venetian palazzo'. The living space is furnished with more of Lust's designs, all tied together by their fluid sensibility and ingenious construction.

On the roof terrace, the breadth of Lust's output becomes clear. Larger outdoor pieces such as the striking 'Volupté' bench, a couple of 'Flow' sofas, and 'La Grande Table' with four folded aluminium 'Bwb' chairs create an inviting setting that Lust happily employs for social functions and public events. There's also a playful 'Picnik' table thrown in for good measure. Produced by the Belgian company Extremis, it is the result of a collaboration with its owner Dirk Wynants.

Lust studied interior design at Brussels' Institut Saint-Luc, and continues to receive commissions for renovations and extensions. He was drawn, though, to the different challenges of industrial design. 'I like the outlook on design as formulated by Raymond Loewy in his book Never Leave Well Enough Alone,' Lust says. 'For me, design is the result of an equation that takes into account four parameters: functionality, beauty, technology and culture. Design is about making life better, more beautiful. It's one of the elements of an interesting life.' Lust was soon tagged 'Starckino' – not because of any similarities in aesthetic with Philippe Starck, but rather for his remarkable career trajectory.
Still, Lust is keen to emphasise that what has inspired his sculptural, organic forms most is constant play and experimentation with materials. 'In 1998 and 1999, I was self-producing models of furniture in an old house that had a café on the ground floor,' he recalls. 'I had the time to go back to purely creating, and I had the idea of folding a metal sheet three-dimensionally.' In collaboration with a company in Antwerp, Lust put this to the test and loved the result. Seeing that it had worked, he continued to produce chairs using the technique. But when he went about making a bench in the same way, a deformity occurred, a gentle curve that characterises the design. It's as if 'the material participated in the process', says Lust. 'An induced movement determined the final shape.' He considers the self-standing bench, called 'Le Banc', a 'perfect project' in its 'economy and functionality'. 'The shape is natural,' he says. 'It's close to vegetal shapes and body shapes.' The bench was presented at the third edition of Milan's Salone Satellite in 2000, where MDF Italia picked it up. At the show, Lust was introduced to other major Italian brands, such as Boffi, De Padova and Cappellini, which saw the young designer's potential. He also met Terence Conran, whom he discovered lying on the floor, inspecting his aluminium bench's underside.

Seventeen years on, Lust is self-producing small editions but also creating industrial design on a larger scale, experimenting with economical ways of producing. 'I like to operate within different scales of work and between different typologies,' he says. 'I don't like to repeat myself. When a piece materialises and you stand in front of it, it's always a surprise. Even if you know what it will look like – the emotion of seeing this new object's soul is extraordinary.'

Lust's designs have a particular rhythm to them, a charm that has helped them make their way into galleries such as Ralph Pucci in New York, Nilufar in Milan and Galerie du Passage in Paris. In Brussels, his home/gallery covers all of his output to date: 'It's a luxury to have these different atmospheres in which to show my work', he beams. 'From the industrial style of the office, right up to the atmosphere of my own home. It's great to see my furniture being used.'

As originally featured in the January 2018 issue of Wallpaper* (W*226)
INFORMATION
For more information, visit the Xavier Lust website
Receive our daily digest of inspiration, escapism and design stories from around the world direct to your inbox