Cast in stone: Ado Chale's lifetime of alchemy and artistry goes on show in Brussels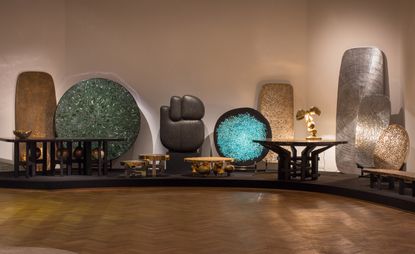 (Image credit: Maxime Prananto)
You would hardly find more a passionate specialist in mineralogy in the history of modern applied arts than Brussels-based Ado Chale. A lifetime of work by this largely unknown Belgian designer, decorator and sculptor is being presented in a first retrospective at the Bozar Centre for Fine Arts in Brussels.

Chale created a plethora of custom-made interior objects during his 50-year-long career. He belongs to the generation of interior decorators that appeared on the scene in the 1960s, focused on creating exclusive interior objects on the borders of fine and applied art. Designers such as Gabriella Crespi, Maria Pergay, François-Xavier Lalanne and Claude Lalanne established a new approach to designing furniture and accessories, bringing a glamorous spectacle into 20th century interiors.

Born in 1928 as Adolphe Pelsener, the designer was self-taught, developing his skills in blacksmiths' metal workshops. It wasn't until the late 1950s that he discovered mineralogy, wherein he began creating the decorative jewellery and tabletops which were to become the universe of his artistic expression. They allowed him to experiment with abstract decoration and structural solutions. He changed his name to Ado Chale at the beginning of the 1960s, marking the start of his career as a designer.
During the 1960s and 70s, his work focused on the beauty of natural stones. He travelled the world collecting materials like fossilised redwood, malachite, chalcedony agate, rhodochrosite, lapis lazuli, jade and amethyst, encrusting them in epoxy resin to create the smooth decorative surfaces of his tables.

Chale's work was exhibited at various world fairs, including the Universal Exhibition in Montreal in 1967. Important clients commissioned him with exclusive projects. In 1968, he created 25 marcasite mosaic tables for the new Hilton Hotel in Brussels. His practice was favoured by the Court of Belgium, which chose a number of official gifts from his work: notably for the wedding of the Prince of Wales and Diana Spencer, the first visit of President Pompidou to Brussels, the birthday of Queen Beatrix of the Netherlands and that of the German Chancellor Helmut Kohl.

While Chale continued to exhibit his work around the world during the 1980s and 90s, he turned to less valuable natural materials. He started to use bone buttons, mother-of-pearl or peppercorns to manufacture small decorative and sometimes functional objects, such as door handles, cigar box, lamps, obelisks, mosaic balls, bronze cuts and also his first paintings of torn papers or ropes.

In 2000, Chale met Paris-based galerist Yves Gastou who opened a new market for him. The Belgian designer's work was subsequently favored by interior architects like Alberto Pinto, Peter Marino and Jacques Grange. His works from the 1960s and 70s became sought-after collectible items, and the most prestigious auctions were sold at auspicious houses like Wright and Phillips de Pury.

The scenography of the Bozar exhibition was created by Belgian artist Richard Venlet; while publishing house Aparté is releasing an new important monogaph on Chale's practice.
INFORMATION
'Ado Chale. Alchemist. Artisan. Designer' is on view until 24 September. For more information, visit the Bozar website.
ADDRESS
Bozar
Rue Ravensteinstraat 23
1000 Brussels