Court jester: Jaime Hayon gets his game on at Galerie Kreo with some big-hitting designs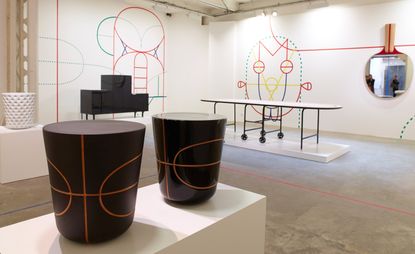 (Image credit: TBC)
Tempting as it may be to describe Jaime Hayon's new collection for Galerie Kreo, 'Game On', as sport chic, it would trivialise the materiality of his pieces to mere trend-speak. But this is not to suggest the prolific designer artist wants his bobsleigh daybed or hanging trapeze lights treated with gravitas. Au contraire. The pieces, he insists, are unapologetically playful - in keeping with both his personality and the theme.

Most people would never look at a table tennis paddle and envision a mirror, or see the potential of a medal podium as a cabinet. But cleverness and craft are to Hayon what serving and speed are to Roger Federer (for what it's worth, the designer says he dabbled in tennis as a kid). A side table in solid white marble, honed with a pattern of golf ball dimples, veers far from kitsch. In some cases, the source material is apparent but downplayed, as with a frosted glass lampshade shaped like a badminton birdie. (The three base options marked with brass lines, evoking football, basketball or volleyball courts or pitches) The 'Ping Pong' table in oak wood on a set of castors might come closest to its original function - except for its refined finish. But who knows; future owners (it was produced as an edition of six with two artist's proofs) might be inclined to serve dinner first and backspin later.

Hayon revealed that one buyer of a 'Podium' cabinet (an edition of eight with two artist's proofs) joked she will arrange the objects in each block according to preference. And indeed, anytime she pushes one of the beveled polyurethane doors, its numbered outline will act as a reminder.

The idea for 'Game On', Hayon's first collaboration with Galerie Kreo, began about four years ago, but took shape in earnest once the London Olympics had ended. At first, the designer was unsure whether people were feeling sport fatigue. But as he developed the prototypes - restricting the collection to noble, classic materials such as marble, porcelain, wood and steel - he realised they transcended mere novelty. As the sum of its parts, the collection reinforces that one must first respect the rules before breaking them. 'When you play with the idea of "serious fun", it's great, but there has to be quality,' explained Hayon, referring to the label recently bestowed upon him by Groninger Museum curator Suean van der Zijpp.

Hayon, included in the Wallpaper* 100 last year, has been fielding a wide range of projects over the past year, from chair designs for Magis and Fritz Hansen, to Cassina tasking him with an exceptional project linked to the famous Paulownia tree on Le Corbusier's Villa Le Lac property. His latest watch design for Orolog, an edition of 50, will also be available at Galerie Kreo. 'Everything I do is an exercise,' he said, stretching the theme. 'The most beautiful thing you can do in your career is to challenge yourself more and more. That way, you're never boring.'

For the Paris installation, which was unveiled yesterday (the London debut takes place 3 June), Hayon animated the walls and floors with colorful tape, applying wide creative licence to court and field demarcations. Shortly prior to the opening, he illustrated the street-facing windows. 'Everyone was a little bit scared, but they don't know me fully,' Hayon said, a big smile revealing just how much he enjoys throwing a curveball. Well-played, Jaime.
ADDRESS
Galerie Kreo
31 Rue Dauphine
75006 Paris

14A Hay Hill
W1J 8NZ London, UK