Dive into the fantastic world of Jaime Hayon
Part of World Design Capital Valencia 2022, 'InfinitaMente' charts the past 20 years of Jaime Hayon's work (on show until 16 April 2023)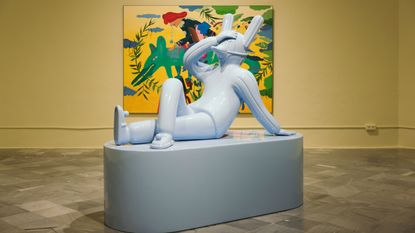 (Image credit: Brava Es)
nfinitaMente' brings together two decades of work by Spanish designer and artist Jaime Hayon, for an exhibition that is on view at the Centre del Carme Cultura Contemporània (CCCC) in Valencia until 16 April 2023.
Curated by Hayon Studio and organised as part of the official programme of World Design Capital Valencia 2022, the retrospective exhibition sweeps us into Hayon's universe, presenting sculptures, objects, installations and furniture, including Mediterranean Baroque an installation first presented in 2003 at David Gill Gallery in London, one of the artist's first gallery exhibitions.
Born in Madrid, Hayon has a studio in Valencia as well as Turin, Italy, and this is his first large-format museum exhibition in Spain. 'InfinitaMente' translates as infinity or infinite, an appropriate term to describe Hayon's creative practice that often feels boundless in terms of its reach. Like the designer's work, the exhibition moves naturally between design objects, furniture, art, and craft, with rooms divided into various themes that give focus to his extensive career.
The Fantasy presents five large and colourful paintings featuring floating figures, animals, elements of nature and references to the home; facing the paintings is Fed Up, a large, baby blue sculpture of a reclining animal/human figure with his hand on his forehand as if exasperated or delighted with the paintings he beholds. The humour and unexpectedness of it set the tone for the exhibition.
'InfinitaMente' gets up close and personal with Hayon's creative process. In Mesamachine + sketchbooks, we are treated to a look at his thick notebooks filled with drawings, collages, photographs and notes, as well as loose drawings, while Cabinets of Curiosities is an intimate installation that collects dozens of objects, notes, samples, prototypes and materials from Hayon's studio as well as his home and show his range of influences, from Japanese manga to graffiti and skateboard culture.
Complex, playful and certainly radical in many ways, Hayon's work is hard to define and easy to love. The Crystal Room brings together a selection of unique and limited-edition glassworks, including collaborations with Baccarat and Murano. Furniture pieces from collaborations with brands such as Fritz Hansen, Ceccotti Collezioni, Magis and BD Barcelona are featured across the various installations.
On view for the first time in Spain is Masquemask, an installation of seven large tapestry masks designed for the Lodz Design Museum in Poland and made by local artisans. Hayon was inspired by a visit to an edition of the Lodz Design Festival where he had an opportunity to learn about the city's long traditions with textiles. He designed the seven tapestries for the 2019 edition of the festival, each tapestry depicting its own unique mask-face and colour schemes. At the CCCC, the tapestries are hung in the main space of the room and visitors engage with them directly, seeing different viewpoints and facial expressions as they walk through the room.
The mask is a key image in Hayon's world, decorating the surfaces of jars, vases and wall sculptures. With references to Mexican wrestling masks, pre-Columbian sculptures, Japanese anime, Chinese figurines and African masks, among others, Hayon has noted, 'The masks have always represented a very direct connection with culture, thus expressing the lives of whole civilisations. They were used both in the time of war and peace, daily and on special occasions. This is a very mysterious and fascinating topic.'
'InfinitaMente' is a comprehensive exhibition that sheds new light on Hayon's expansive career and, above all, is a joyous visual delight.
'InfinitaMente' is on view untilm 16 April 2023 at CCCC Valencia
Centre del Carme Cultura Contemporània
Carrer del Museu, 2, 4
Valencia
Spain
Receive our daily digest of inspiration, escapism and design stories from around the world direct to your inbox
Blaire Dessent is a freelance writer, editor and copywriter specialising in contemporary design, craft, art and travel. She works as the managing editor for TL magazine, a biannual, French/English art and design publication. In 2020 she was an editor and contributor to Imaginings by Kiki van Eijk, published by nai010. She is also the co-owner of The Alameda Shop, a creative lifestyle shop in Mallorca that works with contemporary artists and makers.