Art, nature and science collide in Patternity's range for Cosentino
Inspired by the different states of liquid, Patternity and Cosentino realise The Liquid Collection, three subtly marbled designs printed on ultra-compact large format surfaces that will be shown at Design Miami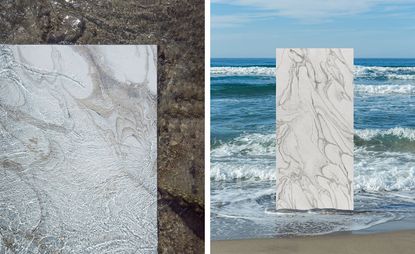 (Image credit: Alberto Rojas)
Pattern fanatics Anna Murray and Grace Winteringham, the design duo behind London studio Patternity, have teamed up with Cosentino to create a new collection of marbled surfaces for Dekton® launching at Design Miami next month.

The Liquid Collection comprises three subtly marbled patterns, which roam in tone from inky black to pearlescent white. The designs draw inspiration from water as a rapidly depleting resource – a sustainability angle the duo is increasingly leaning into, having recently created a range of reusable packaging as the trend for package-free shopping grows in the western world.

'Almost three-quarters of the Earth's surface is covered by liquid, and more than half of the volume of the human body is made up of it; it is no wonder we are fascinated by the notion of liquid in life,' say Murray and Winteringham, who set up Patternity a decade ago now. 'Flow systems form the basis of life here on Earth, and without them, we would not exist.'
Taking a typically hand-made approach to pattern-making, the pair realised the design by swirling oil-based inks on the surface of water, before working with a graphic designer to transfer them into high-resolution images and then to Dekton – a robust composite material made from quartz, glass and porcelain.

'We're inspired by the theme of liquid and the importance of flow thinking and feeling – it's part of the essence of Patternity and to us is representative of moving into a more feminine, holistic and intuitive way of designing and creating at this key time in history,' say Murray and Winteringham. The pair have previously applied their marbled patterns to paper for book covers or postcards, and shared their techniques in popular mindfulness workshops where participants are encouraged to reach a 'flow state' in concentration.
The collection's three colour ways are given the names Liquid Sky, Liquid Shell and Liquid Embers. A soft grey pattern swirls fluidly across a cloud-white backdrop for Liquid Sky, while Liquid Shell references life beneath the waves with a subtle pearlescent pattern that echoes the texture of the ocean floor, and the cracked ash-black surface of Liquid Embers is reminiscent of magma. 'We've drawn inspiration from liquid in its different states, and liquid in nature, science, spirituality and art,' explain the designers. 'Alchemy and science is the starting point for one design; the ocean and natural life forms another; fluid dynamics and art inspired the final design in the collection.'

With Cosentino working to reduce the water used in its manufacturing processes, Murray and Winteringham say they felt the time was right for their project: 'In a collaboration that celebrates liquid, it felt essential that a consideration of water use was at the heart of how the products are constructed.' The manufacturer based in Almeria, Spain, is making steps towards a more circular design process, collecting and reusing 95 per cent of water used in production.

The Liquid Collection will be shown for the first time across the lounge and bar spaces of the Collector's Lounge at Design Miami from 3-8 December 2019.
INFORMATION
The Liquid Collection will be on view at Design Miami from 3-8 December. cosentino.com; patternity.org
Receive our daily digest of inspiration, escapism and design stories from around the world direct to your inbox